Valiant Wings Publishing | Airframe Detail 4: The Supermarine Swift
Reviewed by Kevin Futter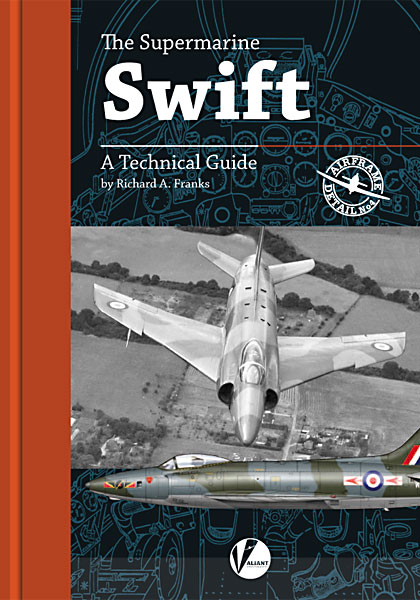 UK-based publisher Valiant Wings Publishing has just released the fourth volume in its new Airframe Detail series, covering the the Supermarine Swift. Entitled The Supermarine Swift: A Technical Guide, this slim, 82-page volume is authored by series editor Richard Franks, and illustrated by Richard J. Caruana.
The book consists of only three main sections, plus an introduction and appendices:
Technical Description
Camouflage & Markings
Kit Build
The appendices feature a run down of available kits and accessories, as well as a concise bibliography on the type. Let's take a closer look at each section.
Introduction
While not listed as one of the major sections in the book's index, the Introduction consists of a 16-page history of the type, copiously illustrated with captioned photographs.
I have to confess that I struggled to follow all the convoluted changes described for the Swift during its ill-fated career. I was reminded of the series of isometric drawings delineating airframe evolution, that this publisher includes in its Airframe Album series, and thought about how useful they would have been here. That's a feature for a different series, however, so readers will have to manage without it.
Not knowing much about the Swift, I was also surprised to learn that it was considered such a failure. This probably explains why there are no extant kits in 1/32 scale, even as vacuforms.
Technical Description
This is the longest section of the book, clocking in at 42 pages. The content is a mix of original factory drawings, period photographs, and close-ups of preserved examples. Ten distinct areas are covered:
Fuselage
Undercarriage
Tail
Controls and Control Surfaces
Wings
Engine & Afterburner Exhaust
Fuel and Oxygen Systems
Weapons
Electrical Equipment
Miscellaneous Equipment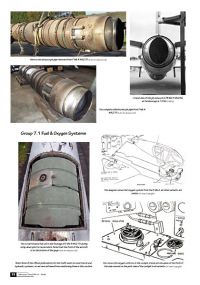 ---
Camouflage & Markings
This section comprises 26 pages, and makes heavy use of period photos. There are four pages of colour profiles by Richard Caruana, and a handy pair of stencil placement guides.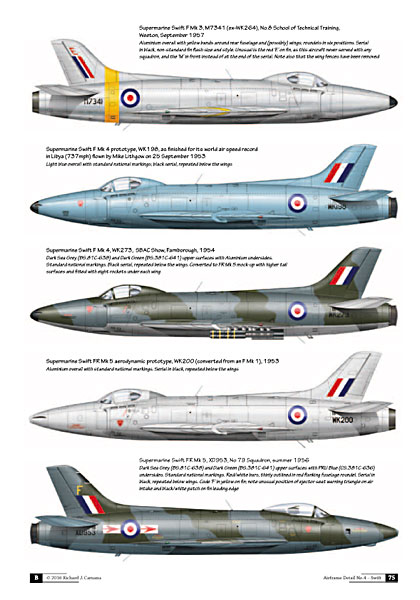 Building a FR Mk 5
In this section, Richard Franks takes a brief, two-page look at building the new Airfix 1/72 scale kit. While the resulting model is excellent, this section seems almost too brief, with no in-progress photos, and only four of the finished model. Perhaps it had to be trimmed to keep within the constraints of the series format. Whatever the reason, it would have been nice to see more of this one.
Appendices
The three appendices occupy the last three pages of the book. The first page covers known kits, accessories, and decals, most of which are in 1/72 scale. No kit has ever been produced in 1/32 scale (or larger) that I know of (if you know differently, please contact me!), so perhaps the release of this title will spur someone to consider it, even if only as a vacuform.
The second appendix, labelled Squadrons, gives a rundown of all squadrons that operated the Swift, including experimental and testing operations.
The final appendix is a brief bibliography, and it's fair to say that the Supermarine Swift has not had extensive coverage over the years. The range of titles is small, but I was amazed to see that the aircraft featured on a Fiji stamp in 1998!
Conclusion
This is a very good one-stop technical reference for Supermarine's ill-fated Swift. The type's operational history was limited, but it's still an important type in the early evolution of British military jets. And as a self-proclaimed Technical Guide, this book's detail coverage of the areas commonly of interest to modellers (cockpit, wheel bays, engine) is as good as it can be for a relatively obscure type, and on that basis alone I can heartily recommend this book.
Thanks to Valiant Wings Publishing for the review sample.
© Kevin Futter 2016
This review was published on Friday, March 04 2016; Last modified on Sunday, March 22 2020