Valiant Wings Publishing | Airframe Extra No. 4: Battle of Taranto
Reviewed by Kevin Futter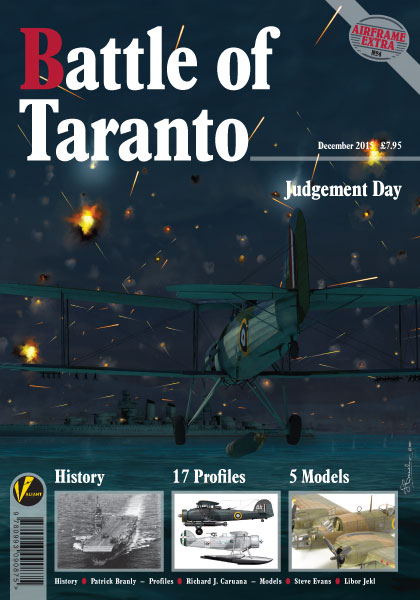 UK-based publisher Valiant Wings Publishing has just released the fourth title in its new quarterly Airframe Extra series. Issue No. 4, entitled Battle of Taranto: Judgement Day, combines historical narrative, profile artwork, and five model builds. At 66 pages, it's the shortest of the series so far.
The specific structure of the contents is as follows:
History
1/72 Martin Maryland Build
1/72 Cant Z.501 Build
Colour Reference
1/72 Fairey Swordfish Build
RAF/FAA Profiles
1/48 Fairey Fulmar Build
1/48 Fiat CR.42 Build
Italian Profiles
There's also a brief foreword from publisher Mark Peacock, followed by a table of contents. It's then on to the main content sections.
History
This 16-page section is written by Patrick Branly, and covers the context, preparation, conduct, and aftermath of Operation Judgement on the 11th & 12th of November 1940. This involved a British attack on the heavily defended Italian port of Taranto, and came to be known as the Battle of Taranto. The format follows a basic chronological description of events, with context given where appropriate. One interesting snippet that I wasn't aware of, is the idea that the Japanese might have used the successful British attack to inform their own planning for Pearl Harbor a little over a year later.
1/72 Martin Maryland Build
With only a relatively brief historical narrative, and fewer pages of colour profiles than is usual, the bulk of this issue it taken up with the five included model builds. And first up is Libor Jekl, who tackles Azur's 1/72 scale Martin Maryland. If you've seen any of Jekl's builds in previous Valiant Wings publications, you'll already know that this one is excellent. Azur's short-run kit is a bit of a handful, but Jekl handles its various challenges with aplomb.
Each of the model builds in this title end with a section entitled "Historical Significance", wherein that particular aircraft's role in the battle is elucidated. It's a nice touch, and saves the historical section from becoming bogged down with such tangents.
1/72 Cant Z.501 Build
Next up Steve Evans tackles the Italeri 1/72 Cant Z.501 flying boat kit. This kit originally dates from 1973, but you wouldn't know it from the results Evans achieves with it. It's another superb build, and looks resplendent in its silver dope finish and early-war Italian markings.
Like the others in this issue, the build is depicted in typical magazine style, with step-by-step photos and captions, fleshed out by an explanatory narrative.
Colour Reference
This single-page reference lists each of the major colours used by British and Italian aircraft, and matches them against paint numbers from nine different brands - five acrylics (GS Mr Aqueous, Humbrol, Lifecolor, Tamiya & Xtracrylix) and four enamels (Humbrol, Revell, White Ensign, & Xtracolor). Terrific stuff, and a fantastic bit of value-add, especially when it comes to those elusive Italian colours.
1/72 Fairey Swordfish Build
Libor Jekl is back, this time building the new Airfix 1/72 Swordfish kit. This ten-page build is pretty much out-of-the-box, apart from an Eduard 'Zoom' set, and the result is, once again, terrific.
RAF/FAA Profiles
As with all the profiles in the book, this section is illustrated by Richard Caruana, and features three pages of colour profiles. These consist of four Fulmars, four Swordfishes, and a single Maryland. The selection is necessarily small, but there's some nice inspiration there for Trumpeter's big Swordfish kit.
1/48 Fairey Fulmar Build
The amazingly prolific Steve Evans now turns his hand to MPM's 1/48 scale Fulmar kit. The style is similar to the previous builds, and the result is just as excellent.
1/48 Fiat CR.42 Build
The last model build in this issue is again by Steve Evans, and features Italeri's Fiat CR.42 kit. Once again, it's a largely out-of-the-box build, though the intricate camouflage finish is extremely well executed. I immediately began to imagine how impressive it would look on the Silver Wings 1/32 kit.
Italian Profiles
This is the final section of the book, which is three pages covering a range of Italian aircraft. Only three aircraft types are covered: the IMAM Ro.43, the CANT Z.501, and the SM.79. Sadly, none of these aircraft are available as mainstream injection-moulded kit in 1/32 scale, but we can only hope!
Sample Pages
---
Conclusion
This is the shortest of the Airframe Extra series so far, which is no surprise given that the conflict covered is also the briefest so far. Still, its blend of interesting history, attractive artwork, and impressive model builds is nearly perfect. The magazine format is highly accessible, and can be used as a launching pad for more comprehensive research endeavours. Recommended!
Thanks to Valiant Wings Publishing for the review sample.
© Kevin Futter 2016
This review was published on Tuesday, January 19 2016; Last modified on Friday, January 22 2016