Valiant Wings Publishing | Airframe Extra No. 3: Battle of Britain
Reviewed by Kevin Futter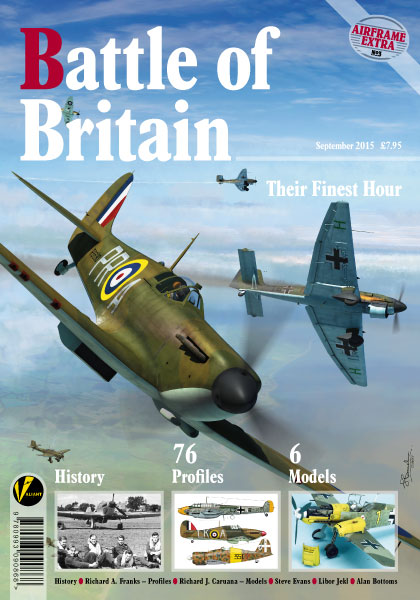 UK-based publisher Valiant Wings Publishing has just released the third title in its new quarterly Airframe Extra series. Issue No. 3, entitled Battle of Britain: Their Finest Hour, covers 90 pages that combine historical narrative, profile artwork, and six model builds.
The specific structure of the contents is as follows:
History
RAF Profiles
1/72 Defiant Build
1/72 Hurricane Build
1/48 Bf 110C Build
Luftwaffe Profiles
Colour Reference
1/32 Spitfire Build
1/32 Bf 109E-3 Build
1/32 Fiat G.50 Build
Regia Aeronautica Profiles
There's also a brief foreword from publisher Mark Peacock, followed by a table of contents. It's then on to the main content sections.
History
This 20-page section is written by Richard Franks, a Valiant Wings regular. Franks winds his way through a chronological narrative of the official 17-week span of the battle, with each day dealt with individually. The style is anecdotal, and given primarily from the British side of the conflict. While hardly the most in-depth, detailed or comprehensive examination of this most famous of air wars, it is nevertheless extremely interesting, and a handy primer for the key events and dates. It's also packed with interesting snippets about the pilots and their exploits, and is a very enjoyable read overall.
RAF Profiles
As with all the profiles in the book, this section is illustrated by Richard Caruana, and features 10 pages of colour profiles, covering a remarkably wide variety of aircraft types, given the strong historical association of the Battle of Britain with Spitfires and Hurricanes. They're both covered extensively, of course, but so are Ansons, Battles, Beaufighters, Beauforts, Blenheims, Gladiators, Defiants, and more besides. A very nice selection indeed, and full of inspiration for future builds.
1/72 Defiant Build
The first model build in the book is Libor Jekl's impressive take on Airfix's new-tool 1/72 Defiant Mk I. The build is depicted in typical magazine style, with step-by-step photos and captions, fleshed out by an explanatory narrative. His eight-page build notes a few shortcomings of the new Airfix kit, and how to deal with them. The result is a very impressive model indeed.
Each of the model builds in this title end with a section entitled "Historical Significance", wherein that particular aircraft's role in the conflict is elucidated. It's a nice touch, and saves the historical section from becoming bogged down with such tangents.
1/72 Hurricane Build
Next up Jekl tackles the Airfix 1/72 Hurricane Mk I kit. This is another newly-tooled kit from Airfix, and the author augments it with a small selection of aftermarket parts from Quickboost, Valiant Wings Model, and PART. The end result is most impressive. The style and length are the same as the previous build.
1/48 Bf 110C Build
The next section is another model build, this time featuring Eduard's 1/48 Bf 110C, by Steve Evans. The style is similar to the previous builds, though slightly shorter at six pages. The result, however, is excellent.
Luftwaffe Profiles
This seven-page section features profiles of all the usual Luftwaffe subjects of the era, including a selection of Bf 109s, Ju 87s, Ju 88s, Bf 110s, Do 17s, He 111s, and a single He 115. Once again, plenty of inspiration if you're looking for some!
Colour Reference
This single-page reference lists each of the major colours used by RAF, Luftwaffe, and Regia Aeronautica aircraft, and matches them against paint numbers from seven different brands - four acrylics (GS Mr Aqueous, Lifecolor, Tamiya & Xtracrylix) and three enamels (Humbrol, Revell & Xtracolor). Terrific stuff, and a fantastic bit of value-add.
1/32 Spitfire Build
Steve Evans is back, this time building the new Revell 1/32 Spitfire Mk II kit. This six-page build is pretty much out-of-the-box, and the result is, once again, terrific - though I'm not convinced by the choice of Dark Green used.
1/32 Bf 109E-3 Build
The next section makes it three kit builds in a row, with Steve Evans tackling the Trumpeter 1/32 Bf 109E-3 kit. Once again, the build is pretty much out-of-the-box, though a little more substantial at eight pages. Evans finishes his model as Joseph Priller's machine, and it looks great.
1/32 Fiat G.50 Build
The final build of the book features the prolific Steve Evans again, this time tackling the Special Hobby 1/32 Fiat G.50 kit. Once again, it's a largely out-of-the-box build, with just some additional detailing added to the engine. Evans details how he achieved the intricate three-colour camouflage scheme, which looks terrific on the finished model. It also makes for an interesting variation from the RAF and Luftwaffe schemes featured in the other builds.
Regia Aeronautica Profiles
This is the final section of the book, which is three pages covering a range of Italian aircraft of the Regia Aeronautica. Only three aircraft types are covered: the Fiat BR.20, the Fiat G.50, and the Fiat CR.42. It seems the Italians owe their participation in the Battle of Britain to Fiat!
Sample Pages
---
Conclusion
I enjoyed this title much more than I expected to. Its blend of interesting history, attractive artwork, and impressive model builds is nearly perfect. The magazine format is highly accessible, and can be used as a launching pad for more comprehensive research into the period covered. It will be interesting to see what's in store for subsequent issues. Recommended!
Thanks to Valiant Wings Publishing for the review sample.
© Kevin Futter 2015
This review was published on Thursday, November 12 2015; Last modified on Thursday, November 12 2015