Valiant Wings Publishing | Airframe Extra No. 1: D-Day To VE Day, The Air Battle Over Europe
Reviewed by Kevin Futter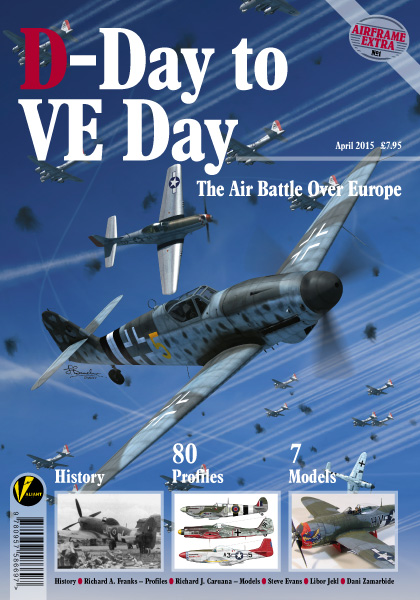 UK-based publisher Valiant Wings Publishing has just launched a new quarterly series entitled Airframe Extra, with the inaugural issue called D-Day to VE Day: The Air Battle Over Europe. The focus of this first issue is the air battle over Europe in the final 11 months of World War 2, and the story is told across 90 pages that combine historical narrative, profile artwork, and seven model builds.
The specific structure of the contents is as follows:
History
RAF Profiles
1/72 C-47A Build
1/72 Spitfire PR Mk XIX Build
USAAF Profiles
Colour Reference
1/48 Bf 109G-10 Build
1/48 P-38 Build
1/48 Me 262 Build
Axis Profiles
1/32 P-47D Build
1/32 Spitfire PR Mk XIX Build
USSR Profiles
History
This 11-page section is written by Richard Franks, and provides a day-by-day synopsis of events from 1 June 1944 to 8 May 1945. While hardly the most in-depth, detailed or comprehensive examination of this phase of the war in Europe, it is nevertheless extremely interesting, and a handy primer for the key events and dates.
RAF Profiles
As with all the profiles in the book, this section is illustrated by Richard Caruana, and features five pages of colour profiles, covering Beaufighters, Mosquitos, Mustangs, Spitfires, and Tempests, as well as a range of bombers such as Lancasters, Sterlings and Halifaxes. As you'd expect, many feature invasion stripes, while the natural metal Marauder from the 1st TAF is particularly striking.
1/72 C-47A Build
The first model build in the book is Libor Jekl's impressive take on the new Airfix 1/72 C-47 kit. The build is depicted in typical magazine style, with step-by-step photos and captions, fleshed out by an explanatory narrative. Libor's seven-page saga should sell a few Airfix C-47 kits, I'd imagine.
1/72 Spitfire PR Mk XIX Build
Next up Libor tackles Airfix's 1/72 Spitfire PR XIX kit, augmenting it with Pavla and ArmoryCast resin sets. The end result, with exposed engine and hatches, is most impressive. The style and length are the same as the previous build.
USAAF Profiles
This five-page section features a dazzling selection of colour profiles that cover P-38s, P-47s, P-51s, B-17s, A-20s, A-26s, B-26s and B-24s. There's also a B-25 in VVS markings. Lots of natural metal, lots of olive drab, but also lots of colourful markings. And invasion stripes!
Colour Reference
A surprise section that's not listed on the contents page, this single-page reference is one of the most concise colour charts I've seen. It lists each of the major colours used by each of the major combatant air forces (Luftwaffe, RAF & USAAF), and matches them against paint numbers from seven different brands - four acrylics (GS Mr Aqueous, Lifecolor, Tamiya & Xtracrylix) and three enamels (Humbrol, Revell & Xtracolor). Despite all that information crammed into just one page, it's very clearly laid out, and very easy to follow. Terrific stuff, and a fantastic bit of value-add.
1/48 Bf 109G-10 Build
The next section is another model build, this time featuring Hasegawa's 1/48 Bf 109G-10, by Steve Evans. The style is similar to the previous builds, but at only four pages, not as in-depth. Steve offers plenty of tips and advice nonetheless, and the resultant model is excellent.
1/48 P-38 Build
Steve Evans is back, this time building the Academy 1/48 P-38 Lightning kit. The style, combining narrative text with photos and captions, is by now familiar. At five pages, this one's slightly more detailed than the previous build article, and there's plenty here to guide anybody building this kit. And Steve's finished model is, as expected, terrific.
1/48 Me 262 Build
Steve Evans makes it three in a row, as he tackles the HobbyBoss 1/48 Me 262B-1a kit over five pages. To avoid sounding like a broken record, I'll just say that this article is very much like the previous two, and that the final result is equally as impressive. Steve's comments about falling out of love with pre-shading echo my own feelings nicely!
Axis Profiles
For some readers, these five pages may well be the most interesting in the book. The profiles here are not strictly limited to Luftwaffe types or schemes, however, with Italian, Yugoslav, Croatian, Bulgarian and Rumanian aircraft also featured. The selection is quite diverse, as you'd expect from the Luftwaffe at this stage of the war, with almost too many types to mention. A random sampling includes several Bf 109s from various nations, some Luftwaffe jets, some Italian types, a smattering of bombers, and even an Arado Ar 196. It's a real sign of the times to realise that, of all the types profiled, only the Fw 200 and He 177 can't be built using mainstream LSP kits.
1/32 P-47D Build
Finally we come to a 1/32 scale build, and it's Hasegawa's P-47D Thunderbolt as built by Dani Zamarbide. This is by far the longest and most detailed build article in the book, clocking in at 20 pages. Dani's approach is meticulous, and he shows each step in great detail. And while I have to say that some of his paint effects (think 'Spanish School') are not to my taste, the quality of execution is undeniable - even extending to painting the nose art, rather than using the supplied decal. Impressive.
1/32 Spitfire PR Mk XIX Build
This is the only other 1/32 scale build in the book, and it's something of a token. It shows Alan Bottoms' conversion of Hasegawa's Spitfire Mk V kit into a PR Mk XIX using the conversion set from Grey Matter Figures. There are no construction photos, so this build article is the shortest at a mere three pages. The featured model is, of course, very nicely done, and the article text does a serviceable job of describing the journey.
USSR Profiles
This is the final section of the book, which is a single page featuring five VVS aircraft profiles. These are a LaGG-3, an La-5, an La-5FN, an La-7, and a Pe-8.
Sample Pages
Below is a selection of sample pages from the book, courtesy of Valiant Wings:
---
Conclusion
I enjoyed this title much more than I expected to. Its blend of interesting history, attractive artwork, and impressive model builds is nearly perfect. The magazine format is highly accessible, and can be used as a launching pad for more comprehensive research into the period covered. It will be interesting to see what's in store for subsequent issues. Recommended!
Thanks to Valiant Wings Publishing for the review sample.
© Kevin Futter 2015
This review was published on Sunday, May 17 2015; Last modified on Tuesday, May 19 2015