Aviaeology | A0D32010: 404 Sqn Beaufighters: Black Friday Part 1 and 2
Reviewed by Ron Patterson
Aviaeology has released another special edition series of RCAF Beaufighters – This time a two part series depicting 404 Sqn Black Friday participants (February 9th, 1945) & other later Beaux 404 Squadron - RCAF.
Each series offers 6 out of a total of 12 different subjects to choose from. The combined set covers 6 "Black Friday" participants along with very detailed articles to guide the modeler in rendering the late war R/P set-up and also includes scale illustrations detailing different tail plane configurations.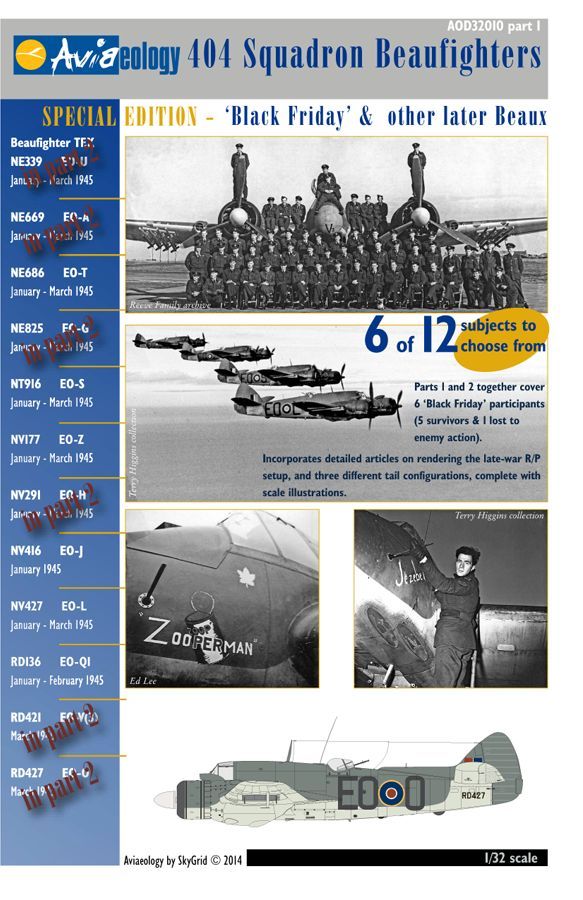 Each decal set come in three separate sheets. They are packaged with a very stout sheet of cardboard to insure there will not be any bending damage during shipping. Under close inspection I find these sheets flawless in execution, the color appears correct, they are printed in very crisp detail and in absolutely prefect register. Very nice stuff.
Part 1 Provides markings for the following airframes
NE686/T Feb 9th 1945
NT916/S Feb 9th 1945
NV177/Z 1945
NV416/J 1945
NV427/L 1945
RD136/Q1 Feb 9th 1945 (Lost)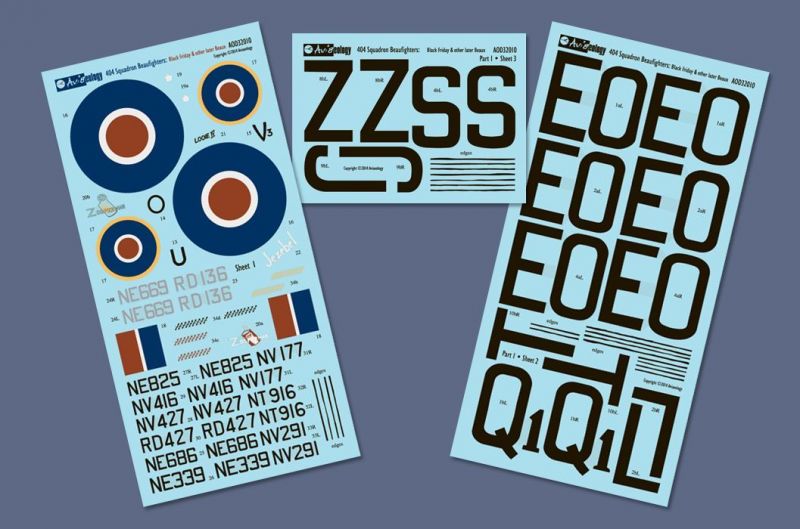 Part 2 Provides markings for the following airframes
NE339/U Feb 9th 1945
NE669/A Feb 9th 1945
NE825/G Feb 9th 1945
NV291/H 1945
RD421/V 1945
RD427/O 1945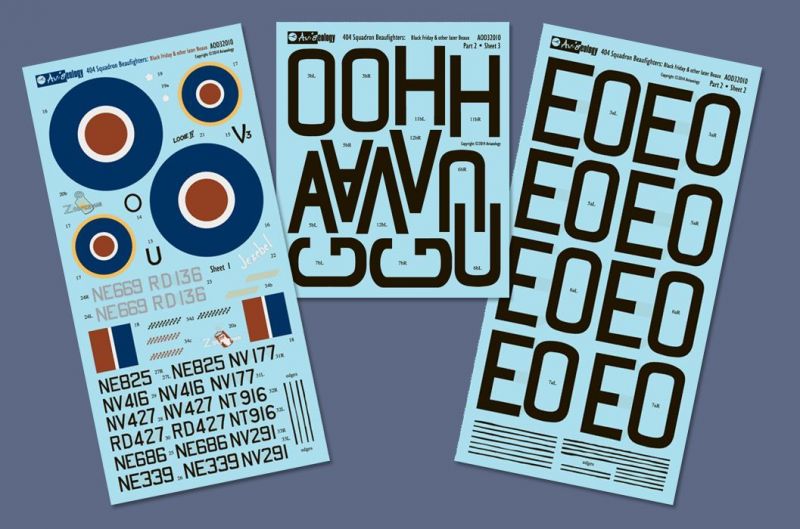 The comprehensive instruction sheet is printed double sided on six letter sized sheets of paper in black and white. The instructions for each set are basically identical containing the same information for all 12 airframes but simply identifying which scheme comes in which set. An interesting feature when ordering from Aviaeology is that after you confirm your order they e-mail you a full color instruction set in PDF format as well.
When I say comprehensive instructions, I mean very comprehensive. These instructions leave absolutely no guess work when it comes to depicting all of these airframes. They are very complete. Information includes:
Colours and finishes including weathering and paint wear information
Port and starboard profiles of all airframes showing proper markings placement and subject specific paint details
Beaufighter TF.X Rocket Projectile features and wing installations including scale drawings of the port and starboard wing fairings, blast plates rocket details, mounting saddles, reference pictures etc.
Beaufighter TF.X detailed scaled illustrations for standard dihedral (Mod 638) tail plane
Beaufighter TF.X detailed scaled illustrations for standard tail plane with modified balance (Mod T361)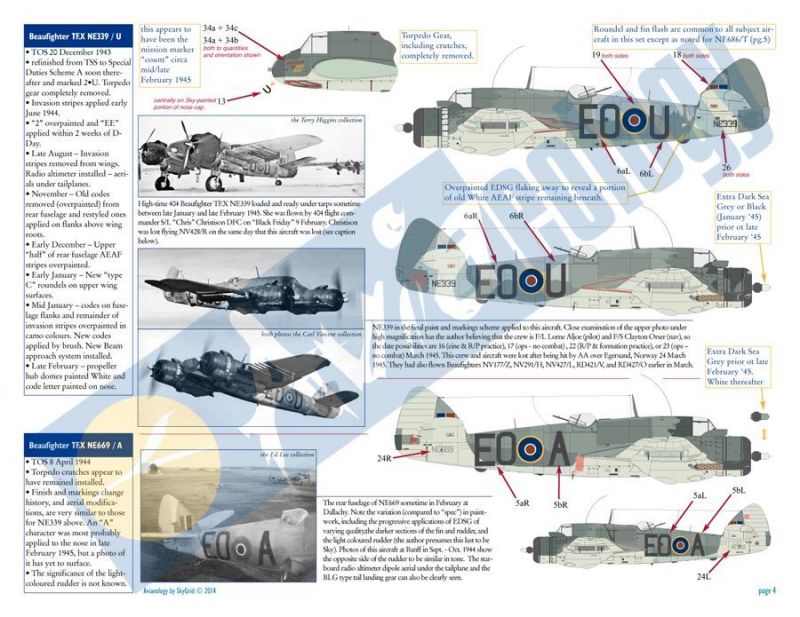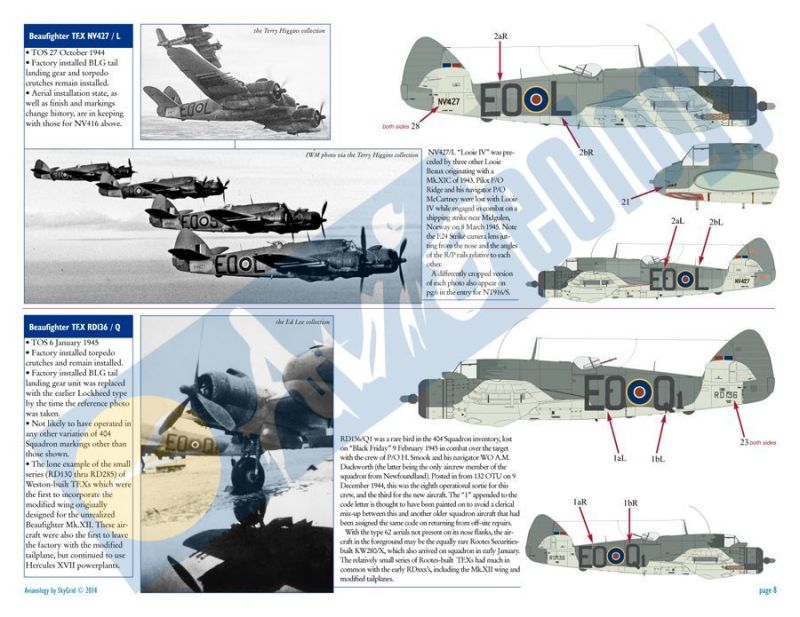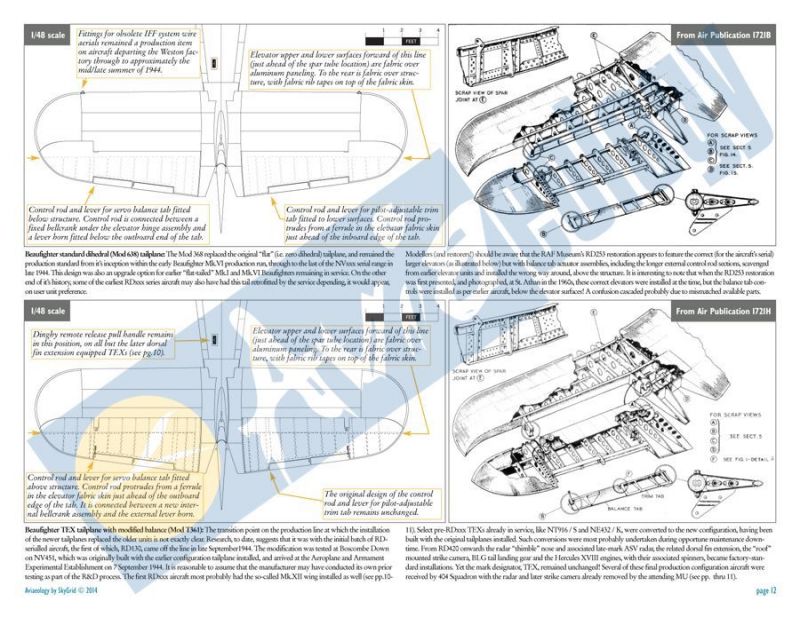 Decals available directly from the Aviaeology eBay Store. Please note these sets have very limited availability, if you are interested act now!
Highly recommended.
Review sample and images compliments of Aviaeology.
© Ron Patterson 2015
This review was published on Wednesday, March 04 2015; Last modified on Thursday, March 23 2017