Fotocut | F6F-3/5 Hellcat Detail Set
Reviewed by Randy Bumgardner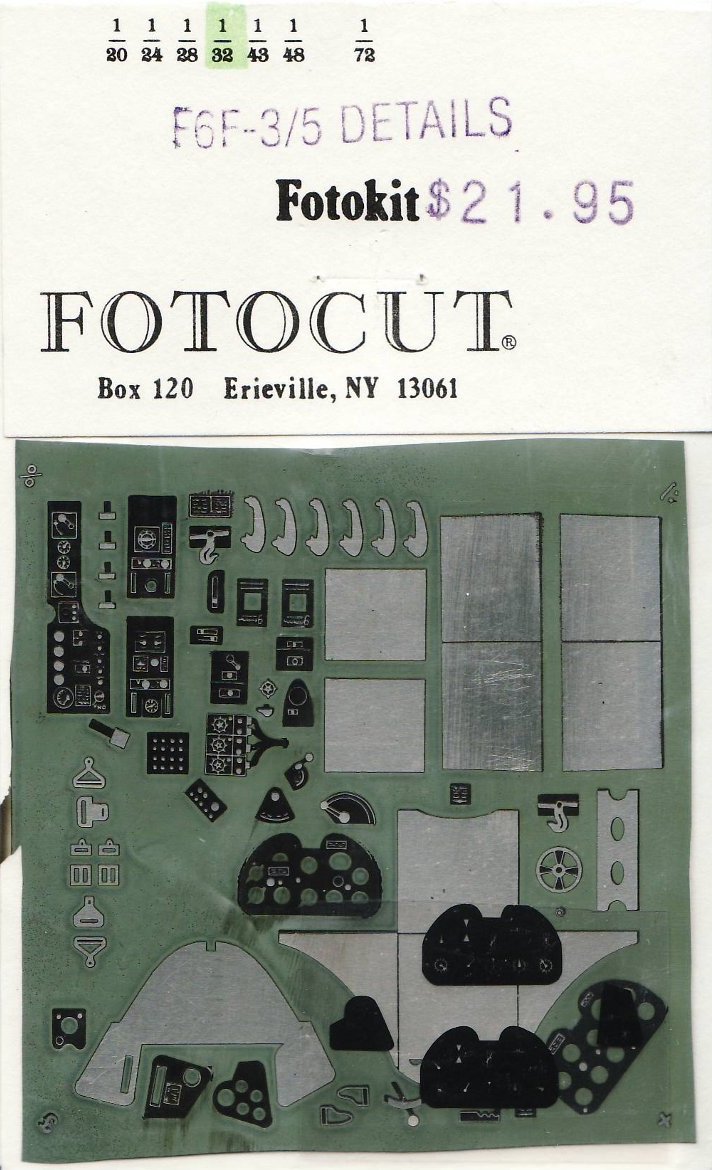 So, show of hands... How many of us have been bitten by carpet monster while cutting photoetch parts from the fret? You know, you make that last cut and BOING - away flies the part, never to be seen again. Well, Fotocut has a novel approach to this problem - get rid of the fret. There is no cutting, so there is no fear of losing the part. Fotocut ship their photoetch products adhered to a strip of backing material via a clear lacquer. To remove a photoetch part, simply peel the backing away from the part. If the part is too small or too fragile, a drop of isopropyl alcohol will nicely dissolve the lacquer adhesive.
The set that is the focus of this review is targeted at the F6F-3/5 from Hasegawa. With a bit of fiddling, this set may also work with the Trumpeter F6F series as well. The set is composed of 59 photoetch parts and a clear acetate sheet with the instrument dials. Two instrument panels are provided - one each for the F6F-3 and F6F-5. The cockpit details are included with the black faces already colored black. A nicely done touch. Also included are cowl flaps, which also includes the lower cowl flaps for the -3. The cowl flaps are thin and will provide a nice scale appearance when posed in the open position. Fotocut also provides a couple of items to spice up the wheel wells in the kit.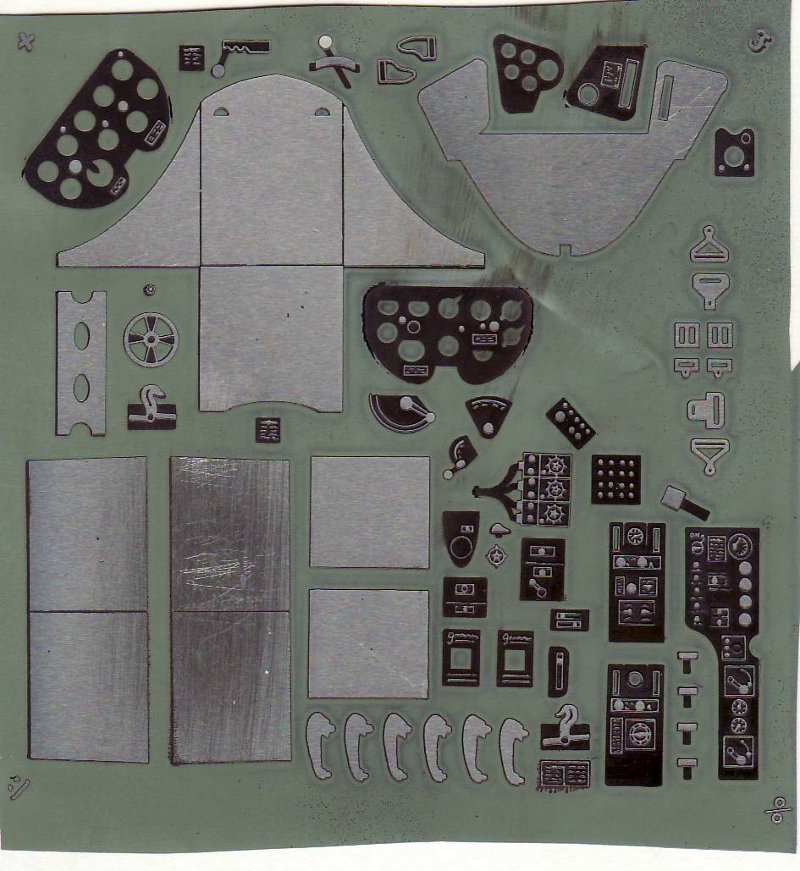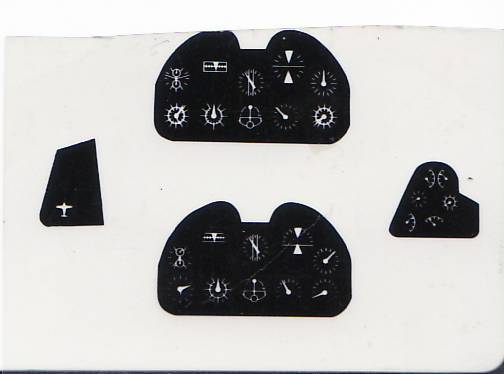 The overall detail, as shown in the images, is very good. The various knobs and switches are all present, and will look highly realistic once installed in the cockpit. The photoetch seat is a very nice piece of work. It is composed of four parts and will look great once painted and in it's place in the cockpit. The instructions are a combinations of printed text and sketches of parts. There is a parts layout identifying the part numbers of the various pieces in the set, as well as some hand drawn sketches that supplement the text of the instructions. The instructions are quite clear, and the modeler should have no trouble adding these details.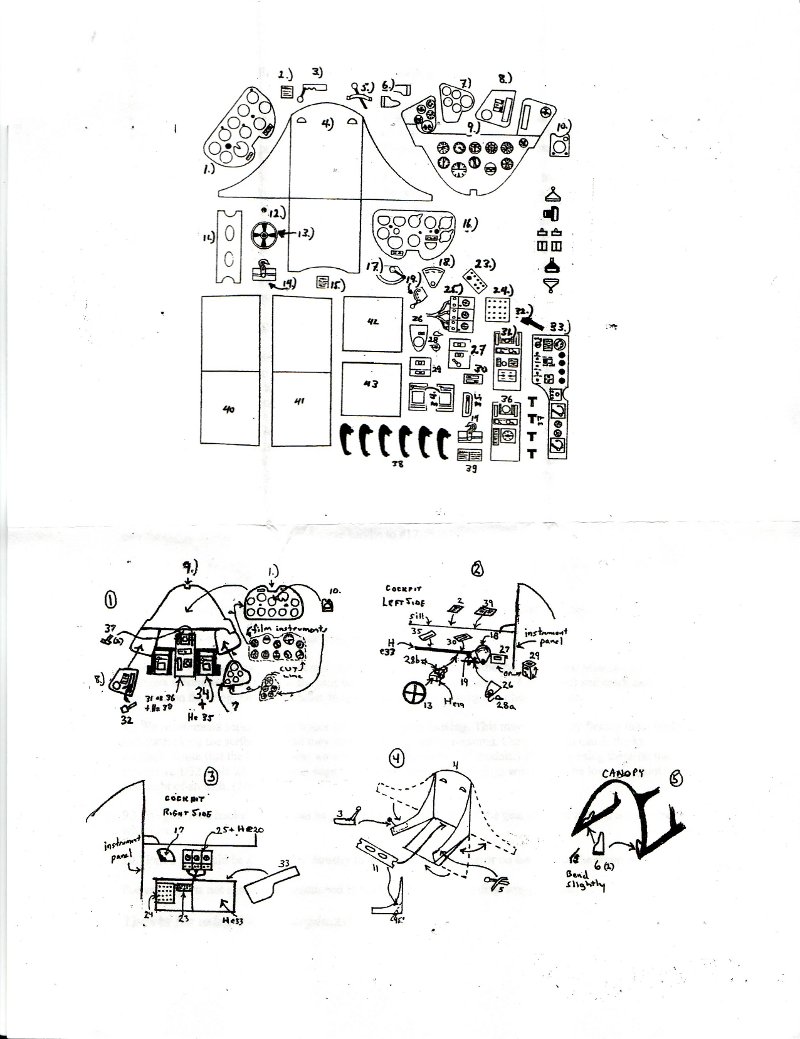 This detail set, although made for the Hasegawa Hellcat, could also be used on any one of the Trumpeter Hellcats. Some modifications may be necessary to get the parts to fit the Trumpeter cockpit. However, I think those modifications will be minimal, if needed at all.
Overall, this photoetch detail set is a very nice addition to dress up the Hasegawa and Trumpeter Hellcats. It adds some spice to the cockpit and wheel wells.
A very special "Thank You!" to Fred 'oleetcherfred' Hultberg for the review sample.
For more information, including ordering contact Fotocut.
Or, via regular mail:
FOTOCUT
Fred Hultberg
Box 120
Erieville, NY 13061
© Randy Bumgardner 2009
This review was published on Saturday, July 02 2011; Last modified on Wednesday, May 18 2016