Valiant Wings Publishing | Airframe Album 5: The Bristol Blenheim
Reviewed by Kevin Futter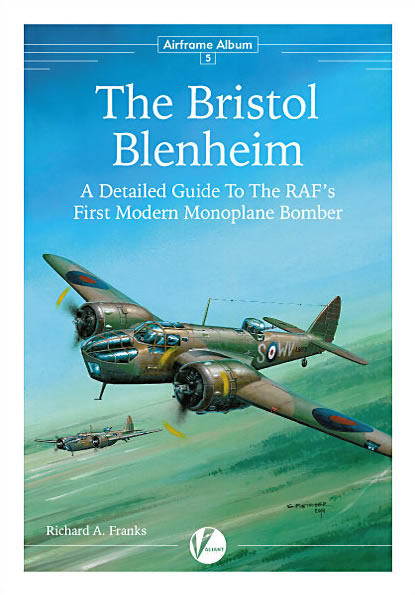 Valiant Wings Publishing has just released its fifth title in the Airframe Album series, entitled The Bristol Blenheim: A Detailed Guide to the RAF's First Modern Monoplane Bomber. The book is written by series editor Richard A. Franks, a well-known name in modelling and aviation publishing.
The first thing that strikes you with this book is the terrific cover art by Seweryn Fleischer. In fact the presentation of material in this book is impressive throughout. Photographs are generally clear and crisply reproduced, as are the isometric line drawings by Wojciech Sankowski. The colour profiles by Richard Caruana are handsomely rendered.
The content itself is organised into five main sections plus a preface and appendices:
Preface
1. Technical Description
2. Evolution - Prototype, Production and Projected Variants
3. Camouflage and Markings
4. Production
Appendices

I. Kit List
II. Accessory List
III. Decal List
IV. Bibliography
It should be evident from the list of contents alone that this title is aimed squarely at the modeller. There's plenty here for aviation enthusiasts and Blenheim aficionados too, but the emphasis is on providing the modeller with copious data and as much detail as possible.
The Technical Description section of the book is packed with period photographs, technical drawings and contemporary restoration images. The airframe is covered pretty comprehensively from nose to tail, with special emphasis on those areas of the most interest to modellers: cockpit, engines and wheel bays.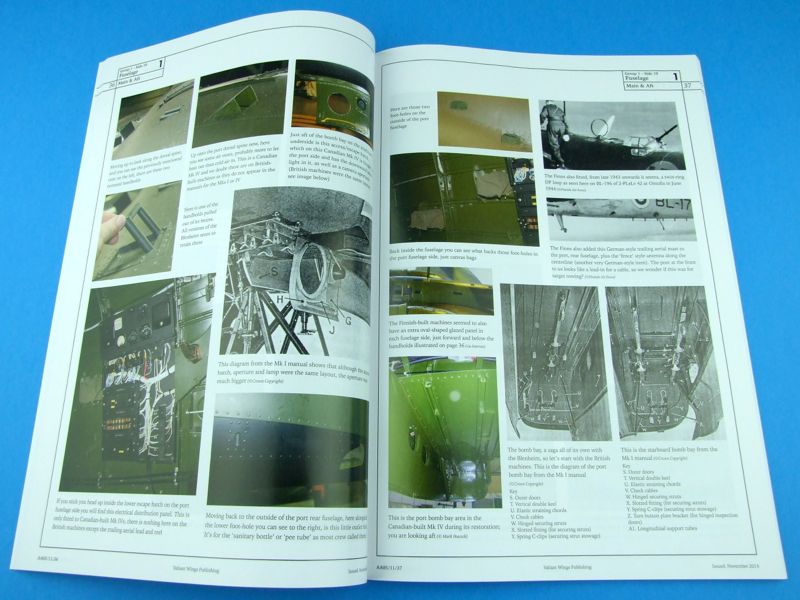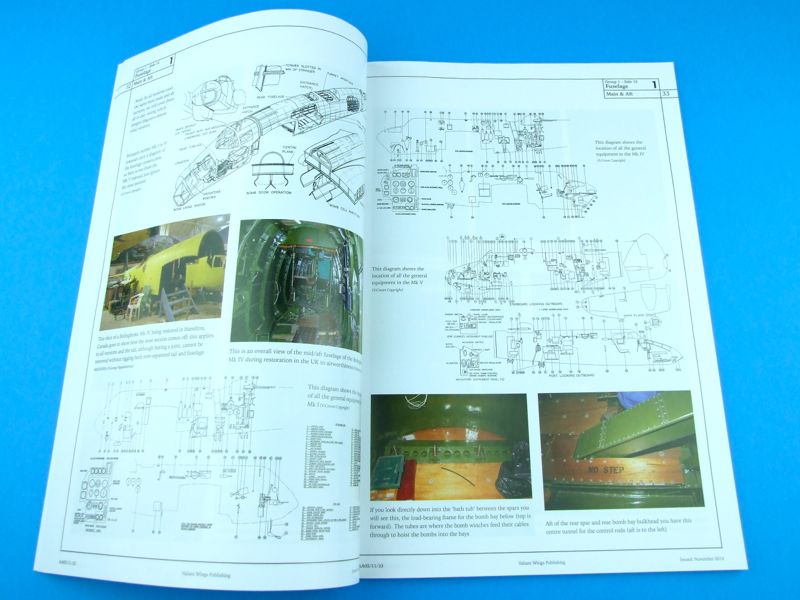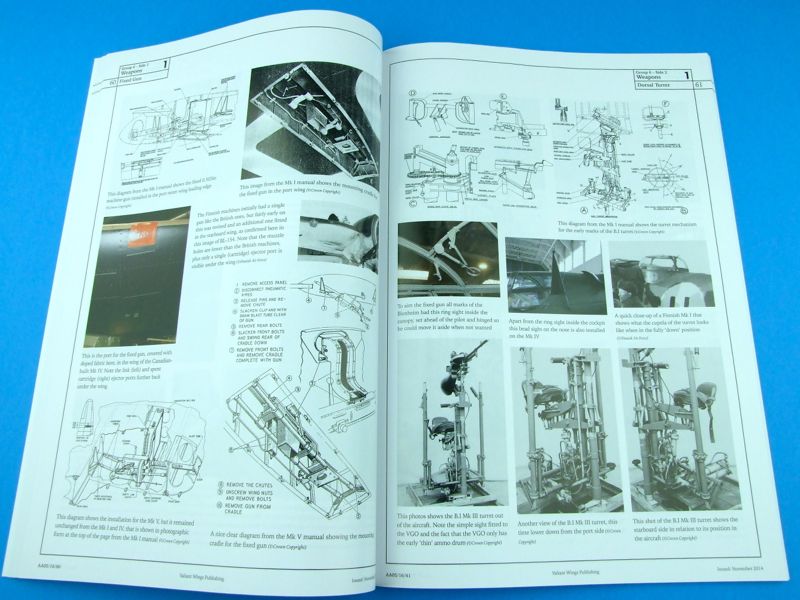 The section on the evolution of the airframe gives a concise but very clear overview of the development of the Blenheim from the initial Bristol Type 142, through to the late production Blenheim Mk V, and even extending to someone's conversion of a Mk 1 nose into an electric car!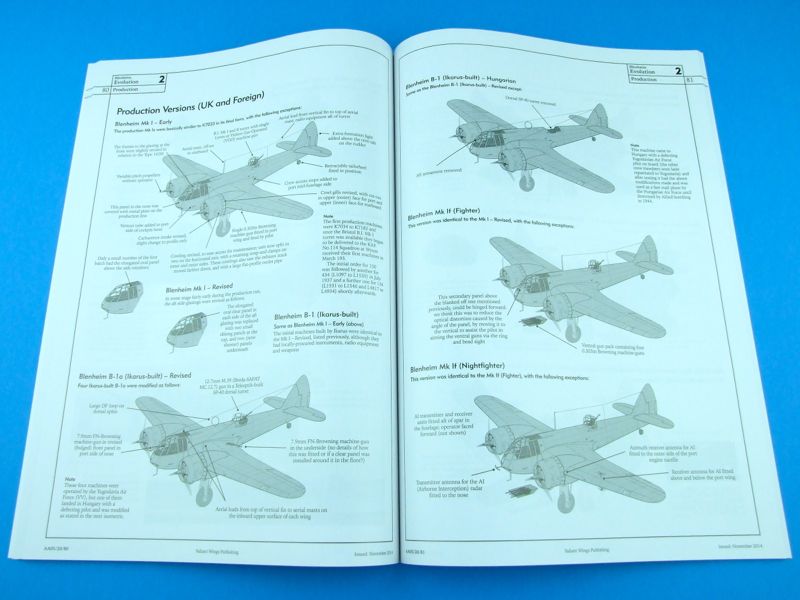 The Camouflage and Markings section covers the Blenheim's use by Britain in all theatres of WW2, as well as its deployment by foreign air forces. A decent selection of period photographs is accompanied by two pages of camouflage patterns in upper and lower views, plus nine pages of colour profiles. I'd like to see larger versions of some of the photos, but that's a perennial constraint that all aviation publications have to deal with, and hardly a criticism.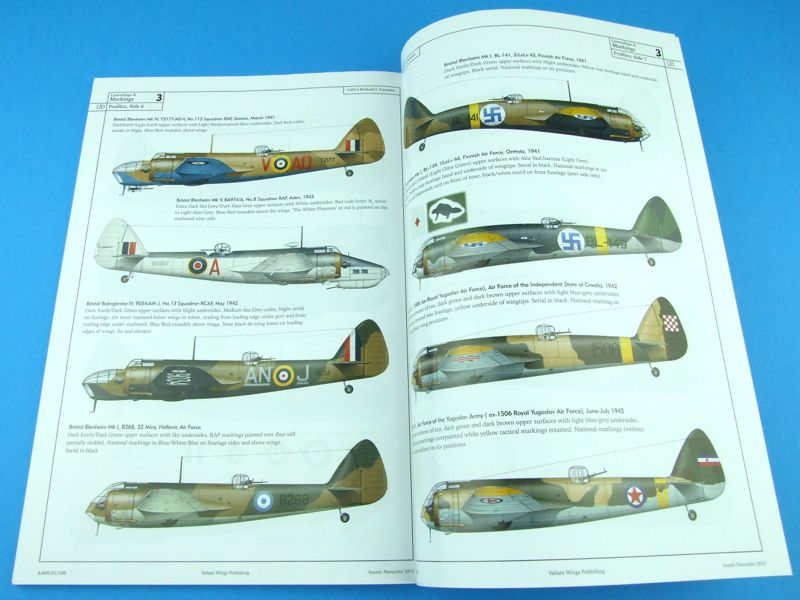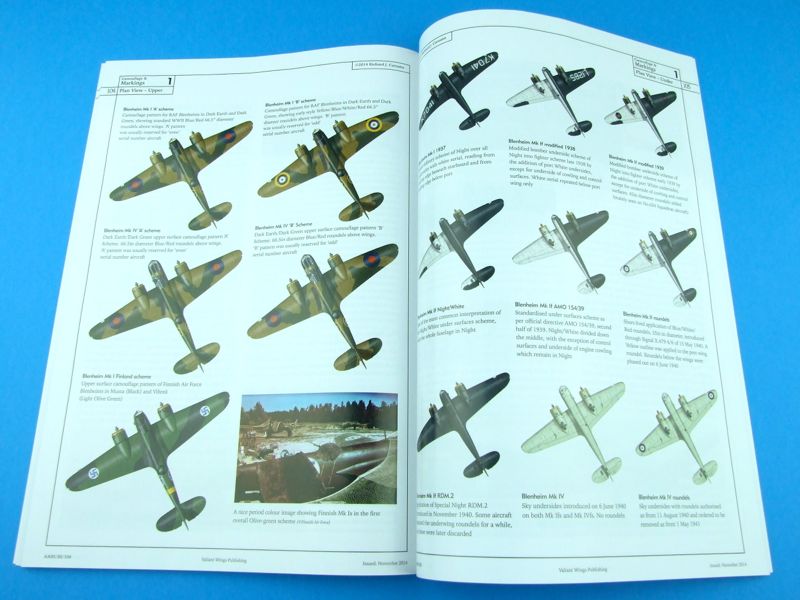 The last of the listed main sections of the book is a chapter entitled Production, which is a straightforward list of production serial numbers (grouped in blocks), annotated with a brief explanation where relevant. This section spans a mere two pages.
The final section is the Appendices, and these follow the customary pattern for this series of books, in outlining what options the modeller has in terms of kits, accessories and decals for producing a scale replica Blenheim. Sadly, nothing is listed for 1/32 scale or greater. Perhaps this title can serve as a catalyst for an intrepid kit manufacturer!
The book rounds things out with a bibliography of existing titles covering the Blenheim, which serves as a handy launch pad for further research into the type.
Conclusion
This is a detailed, comprehensive and modeller-friendly title. If you're building, or intend to build, a model of the Bristol Blenheim in any scale, this book will prove invaluable, and I highly recommend it.
Thanks to Valiant Wings Publishing for the review sample.
© Kevin Futter 2014
This review was published on Saturday, December 13 2014; Last modified on Thursday, October 01 2015