Zoukei-Mura | 1/32 Horten Ho 229
Reviewed by Mike Swinburne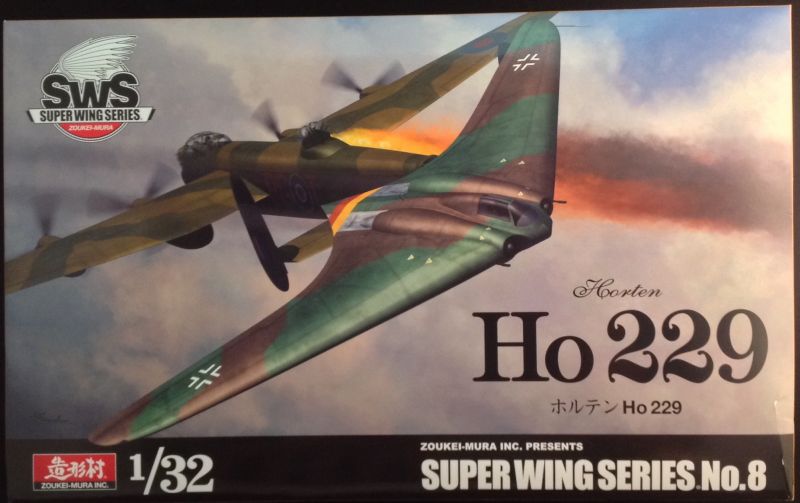 Large Scale Planes is delighted to bring you what we believe is the first in-box review of Zoukei-Mura's highly anticipated Horten Ho 229 flying wing. Excuse any blurry photos, I just couldn't get the focus and light settings right.
This is the first release of the kit, purchased from the IPMS USA national convention last week; ZM only made a small number available and the kit is scheduled for full release sometime in October. The only thing lacking from this boxing was the traditional instruction booklet, in its place is the instruction booklet printed on a laser printer with folded paper. No harm no foul, it looks just as good and does the job.
Parts are molded in a combination of light grey and clear, and have the same crisp recessed panel lines and thorough level of detailing as Zoukei-Mura's previous releases. Sprues containing external fuselage panels are molded in clear- large items with a frosted finish and some sprues containing engine panels (etc) are crystal clear with minimal, if any, distortion. To assist in correctly positioning parts in the complicated internal structure, Zoukei-Mura has chosen to color some parts in the instructions to more clearly show placement. Wings can be assembled separately or as attached to the fuselage, similar in design to the 1/48 Dragon kit. You get two full Jumo engines, and the level is best described as WOW!!! The engines contain a full bank of compressor fans and what looks to be superb and complete detail.
I'll let the photos speak for themselves, stay tuned for a build thread in the LSP forums soon. VERY highly recommended!
---
© Mike Swinburne 2014
This review was published on Sunday, August 10 2014; Last modified on Monday, August 11 2014