Valiant Wings Publishing | Airframe Album 4: The Westland Whirlwind
Reviewed by Kevin Futter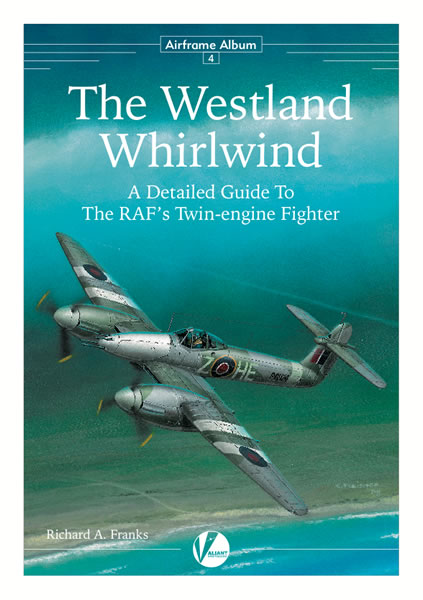 Valiant Wings Publishing has just released the fourth instalment in their Airframe Album series, entitled The Westland Whirlwind: A Detailed Guide To The RAF's Twin-engine Fighter. In common with previous titles in the series, this one is authored by Richard A. Franks.
The book weighs in at 82 pages of glossy print, bound between two soft card covers. The cover artwork by Seweryn Fleischer is terrific, and highly evocative. The content is broken up into four main sections plus appendices:
Technical Description
Evolution - Prototype, Production and Projected Variants
Camouflage & Markings
Production
Along with a five-page preface, the appendices make up the rest of the material:
Kit List
Accessory List
Decal List
Bibliography
Technical Description
This section is further broken down into eight sub-sections:
Group 1 - Fuselage
Group 2 - Undercarriage
Group 3 - Tail
Group 4 - Wings
Group 5 - Engines
Group 6 - Weaponry
Group 7 - Electrical
Group 8 - Miscellaneous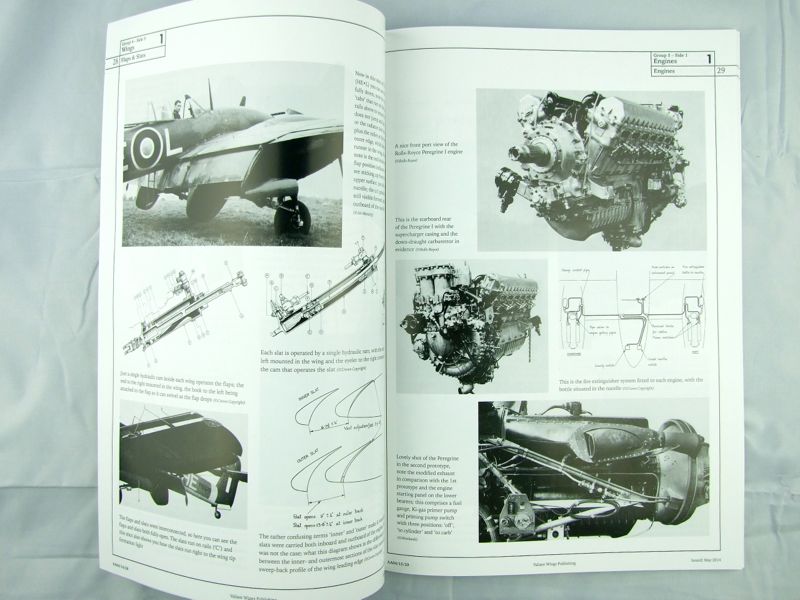 The content consists mostly of technical drawings and diagrams, annotated photographs and some lengthy captions. There's plenty of detail on offer, and many of the diagrams appear to be from official sources. Given that there are only vacuform kits available of the Whirlwind in large scale, these details will certainly be very useful to anyone building either kit (Combat Models, I.D. Models). I would like to have seen something in the way of scale plans or drawings however, to assist in correcting any dimensional errors those kits might contain. Still, the absence of such does not compromise the the utility of what's already in this section.
Note that 1/48 scale plans were included as an insert (shown in the photo below) if you pre-ordered directly from Valiant Wings. This offer appears to have expired. Thanks to Thierry Laurent for the information, and Anders Bask for the photo.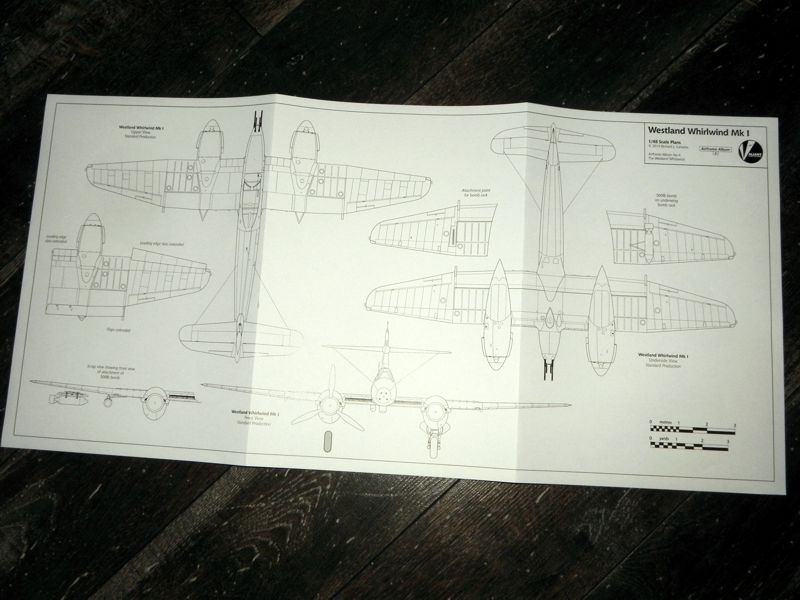 Evolution - Prototype, Production and Projected Variants
This section consists of a straightforward chronological walk-through of the various versions both real and projected. Photographs and descriptions are augmented with isometric 3D renderings of each type (roughly one per page). Of interest is the fact that the initial design featured a twin-tail layout, but was never built.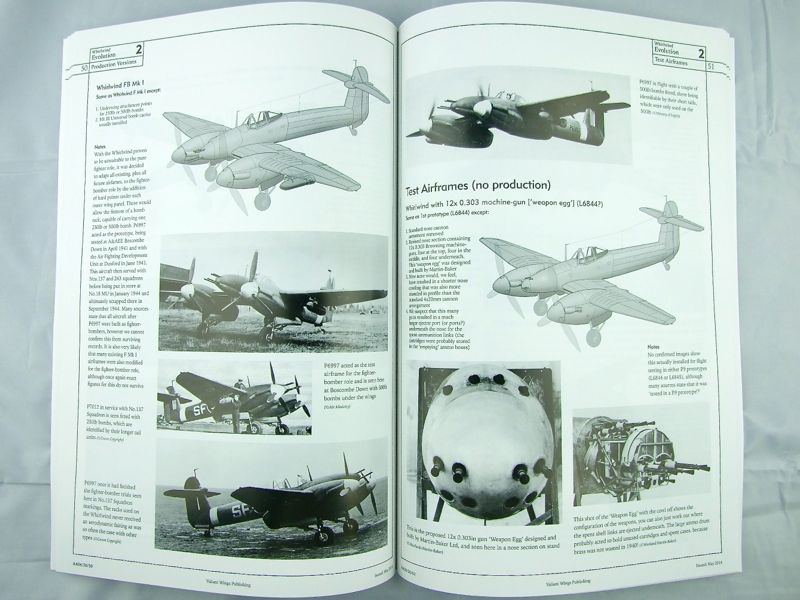 Camouflage & Markings
This section begins with an in-depth discussion of the evolution of camouflage and markings for the Whirwhind, supported by extensive photographs and captions. The various schemes are also shown in colour plan views, along with illustrations of the national markings used (style, size and colour). The section closes out with five pages of colour profile drawings by Richard Caruana, shown in rough chronological order.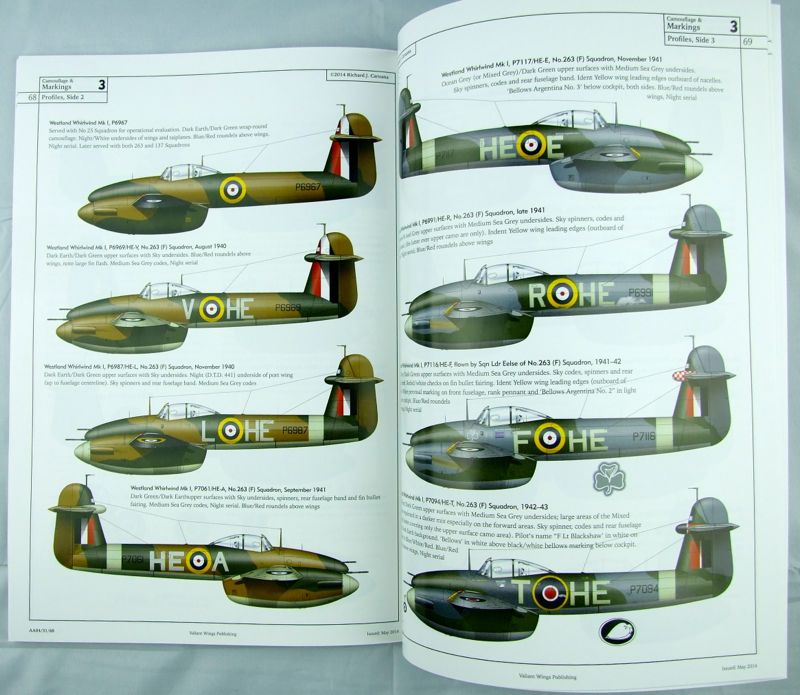 Production
The final section of the book deals with the production history of the type, and to quote the opening paragraph, features "a brief history of every Whirlwind built". Staggeringly, it's all over in eight pages, reminding us of the extent to which the Whirlwind was unable to live up to its initial promise. A small selection of photographs helps illustrate the proceedings. This is certainly a useful section should you wish to model a particular airframe.
Appendices
The appendices span a mere three pages, covering available kits, aftermarket and decals, as well as a bibliography listing other references on the type. The Westland Whirlwind has not been particularly well covered in any scale, so it stands to reason that this section is necessarily brief. It also serves to remind us that there is still an opportunity for a manufacturer to fill that particular conspicuous void in 1/32 scale. We can but hope.
Conclusion
Not being an expert on the Whirlwind myself, I can't comment with any authority on the veracity or thoroughness of this title's content. I can say however that it's very nicely produced, with plenty of information, photographs and illustrations, and should serve as a useful reference no matter which kit you're building. It has also sharpened my interest in seeing a kit in 1/32 scale, and even got me wondering what I could do with one of the vacuform kits. Perhaps armed with this book and the Tigger vac kit, a decent 1/32 Whirlwind could be had after all...
Thanks to Valiant Wings Publishing for the review sample.
© Kevin Futter 2014
This review was published on Saturday, June 07 2014; Last modified on Thursday, October 01 2015