Zoukei-Mura | Sd.Kfz.2 Kettenkrad
Reviewed by Mike Swinburne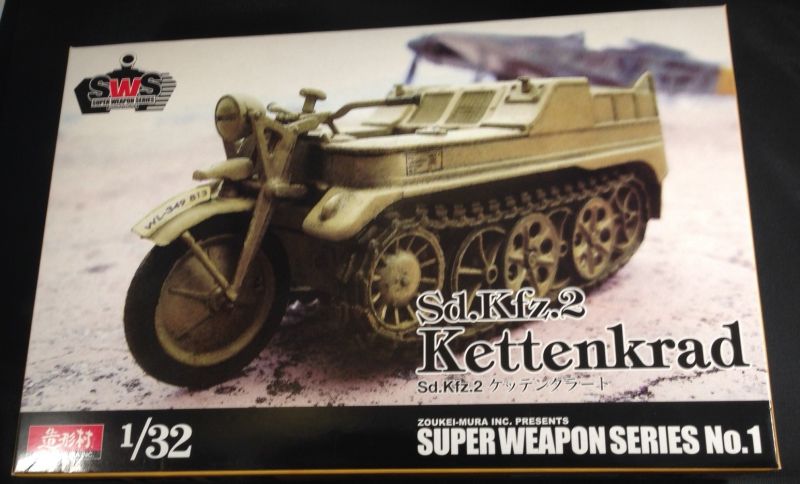 Around the same time Zoukei-Mura released their superb Ta-152 kit, they also released a model of one of the most common Luftwaffe airfield support vehicles, the Sd.Kfz.2, better known as the Kettenkraftrad, or Kettenkrad for short. The vehicle was essentially a half-track powered tricycle and is instantly recognizable to anyone who has spent time looking at photographs of Luftwaffe airfields.
While obviously not a large scale plane, it is the only kit of a kettenkrad available in 1/32 scale and is the one must-have accessory for any Luftwaffe diorama in our favourite scale. Like the Super Wing Series of kits from Zoukei-Mura, there are also a number of accessory sets available for this kit including two trailers and several different figure sets. Inside the box, you will find two individually-wrapped sprues of tan plastic containing a whopping total of 52 parts, and a small decal sheet for three different paint schemes (desert yellow, dark gray, and late war desert yellow/green/red-brown).
Detail on the parts is very nice, in line with what builders have grown to expect from the likes of Zoukei-Mura and similar in quality to Tamiya armour kits. Sprue A contains the larger parts for the body of the vehicle, the engine halves, and various fenders/panels. The engine detail is particularly nice and is kept to only two pieces. You do not get a full array of cylinders and pushrods that you get in ZM's aircraft engines.
Sprue B contains the tracks, road wheels, and the front wheel and fork assembly. Tracks are molded in two halves each, with the drive sprockets and interior road wheels molded between them. The exterior road wheels are separate pieces and along with the track assemblies are nicely detailed right out of the box. I was skeptical about how the track assembly would look when pieced together as I've not come across a kit in person with a main kit detail molded in this manner. To my happy surprise, it's actually a very convincing effect even without glue, and the only area to really watch for will be a glue seam on the drive sprocket between the treads.
Zoukei-Mura should be commended for releasing the first Kettenkrad in 1/32 scale, and providing us large scale aircraft builders with a very nice addition to Luftwaffe dioramas with enough detail to not necessarily need an aftermarket detail set!
---
© Mike Swinburne 2014
This review was published on Thursday, March 27 2014; Last modified on Friday, March 28 2014