Maketar Productions | #32053: F4U-1 Corsair "Birdcage"
Reviewed by Kevin Futter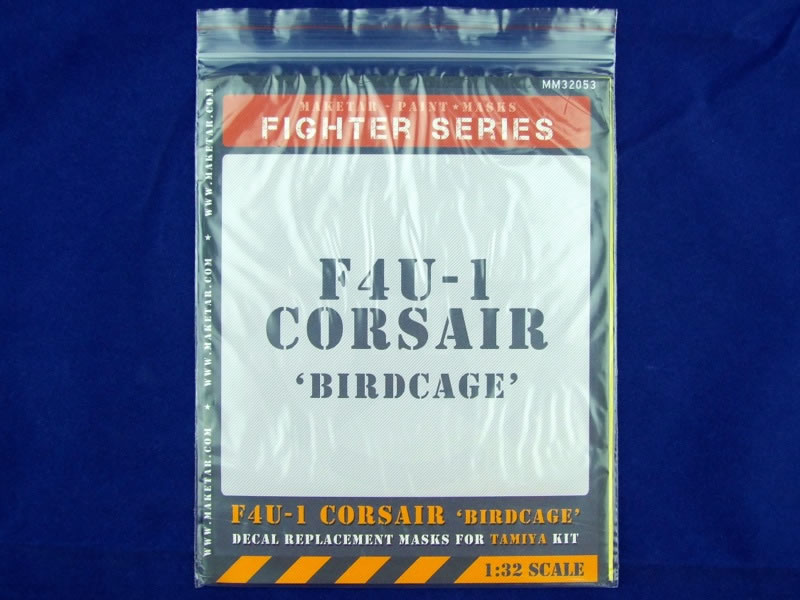 Maketar Paint Masks burst onto the modelling scene several years ago with a range of paint masks for a variety of aviation subjects across several scales. With a heavy focus on 1/32 scale subjects, they were popular with LSP modellers in the newly-burgeoning trend towards using paint masks for major markings. They are now back after a short hiatus with even more sets, and here we examine a set from their "Fighter Series", "F4U-1 Corsair 'Birdcage'".
This set comprises four sheets of masks, which are pre-cut from self-adhesive kabuki material (similar to the material Tamiya uses for its familiar masking tape range).
Unfortunately it's nearly impossible to photograph these masks so that the pre-cut lines are visible, so my apologies for what just looks like a pile of sticky notes. Helpfully, the rear of the packaging jacket contains line drawings that delineate the designs each sheet contains: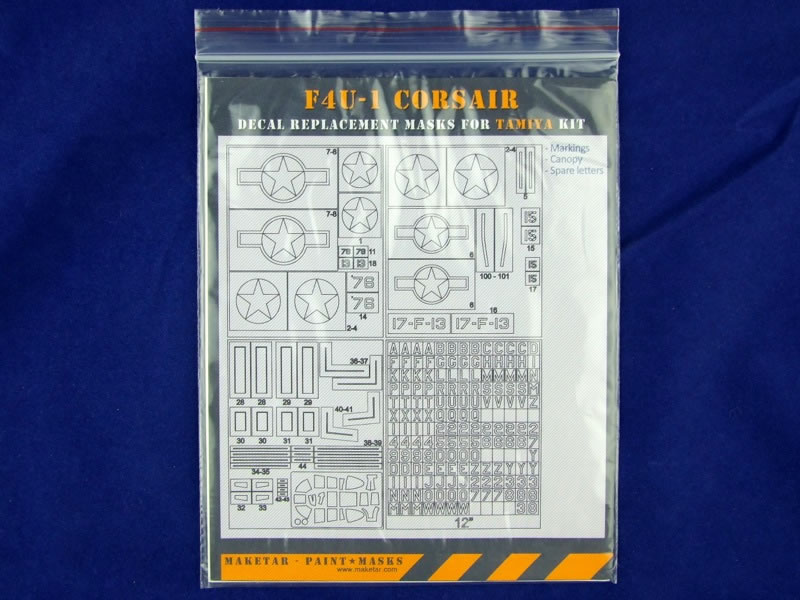 These masks are in fact a direct replacement for the decals supplied in the Tamiya 1/32 F4U-1 kit, allowing you to paint most of the significant markings on, rather than use the kit decals. You will still need to rely on the kit's decals however, and not only for the stencils. The 'Jolly Rogers' flags are not provided for 17-F-13, nor are the two 'Spirit of' scripts for "Spirit of '76". Also missing are the "Daphne 'C'" markings for that aircraft. This is not a criticism as such, since I'm sure if it were possible to include such petite markings, they would be on the sheets. It's important to realise though that these masks do not replace the kit decals completely.
A very nice touch is the inclusion of masks for the canopy. The Tamiya kit does in fact provide a set of canopy masks, but they are not pre-cut, and need to be carefully cut out using a sharp blade under a nerveless hand. These will certainly save you the trouble!
I was momentarily concerned that one of the masks in the set might have been damaged: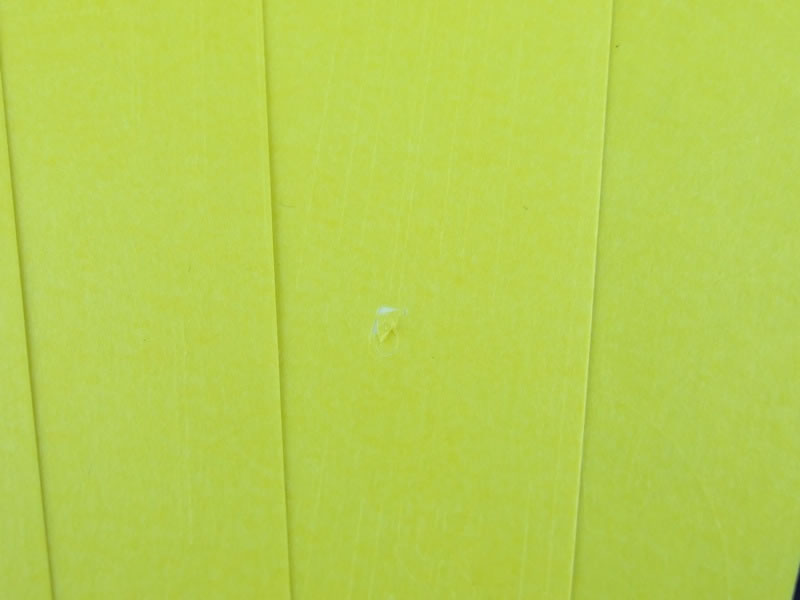 But as it happens this is merely the label number for the mask above it, and no actual masks have been damaged.
One thing that's missing compared to earlier releases is application instructions. This could make using these masks a little tricky for the novice, but modellers with some experience of paint masks shouldn't find this a problem.
Conclusion
Paint masks are ideally suited to LSP subjects and it's great to see an ever-growing range of commercial sets reaching the market. Ideally you would have some prior experience with using paint masks before tackling this set, but otherwise I can heartily recommend it to any modeller looking to use one of the schemes in the Tamiya kit, but doesn't want to use its decals. Just remember not to throw them away!
Many thanks to Maketar Paint Masks for the review sample.
© Kevin Futter 2014
This product is available from the following LSP sponsors
This review was published on Wednesday, March 26 2014; Last modified on Thursday, December 29 2016