Valiant Wings Publishing | The North American P-51 Early Mustang
Reviewed by Kevin Futter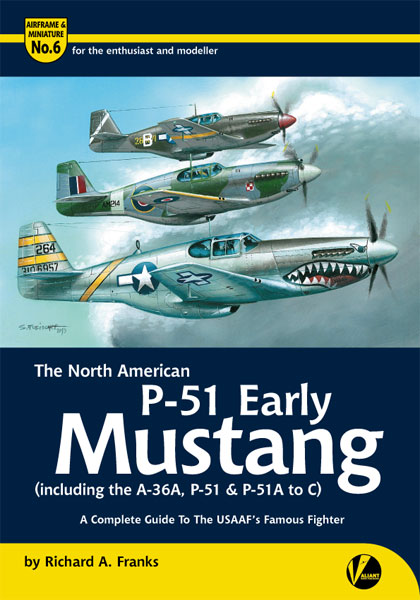 UK publisher Valiant Wings Publishing has released Number 6 in its Airframe & Miniature series, with the rather lengthy title of The North American P-51 Early Mustang (including the A-36A, P-51 & P-51A to C): A Complete Guide to The USAAF's Famous Fighter. Phew! The author is Richard Franks, and the illustrations are shared between Richard Caruana and Jacek Jackiewicz.
The first thing that struck me when I picked up this book was how heavy it is; at 192 pages plus a gatefold section of scale drawings, it is indeed a weighty tome. It's extremely well printed on quality glossy paper, and the reproduction of all drawings and photographs is first-class.
The contents are broken up into nine separate chapters, grouped into two distinct sections:
Airframe Chapters

Evolution - NA-73X and Mustang Mk I
P-51, A-36, P-51A and Mustang Mk II
The Early Merlin-powered Mustangs
Test Airframes, Conversions & Projects
Camouflage and Markings

Miniature Chapters

A-36 Apache and Early P-51-Series Kits
Building a Selection
Building a Collection
In Detail: The A-36 and Early P-51
There is also a preface, along with a collection of appendices at the rear of the book:
A-36 Apache & Early P-51 Kit List
A-36 Apache & Early P-51 Accessory List
A-36 Apache & Early P-51 Decal List
Bibliography
The photos below should give a good indication of the nature and style of the book's contents:
---
The drawings by Jacek Jackiewicz depicting the evolution of the airframe span 22 pages, and consist of crisply-rendered, concisely-labelled isometric 3D images. They are clear and easy to follow, and form a handy guide for discerning what features distinguished which variants.
The colour profiles are by Richard Caruana, and cover 8 pages in all. The artwork is very well done, and a broad range of US and foreign schemes is represented.
The modelling section features several kit builds in 1/72 and 1/48 scales, but sadly nothing in 1/32 (the book itself notes that this was due to time and space constraints). Even so, the builds are extremely well done, and will serve as inspiration and guidance for our own early Mustang builds when we get to them. Fortunately the kits, accessories and decals lists do include 1/32 scale items, and seem quite comprehensive.
At the very back of the book, secured inside the rear cover, is a set of 1/48 scale early Mustang plans in gatefold format. These are printed on heavy, non-glossy plain stock, and feature the following airframes:
P-51 Mustang Mk I
A-36A Apache
P-51B/C Mustang Mk III
P-51 Mustang Mk Ia
These are drawn by Jacek Jackiewicz and look very nicely done, and include comprehensive rivet details.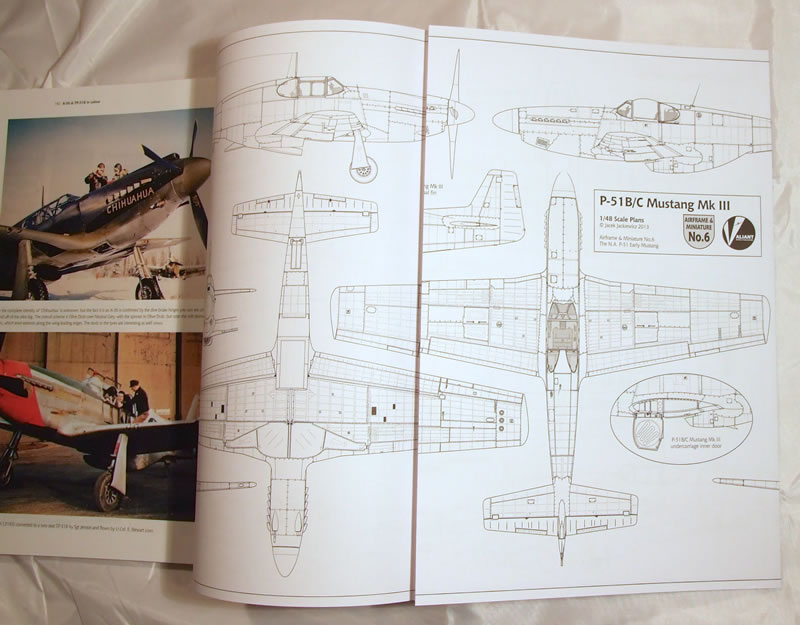 Conclusion
Not being a Mustang expert, I can't give a considered evaluation of the accuracy or veracity of the text itself, and so will leave that to more knowledgeable readers. All other elements of the book ooze quality however, from the clear photography to the beautiful profiles and the detailed scale plans. Contemporary photographs are plentiful and very nicely reproduced. Overall it's an impressive attempt to be the Complete Guide the title alludes to. Recommended!
© Kevin Futter 2013
This review was published on Saturday, December 07 2013; Last modified on Friday, December 13 2013