Valiant Wings Publishing | Airframe Album 3: The CAC Boomerang
Reviewed by Kevin Futter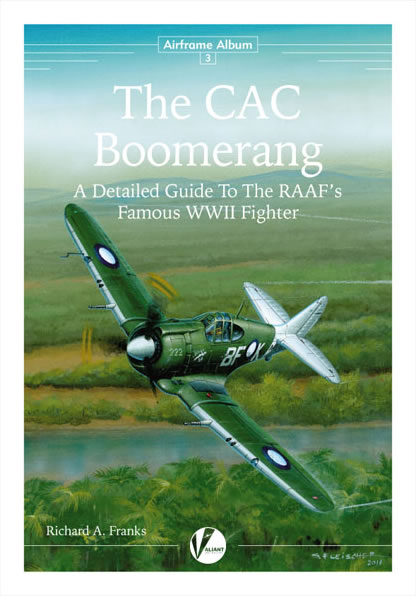 Valiant Wings Publishing has just released its third title in the Airframe Album series, entitled The CAC Boomerang: A Detailed Guide to the RAAF's Famous WWII Fighter. The book is written by series editor Richard A. Franks, a well-known name in modelling and aviation publishing.
The first thing that strikes you with this book is the amazingly evocative cover art by Seweryn Fleischer. In fact the presentation of material in this book is impressive throughout. Photographs are generally clear and crisply reproduced, as are the various line drawings by Jacek Jackiewicz. The colour profiles by Richard Caruana are handsomely rendered.
The content itself is organised into five main sections plus a preface and appendices:
Preface
Technical Description
Evolution - Prototype, Production and Projected Variants
Camouflage and Markings
Survivors
A Big Boomerang
Appendices

Kit List
Accessory List
Decal List
Serial Numbers
Bibliography
It should be evident from the list of contents alone that this title is aimed squarely at the modeller. There's plenty here for aviation enthusiasts and Boomerang aficionados too, but the emphasis is on providing the modeller with copious data and as much detail as possible.
The Technical Description section of the book is packed with period photographs, isometric line drawings and contemporary restoration images. The airframe is covered pretty comprehensively from nose to tail, with special emphasis on those areas of the most interest to modellers: cockpit, engine and wheel bays.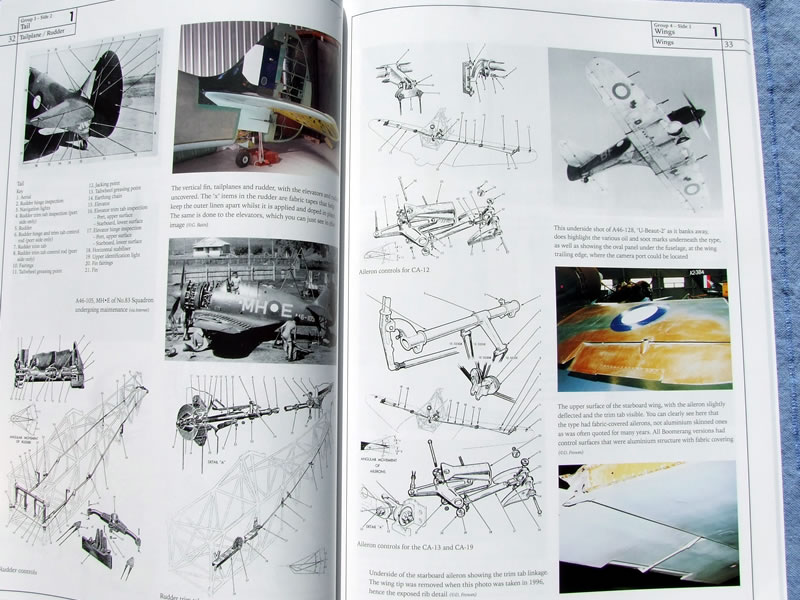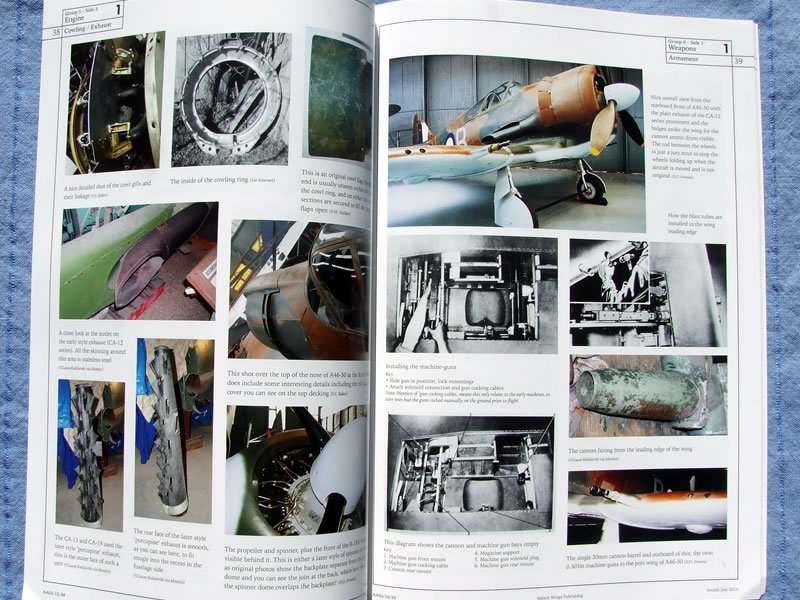 The section on the evolution of the airframe gives a concise but very clear overview of the development of the Boomerang from the initial CA-12 to the final CA-19, even extending to a couple of paper projects that didn't see fruition.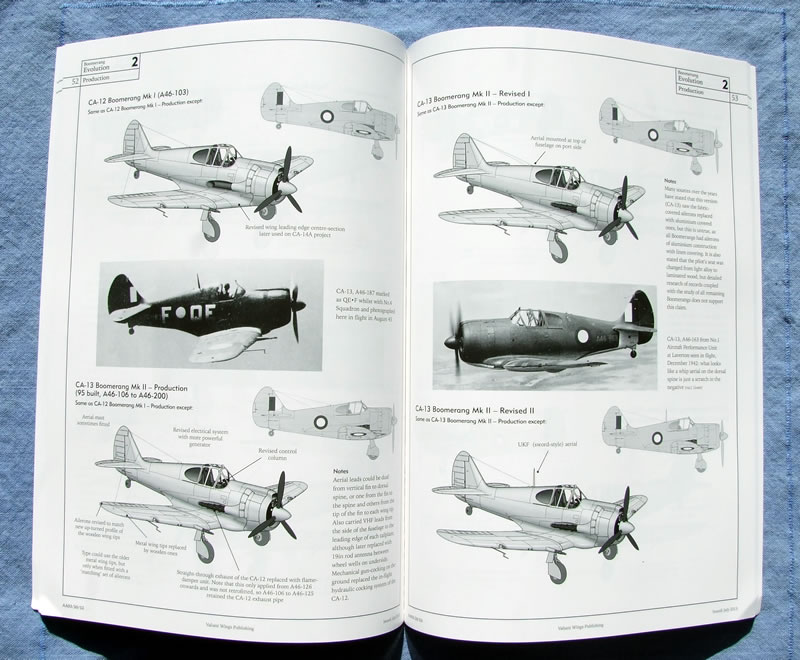 The Camouflage and Markings section relies heavily on period photographs, but also features six pages of colour profiles, as well as a two-page, full-colour stencil placement guide. There's a small issue with the last profile on page 75, where some of the caption text strays onto the profile itself and is almost lost. Otherwise they are very well presented. I'd like to see larger versions of some of the photos, but that's a perennial constraint that all aviation publications have to deal with, and hardly a criticism.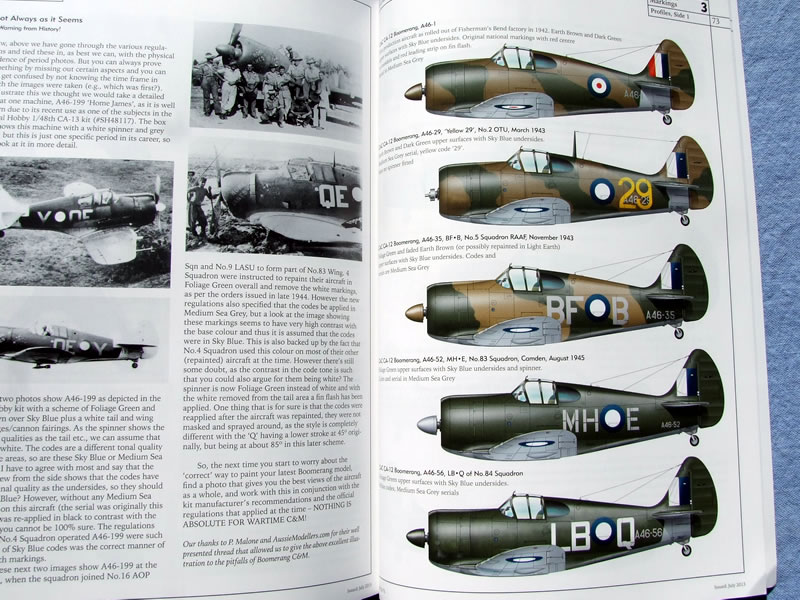 The section on surviving airframes is probably of less interest to modellers than enthusiasts and historians, but is nevertheless very useful. While most surviving airframes are in Australia, several are listed as being in the United States. The main surprise for me is just how many airframes still exist (I counted 25). Each entry is extensively described, and presented with photographs where possible.
Much of the rest of the book is intended almost exclusively for modellers, with the section entitled "A Big Boomerang" offering a detailed look at the Alley Cat (ex-Montex) 1/32 resin Boomerang kit. It functions as an expert critique of the kit, with a note that a build feature on the kit will be available on the Valiant Wings website in early August. A very useful chapter for those who have this kit.
The appendices include a comprehensive list of Boomerang kits, as well as applicable aftermarket products and decal sheets. I was especially impressed that the rare and relatively obscure 1/32 FM vacuform kit is included in the list of kits. These guys have really done their homework!
And that's not surprising really when you read the list of contributors, including Greg Batts and Richard Hourigan - both currently restoring various Boomerang airframes.
Conclusion
This is the most detailed, comprehensive and modeller-friendly title I've yet seen published on the Boomerang. About the only thing it lacks is a set of scale plans, but I can certainly understand why such a thing has not been included, and I certainly don't see it as a shortcoming. It also has very little focus on such things as operational history, but again that's not the book's primary purpose; being a member in the Airframe Album series means this is a technical treatise by design.
If you're building, or intend to build, a model of the Boomerang in any scale, this book is pretty close to an absolute must in my opinion, and I highly recommend it. It's currently priced at £15.95, and is available directly from the Valiant Wings Publishing website.
Thanks to Valiant Wings Publishing for the review sample.
© Kevin Futter 2013
This review was published on Saturday, July 20 2013; Last modified on Thursday, October 01 2015