Scale Aircraft Conversions | Ju 87 Replacement Landing Gear Kit #32067
Reviewed by Ray Peterson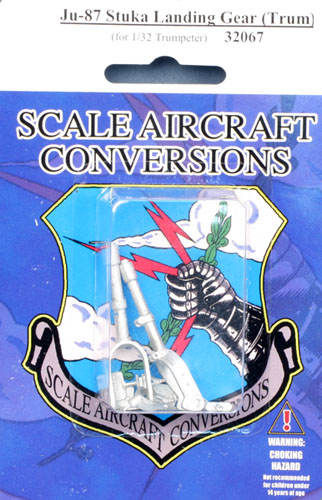 A recent release from Scale Aircraft Conversions is this new accessory set for the Trumpeter 1/32nd Ju-87 kits kits. The set includes the main landing gear and the tail gear.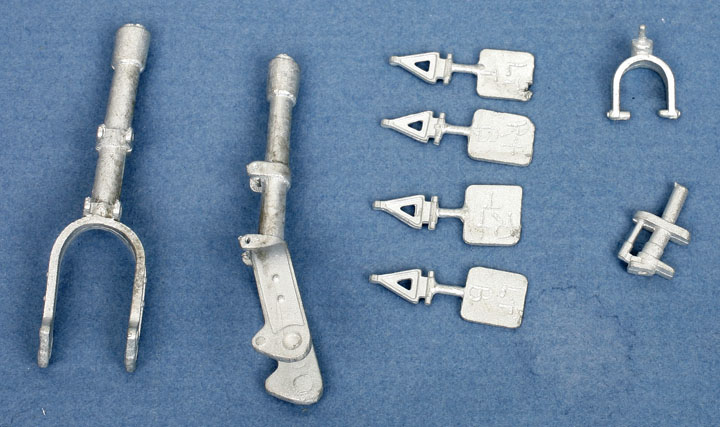 This set is simply meant to be a direct replacement for the kit's plastic landing gear, providing the modeler the option to go with white metal instead of plastic. This gear also does away with having to deal with the two part main gear legs that Trumpeter provides, combining them into a single part which should help with dealing with the seam. It also provides the scissor links in white metal as well. The two part tail gear fork is also combined into a single part, except a change was made to the yoke to provide a two part assembly allowing the modeler to show the tail wheel turned at an angle as seen in various photos of parked Ju 87s. This gives the modeler a chance for a little individuality in displaying his model. I do not have a kit on hand to compare to, but you can see pictures of the sprues and instructions at Hobby Search.
Casting quality looks very good with little flash and only a slight molding seam. Some parts may need to be carefully bent to correct alignment but due to the nature of the white metal this is not difficult.
I still am not happy with the softness of the alloy used. However, the gear of the Stuka is quite substantial in diameter so the SAC gear will not bend as easy as in smaller scale kits. So I am confident it is stronger than the kit gear and will hold up well. Nor do I expect the SAC gear to sag over time.
Recommended as a quick and relatively low-priced replacement for the kit gear.
Thanks to Scale Aircraft Conversions for the review set.
© Ray Peterson 2012
This review was published on Friday, November 02 2012; Last modified on Saturday, June 03 2017