Aviaeology | AOD32002m: Special Edition - Canadians in Coastal Command #1: RCAF Beaufighters Updated and Expanded
Reviewed by Ron Patterson
Aviaeology has just released a special edition version of their RCAF Beaufighters – Canadians in Coastal Command #1. This is an updated and expanded version of their popular decals depicting Beaufighter TF.Xs operated by 404 Squadron - RCAF.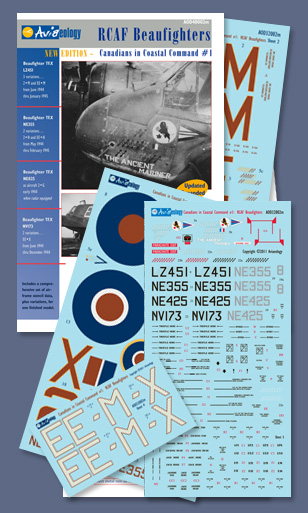 The set allows for 8 different schemes for four different airframes.
Beaufighter TF.X Serial number LZ451 in three variations as 2 - M and EE - M from June 1944 thru Jan 1945
Beaufighter TF.X Serial number NE355 in two variations as 2 - H and EE - H from May 1944 thru Feb 1945
Beaufighter TF.X Serial number NE825 as aircraft 2 - G in early 1944
Beaufighter TF.X Serial number NV173 in two variations of EE - X from June 1944 thru Dec 1944
The decals come in four separate sheets including a comprehensive stencil sheet. They are packaged with a very stout sheet of cardboard to insure there will not be any bending damage during shipping. Under close inspection I find these sheets flawless in execution, the color appears correct, they are printed in very crisp detail and in absolutely prefect register. Very nice stuff.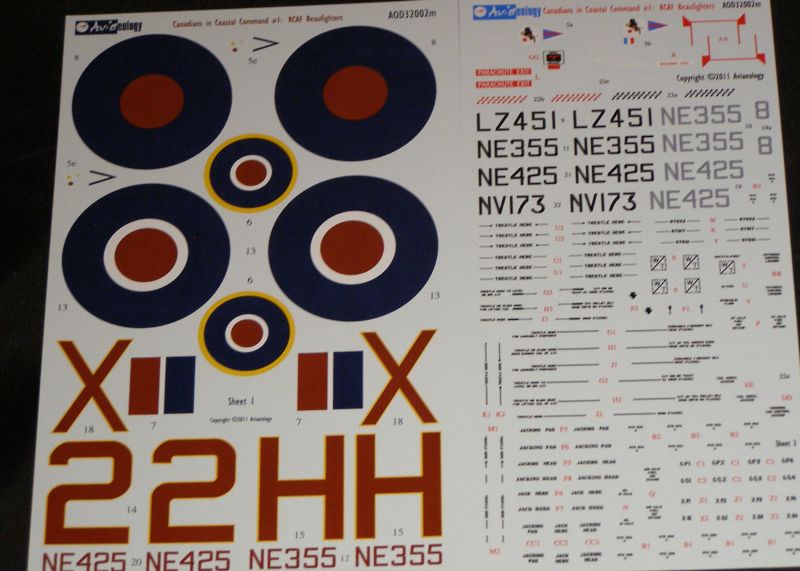 The comprehensive instruction sheet is printed double sided on four letter sized sheets of paper in black and white. An interesting feature when ordering from Aviaeology is that after you confirm your order they e-mail you a full color instruction set in PDF format.
When I say comprehensive instructions, I mean very comprehensive. These instructions leave absolutely no guess work when it comes to depicting all of these airframes. They are very complete. Information includes:
Colours and finishes including weathering and paint wear information
Very detailed profile drawings depicting all stencil placements including port, starboard profiles as well as top and bottom views.
Approximately twelve period pictures of many of these aircraft
Modeling detail information specific to each airframe
Beaufighter TF.X Rocket Projectile features and wing installations including scale drawings of the port and starboard wing fairings, rocket variants, various mounting saddles, reference pictures etc.
A.E.A.F Stripe (invasion stripe) information in general and specific details per airframe.
The decals are available directly from Aviaeology. They truly are spectacular.
Review sample compliments of Aviaeology.
This review was published on Sunday, July 22 2012; Last modified on Thursday, March 23 2017