Contact Resine | 32020: 1/32 F4U Corsair Wheels
Reviewed by Chris Sherland
Contact Resine continues to expand its line of quality resin replacement parts for 1/32 and 1/24 aircraft kits. There is a clear focus in their line of following the market very closely, and these beautifully detailed wheels for the F4U Corsair are clearly aimed at replacing the kit parts of the Trumpeter kits.
While these wheels are in no way married to that kit (they surly would fit the old Revell) they are designed to be direct replacements for the rubber tire and plastic rim parts that Trumpeter includes with their 2 Corsairs.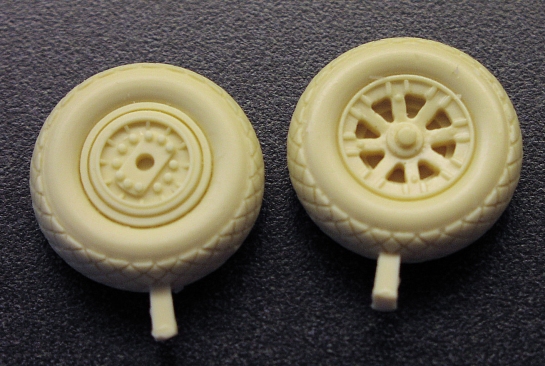 These are beautiful wheels. Very nicely molded with no flash at all, they are fashioned to be "un-weighted" and carry no bulge or flat spots.
The hub detail is superb and the diamond tread pattern is perfectly portrayed. Without a doubt these one-piece resin replacements will bring a nice feel to the legs of the Trumpeter kit, and throwing away those rubber tires should prove to be quite a joyful experience!
Thanks to Contact Resine for the review sample.
© Chris Sherland
This product is available from the following LSP sponsors
This review was published on Saturday, July 02 2011; Last modified on Thursday, December 29 2016