Reference Details for Sea Harrier FA2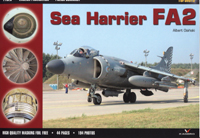 Title
Sea Harrier FA2
Authors
Osiński
Publisher
Kagero
Year
2005
Types Covered
Sea Harrier
Cockpit Details
Wheel Well Details
Other Details
Cutaway Drawings
Multiview Drawings
Generic Camouflage Patterns
Generic Markings Patterns
Specific Markings Profiles
Notes
A walk around type publication, with an emphasis on details of the specific type covered. Almost entirely color images, that are very sharp and clear. Very highly recommended.

Number 20 in the Topshots series.

Free masking material included.