Reference Details for Hurricane I vs Bf 110, 1940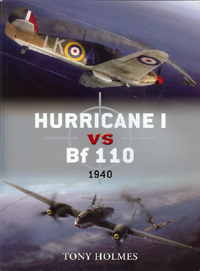 Title
Hurricane I vs Bf 110, 1940
Authors
Holmes
Publisher
Osprey
Year
2010
Types Covered
Hurricane, Bf 110,
Cockpit Details
Wheel Well Details
Other Details
Cutaway Drawings
Multiview Drawings
Generic Camouflage Patterns
Generic Markings Patterns
Specific Markings Profiles
Notes
Not a walk around type publication, but rather an overview of the types involved, with overall strengths and weaknesses analyzed; engines, climbing, diving and turning performance/speeds, weapons, defensive strategies and capabilities being compared so as to determine the overall perceived better fighter. Highly recommended.

Number 29 in the Duel series.