Werner's Wings 1/32nd Avia S-199 Release Announcement
Information supplied by Floyd Werner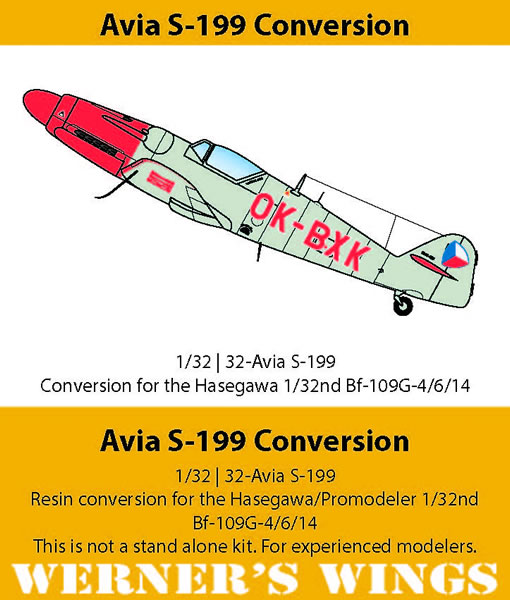 Werner's Wings is proud to announce the release of our 1/32nd scale Avia S-199. It is available as a LIMITED EDITION of 100. The cost is $70USD plus shipping. In the US, the shipping is $7USD. Outside the US depends on where you are in the world but normally around $15 USD. You can pay Paypal at fwernerjr@comcast.net or by credit card or money order.
Mastered by a master craftsman, Tom Bautch, the conversion converts the Hasegawa/Promodeler Bf-109G-4/-6 or -14 into an Avia S-199. The set comes with a complete interior, two spinners, new gondolas, as well as, all the parts to convert a model into a Series 2 or 3 Avia S-199. Also included are two Falcon canopies, both the bulged sliding and Erla. Decals are included for five aircraft, two Israeli and three Czech, aircraft.
If you have any questions please feel free to email me at fwernerjr@comcast.net or info@wernerswings.com for overseas customers. Remember this is a LIMITED EDITION. When they are gone they are gone. Get yours now.
---
Check out www.wernerswings.com for all of our products.
This article created on Wednesday, November 20 2013; Last modified on Wednesday, November 20 2013