1:32 FIAT CR.42 - Coming Soon!
Information supplied by Simon Kulakowski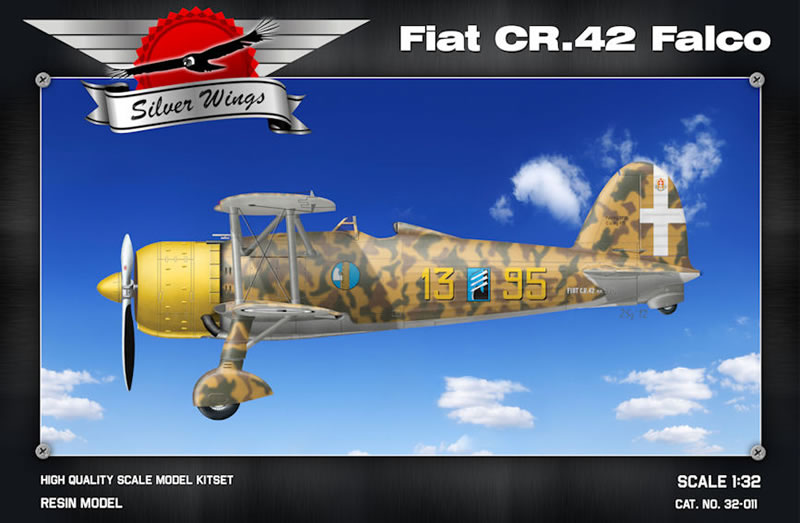 Hello!
Silver Wings is proud to announce our second all new kit for 2012. As always, we thank our customers for our success, and have asked for your input regarding which kits you would like to see us release via the poll on our website, as well as compiling the information sent to us via email. We are pleased to be able to release a kit that that has consistently been in the top of our customer's request lists.
We hope that you will be excited as we are to welcome the Fiat CR.42 to our line of high-quality 1/32 resin kits.
The Fiat CR.42 had the distinction to be the last biplane fighter of the Regia Aeronautica and over 1,700 example were built, serving with Belgium, Hungary, Sweden and Germany in addition to its Italian service. Along with the British Gloster Gladiator, it saw combat as the front line fighter in the Mediterranean theater at the beginning of World War II, as well as a brief participation in the Battle of Britain.
We are pleased to offer this exciting new kit in four colorful options, with decals for the following aircraft:
Italian: 92 Squadron, Orfordness, UK, October 1940, flown by sergeant Pietro Salvadori (Battle of Britain)
Italian: 73 Squadron, El Adem T3, Libya, August 1940, flown by Italian ace - major Ernesto Botto
Swedish: 1 Squadron, Kiruna, Sweden, March 1942
German: Nacht Schlacht Gruppe 9, Luftwaffe, Turin-Aeritalia, Italy, April 1944
Projected availability date – August 2012
Please read the flyer or visit our website, www.silverwings.pl for additional information on this kit.
The Silver Wings Team
This article created on Saturday, August 04 2012; Last modified on Saturday, August 04 2012