MISSION TO BERLIN B-17 book - 1290
Information supplied by Robert F. Dorr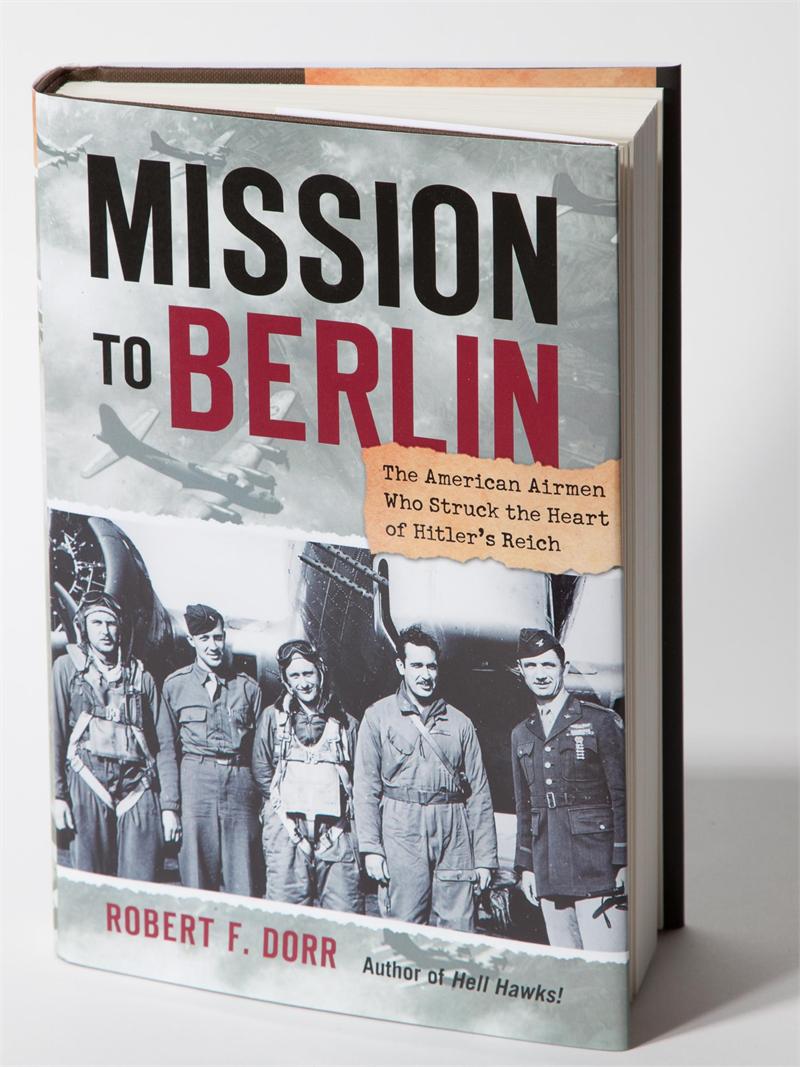 Friends,
My book about B-17 Flying Fortress crews was published a few months ago. This message is meant to encourage you to get a first edition, signed copy directly from the author -- that's me.
The book is a great gift for an aviation person or a military history buff.
I expect to run out of first-edition copies soon.
"MISSION TO BERLIN" is a general-interest, Stephen Ambrose-style World War II history that focuses on B-17 Flying Fortress crews throughout the aerial campaign and especially those who attacked Berlin on February 3, 1945, in the largest mission ever flown against a single target. The book also includes a new look at the entire bombing campaign in Europe.
The young men who flew and maintained the B-17 are at the center of the story but "MISSION TO BERLIN" also has lengthy passages about Americans who flew and maintained the B-24 Liberator, P-47 Thunderbolt and P-51 Mustang. This book also contains a considerable amount of B-24 Liberator material. "MISSION TO BERLIN" is the same size as my "HELL HAWKS" book of three years ago. I have copies of both books available here with the authors' signatures. The two books look great together.
"MISSION TO BERLIN" is dedicated to pilot Marvin D. Lord, co-pilot Robert Des Lauriers, togglier Ray Fredette and tail gunner Frank Chrastka. You'll encounter air aces like Brooks Liles and Grant Turley and bomber pilots like John Pesch and Harris Rogner. Medal of Honor recipient Maynard Smith is in this narrative. The book will interest historians, the warbird community and veterans' and reunion groups. A member of the 447th Bombardment Group said, "I learned something new from this." He felt the book described what life was like for these men. A bomber crewmember who served in a different theater called this "a universal bomber crew story" although a major part of the book is about fighters.
HOW TO GET IT: For a first-edition signed copy directly from me, the author, send me a check for $35.00 to cover book, signature, packaging and shipping. And remember that I'll need your ADDRESS. If you'd like to get a signed copy from me, send a message confirming (1) whom to sign the book for, and (2) the address to which to send it. You do not need to wait for your check to reach me in the mail. For purchasers in Europe and Australia, the price is $45.00. If you pick up the book from me in person in northern Virginia, the price is $28.00.
NOTE: I have a huge discount for anyone who wants to order six books at once.
First edition copies will be gone in a few weeks. If you have questions, please PICK UP THE PHONE.
PLEASE NOTE: I'm no longer making appearances at the Steven F. Udvar-Hazy Center (UHC). I have never signed this book at UHC.
Thanks for your support.
Best wishes.
Bob Dorr
Robert F. Dorr
of "HELL HAWKS!"
3411 Valewood Drive
Oakton VA 22124
robert.f.dorr@cox.net
(703) 264-8950
This article created on Friday, February 03 2012; Last modified on Monday, February 13 2012