Barracuda Studios Mustang releases
Information supplied by Roy Sutherland
To be debuted (as in available for sale) for the 1/32nd scale P-51D Mustang at the IPMS Nationals in Omaha, Nebraska later this week, are the following 2 brand new products:
BC32009 P-51D Mustangs Part 1 1:32nd scale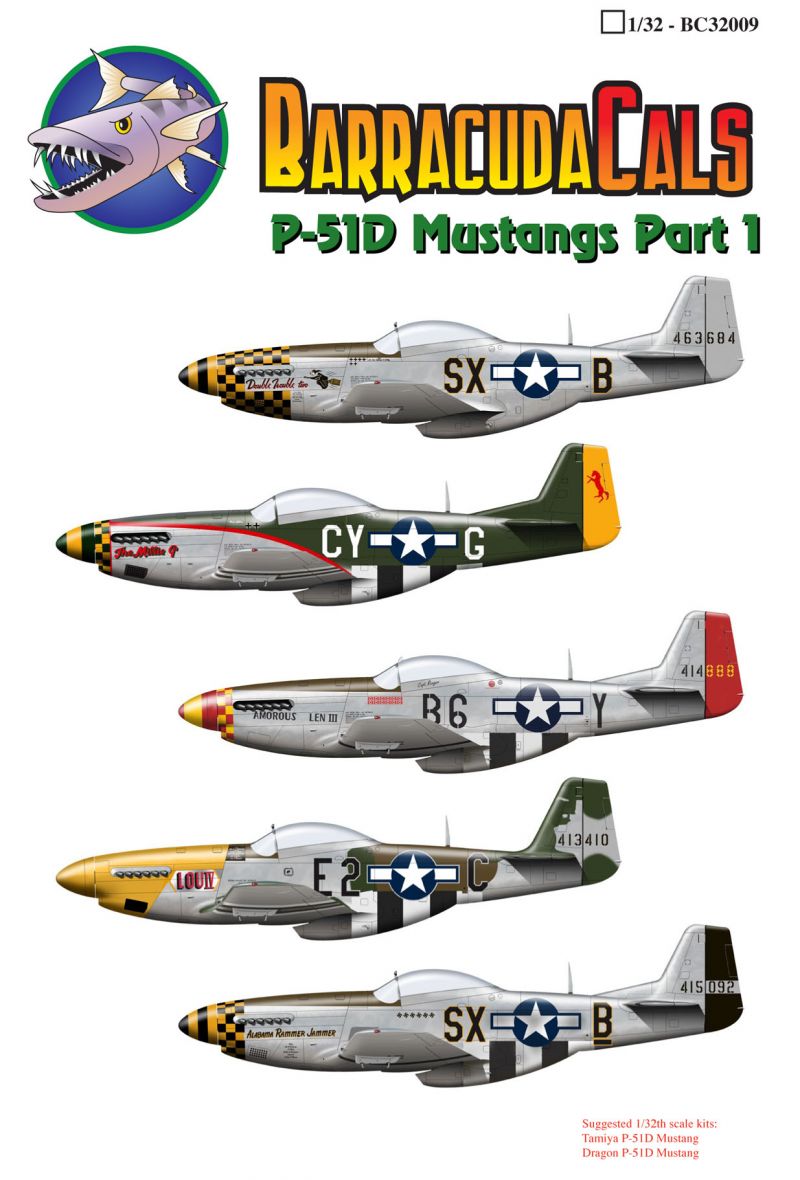 2) The Millie G. S/N 44-14985 attached to the 55th Fighter Group, 343rd Fighter Squadron, 8th Air Force. Flown by Major Edward Giller (3 air-to-air, 6 strafing victories) from Wormingford Airfield, 1944-45. This sheet depicts the Millie G accurately, probably for the first time. There are actually two different aircraft, and both can be modelled with markings on this sheet. One had diagonal yellow trim stripes and no invasion stripes, while the other one had red diagonal trim stripes, under fuselage invasion stripes, and a narrow red trim stripe to the nose checks. The Nose checks are green and yellow as previously represented, but the green in reality is a much darker green. The yellow name actually had a red drop shadow, not green as previously shown.
3) Amorous Len III. S/N 44-14888 with the 357th Fighter Group, 363rd Fighter Squadron, 8th Air Force. Flown by Captain Reager from Yoxford Airfield, England, 1944-45. This fictional airplane can be easily adapted to represent another well known aircraft of this unit.
4) Lou IV. S/N 44-13410 of the 361st Fighter Group, 375th Fighter Squadron, 8th Air Force. Flown by Lt. Col. Thomas Christian (KIA August 12, 1944 with no victories) out of Bottisham Airfield, summer 1944. This is a much loved and extremely hotly debated aircraft, color scheme wise. You can paint it as you see fit, but this sheet accurately captures the correct size, style and dimensions of the markings it wore. The Tamiya 48th and 72nd kit markings are incomplete and incorrect, with considerably undersized fuselage codes. The "Athelene" marking is included for the Starboard cowling, which most earlier decals for Lou IV missed.
5) Alabama Rammer Jammer. S/N 44-15092 of the 353rd Fighter Group, 352nd Fighter Squadron, 8th Air Force. Flown by Lt. Arthur Cundy (5 aerial victories) from Raydon Airfield in 1944-45. This aircraft can be built in two ways, as shown on the sheet with the three rows of nose checks, or slightly later, when the checks were extended as seen on Double Trouble Two.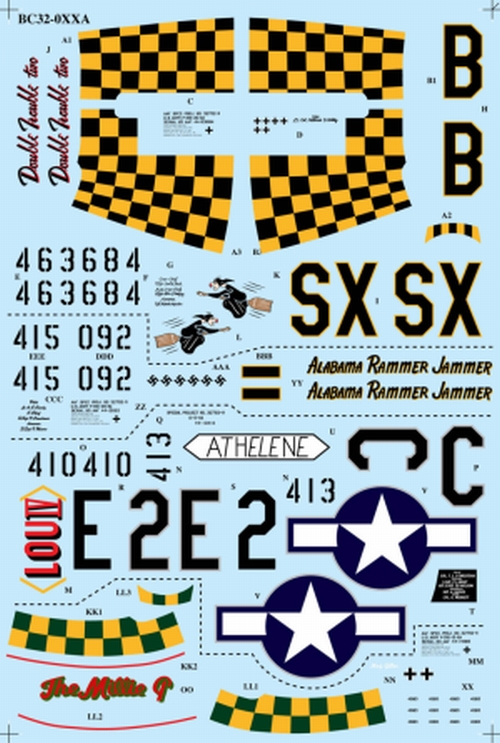 This article created on Tuesday, August 02 2011; Last modified on Tuesday, August 02 2011