Airframe Detail No 8-The Gotha Go 229 - is Coming from Valiant Wings Publishing
Information supplied by Mark Peacock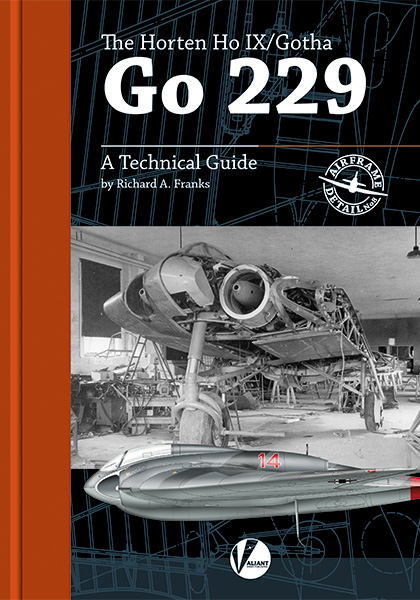 I am delighted to announce the next title in the Airframe Detail series from Valiant Wings Publishing. This series of books offers everything that modern modellers want when they are tackling a specific subject and includes period diagrams and full colour profiles and concise camouflage and marking notes.
Airframe Detail No 8 - The Gotha Go 229 - A Technical Guide by Richard A. Franks
Late war Luftwaffe subjects are extremely popular and with the kit choices now available in most scales it seems right to produce a title on this particular type.
Our eighth title in the Airframe Detail series will be an essential companion for anyone tackling the Zoukei-Mura 1/144th, 1/72nd, 1/48th or 1/32nd scale kits, the older Dragon 1/48th example or even the venerable PM 1/72nd scale version.
Contents will include all the elements listed plus:
Period detail images during production and testing
A wealth of historical technical photographs and diagrams
Detailed walkaround images of the world's only surviving example
Imaginative colour profiles by Richard J. Caruana
At least 64 pages in total
Lists of all Go 229 kit and accessories produced in all scales
Kit build of the 1/144th & 1/72nd Go 229s from Zoukei-Mura by Libor Jekl
Airframe Detail No 8 - The Gotha Go 229 - A Technical Guide by Richard A. Franks will retail at only £13.95 per copy + postage and packing.
The book will also be available from all good hobby stores and specialist bookshops. Publication is scheduled for late February. ISBN is 978-1-912932-10-8.
Pre-orders can be made via the Valiant Wings website, www.valiant-wings.co.uk, by 'phone on 01234 273434 (+44 1234 273434 if calling from outside the UK) or by writing to:
Valiant Wings Publishing
8 West Grove
Bedford
MK40 4BT
SPECIAL PRE-ORDER OFFERS - Save money!
Save money on postage! Pre-order before August 30th and save £2 on post and packing, both UK and worldwide!
This article created on Wednesday, January 22 2020; Last modified on Wednesday, January 22 2020