Valiant Wings Publishing Announces Airframe Extra No 10 - The Battle of Midway
Information supplied by Mark Peacock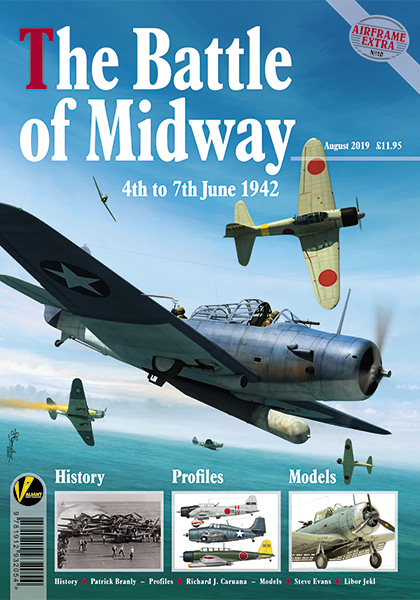 Airframe Extra No 10 - The Battle of Midway
Valiant Wings Publishing is about to produce the tenth title in the much-acclaimed Airframe Extra series: The Battle of Midway. It will also be our fifty-first book in ten years.
Many active scale modellers like to build subjects based on a theme or historical event. This series looks at specific areas and events in the history of aerial warfare. Each title covers the history and timelines, detail of the protagonists, period photographs and superb colour artwork from Richard J Caruana. Specific kit builds in 1/72nd and 1/48th scales from Steve A. Evans and Libor Jekl commemorate each event that we cover.
Each title is A4 in size, 64-80 pages with laminated covers. Available direct from Valiant Wings Publishing (www.valiant-wings.co.uk) or from all good specialist bookshops.
Airframe Extra No.10 - The Battle of Midway
Publication in late July
64-80 pages in full colour
ISBN: 978-1-912932-05-4
Cover price £11.95
Covers the historical aspects of the battles in the air and at sea over and above Midway between the 4th & 7th June 1942:

Historical narrative by Patrick Branly
Numerous period images
Colour profiles by Richard J Caruana
Specially commissioned kit builds: - Airfix Grumman F4F-4 Wildcat and Nakajima B5N2 Kate plus Hasegawa Douglas SBD-3 Dauntless all in 1/72nd by Libor Jekl
Accurate Miniatures Grumman Avenger and Vought SB2U Vindicator plus Hasegawa Nakajima B5N 'Kate' by Steve Evans
Orders can be placed via our website www.valiant-wings.co.uk or by calling +44 (0) 1234 273434 or by writing to:
Valiant Wings Publishing Ltd
8, West Grove,
Bedford,
Bedfordshire
MK40 4BT
Airframe Extra No 10 - The Battle of Midway will also be available from good specialist bookshops and hobby shops worldwide.
Best wishes
Mark Peacock
Publisher
Special pre-order offer!
Order direct from us before July 25th and get £1.00 off cover price!
This article created on Saturday, June 22 2019; Last modified on Saturday, June 22 2019