Werner's Wings Decals 35-07 M/HH-60G Pavehawk Released
Information supplied by Floyd Werner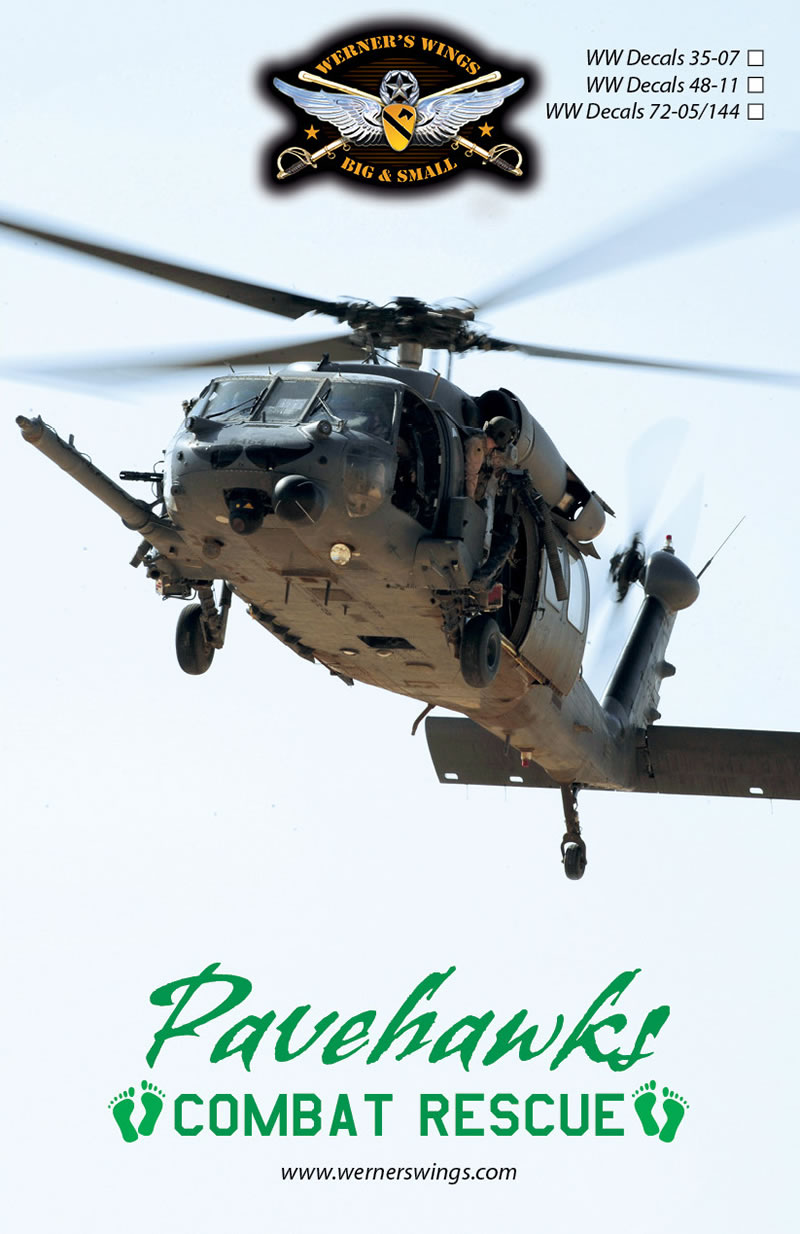 Werner's Wings is excited to announce the release of the M/HH-60G Pavehawk decals in 1/35th, 1/72nd and 1/144th scales. There was an issue with the 1/48th scale ones so they will be released at a later date. Besides the Pavehawk sheet an extra Stencil sheet (WW Decals 35-08) has been released for those wishing to build more than one Pavehawk. Rising costs have forced me to slightly increase the price of the decals.
Inspired by the National Geographic show, 'Combat Rescue', this sheet is designed for the MRC/Academy HH-60G kit. The 1/48th scale, when released, should fit any M/HH-60G the same with the 1/72nd scale sheet. The 1/144th scale sheet is designed for the Dragon/DML kit. This is our first baby steps into the tiny scale of 1/144th.
The decals were masterfully rendered by Mason Doupnik who has done all of Werner's Wings decals so you know his high standard of excellence.
This sheet follows the development of the MH/HH-60G from the beginning up until the present day. The decals are printed by BOA Agency so they are thin, in register and perform flawlessly. This sheet contains markings for 17 complete aircraft and five extra mustaches for the Pedros. There are stencils included to do one aircraft with the proper Air Force font. Extra numbers are provided if you want to customize your model. Every paint scheme used operationally is represented from the three tone 'lizard' scheme, Desert Storm two tone scheme, three tone desert scheme and the final overall dark grey.
The history of the Pavehawk and differences is included in the instructions. Some historically significant aircraft such as the aircraft that rescued Markus Latrell from "Lone Survivor" fame, also the aircraft that rescued the downed F-117 during the Kosovo air war, also the aircraft that rolled down the mountainside in Alaska are all included. Look for the Werner's Wings UH-60 skis for that aircraft ion the near future.
---
This article created on Friday, January 06 2017; Last modified on Friday, January 06 2017