HK Models 1/32 B-17E/F Preview
Information supplied by Neil Yan
A few days ago I received a very large box from HK Models, and inside lurked at test shot of the company's forthcoming 1/32 B-17E/F kit: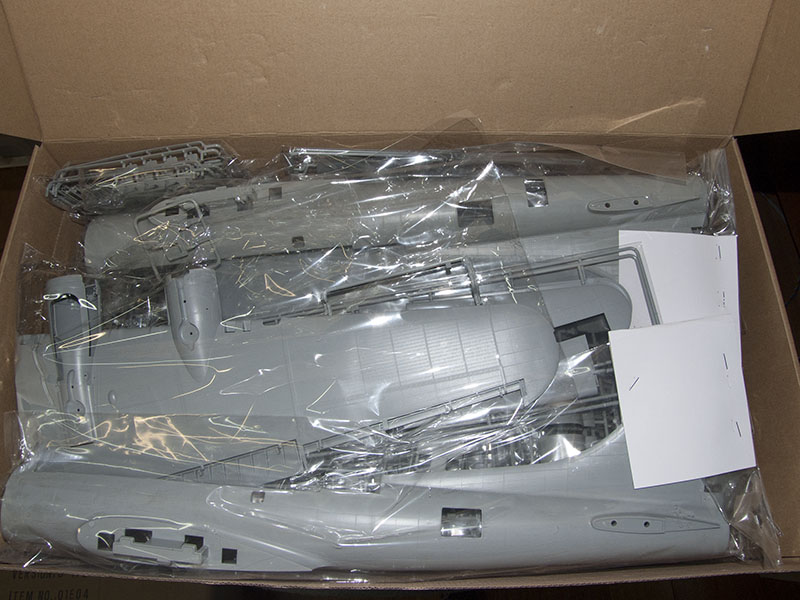 This is my first encounter with one of these 1/32 scale B-17 kits in person, and I was really taken aback my the sheer enormity of the parts. It really does represent the very definition of a Large Scale Plane.
One thing I'd like to make abundantly clear before presenting the photos, however, is that this is not a review. I can't stress that enough. The sample I've been sent is a pre-production test shot, and does not include decals, photo-etched parts, or instructions. As far as I can tell, all the plastic is there, but my experience with examining test shots in the past tells me that they can and often do differ from the final production release. As such it would be unfair to review a kit in such a preliminary state. So, consider this a preview instead. Hopefully we will have access to the production version when it is released, and will conduct a proper review at that time.
Having said that, the purpose of sending out test shots is to gather feedback, and the collective eyes of the LSP cognoscenti represent a far more expert knowledge set than I will ever have. So I present these photos in that light, not only so that the LSP community can see what's in the box, but also so that Neil and his team at HK Models can get some enlightened feedback. So, on with the photos!
Fuselage
The main fuselage halves are, as far as I'm aware, unchanged from the earlier 'G' kit. I've not examined that kit in person, however, so it's difficult to be certain that no changes have been made. The two main fuselage parts have already had their sprues removed: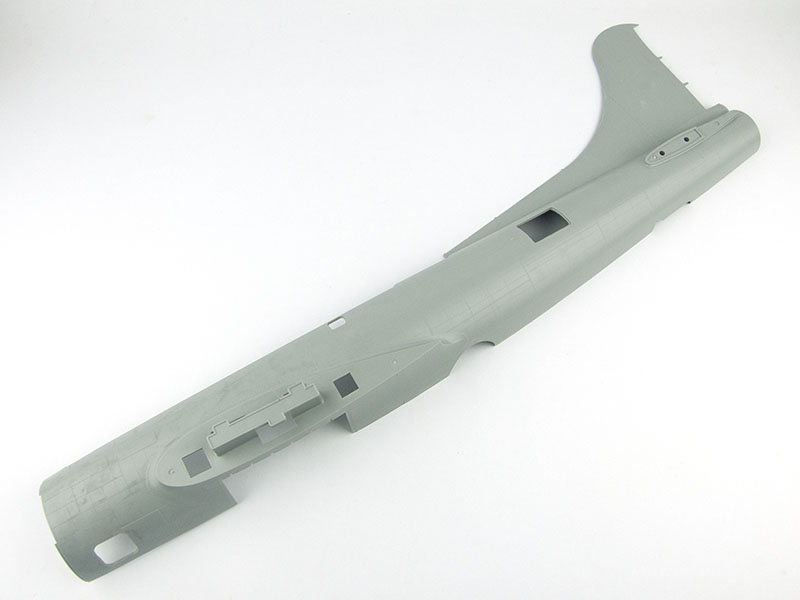 I decided to tape the fuselage together, but discovered that the port half is slightly warped on my sample, so this took some extra effort. I got there in the end, however, and the fit is pretty decent for such a large pair of parts: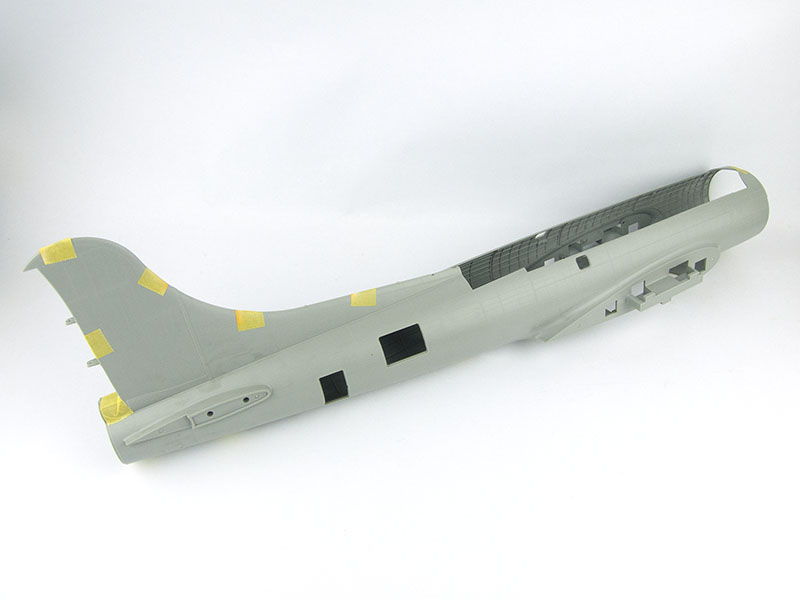 The waist gun windows are in line, and not staggered. I thought I did detect, however, a slight flattening of the rounded shape at the very front, just forward of the cockpit. This could also merely be the result of having only tape holding things together, or because the internal parts are not present to aid in forming the actual shape. I opted not to photograph it for that reason.
Internal structural detail is represented along the entire length of the fuselage: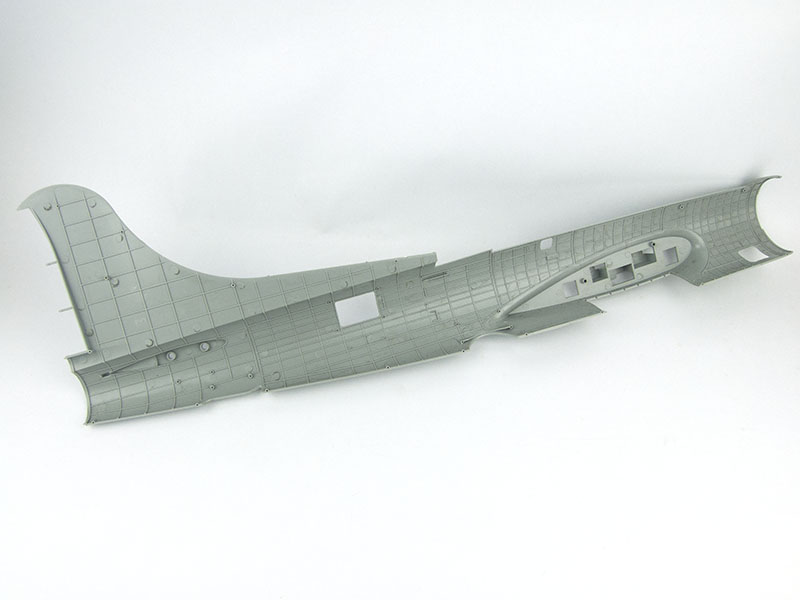 Ejector pin marks abound, however, but most will likely not be particularly visible on the finished model: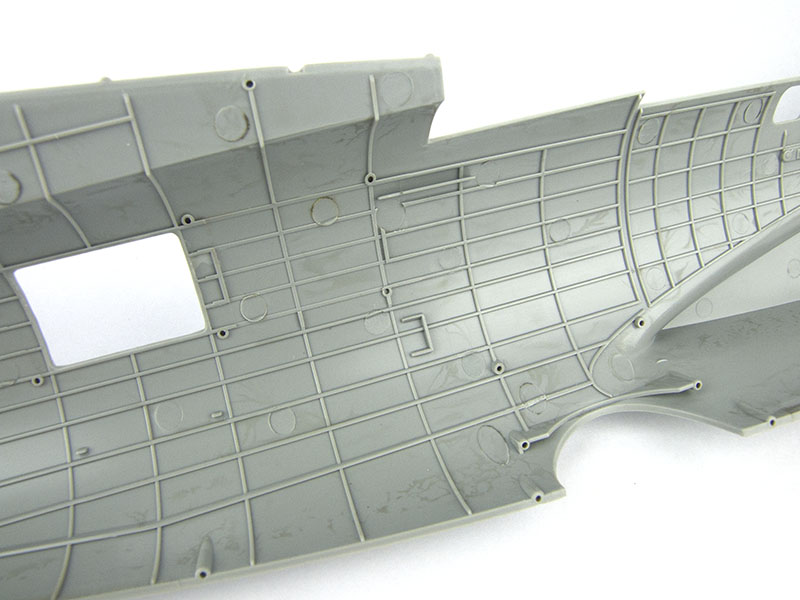 Crew access door and opening on the starboard fuselage half: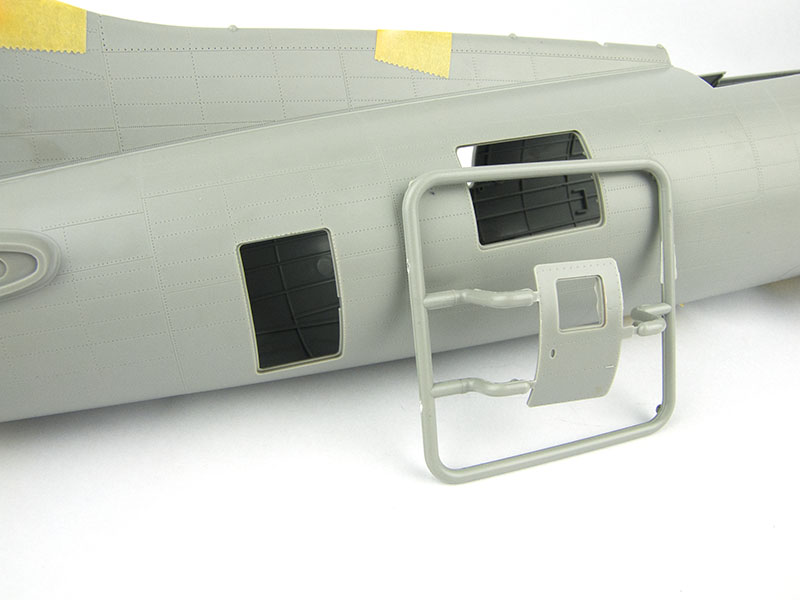 Surface detail consists of finely recessed panel lines and rivets throughout: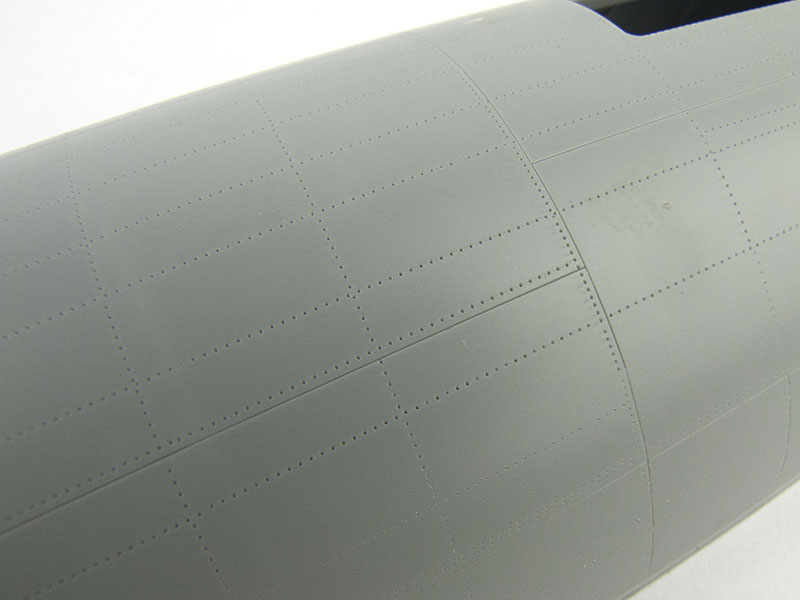 Nose
The nose parts from the 'G' kit are included in this kit, and in fact I suspect that all of the earlier kit is included, with additional parts to backdate it to 'F' configuration.
---
There are two other sets of nose parts included, and these are new sprues, as they haven't yet had their numbering tooled. I'm not expert enough in the B-17 to know which are the 'E' parts, and which are the 'F' parts, so I present them here for those who do:
---
---
Notice that there are all-new cowl fronts and propellor blades too (though my sample appears to be missing one of the latter).
Three types of tail section are also included.
And finally, the fuselage roof and cockpit turtle deck:
Wings
The wings are absolutely massive, though moulded traditionally as two pair of upper and lower halves: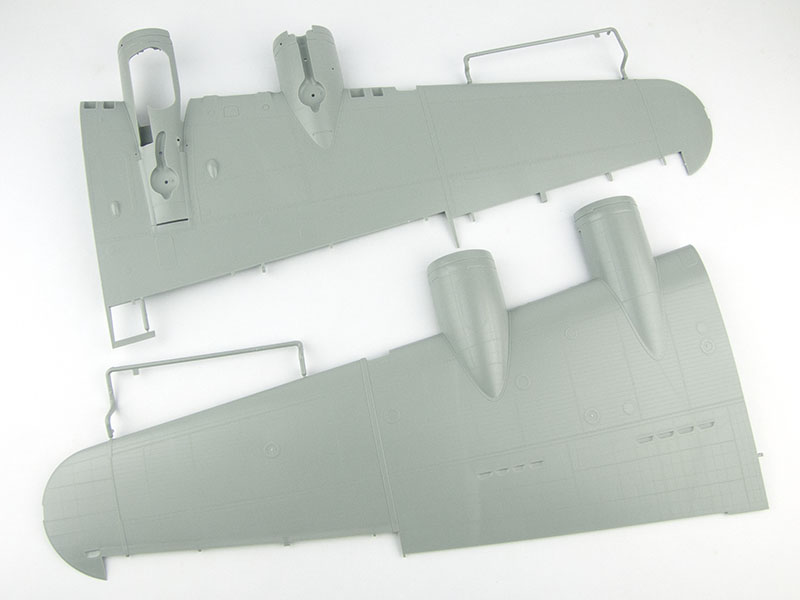 Surface detail is in the same vein as the fuselage: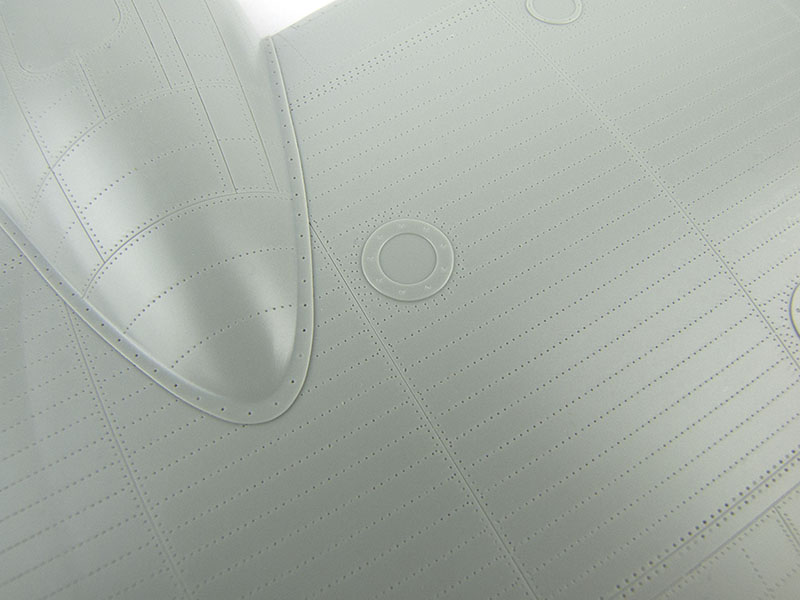 A reinforcing bulkhead doubles as a locking receptacle for the wing-to-fuselage join: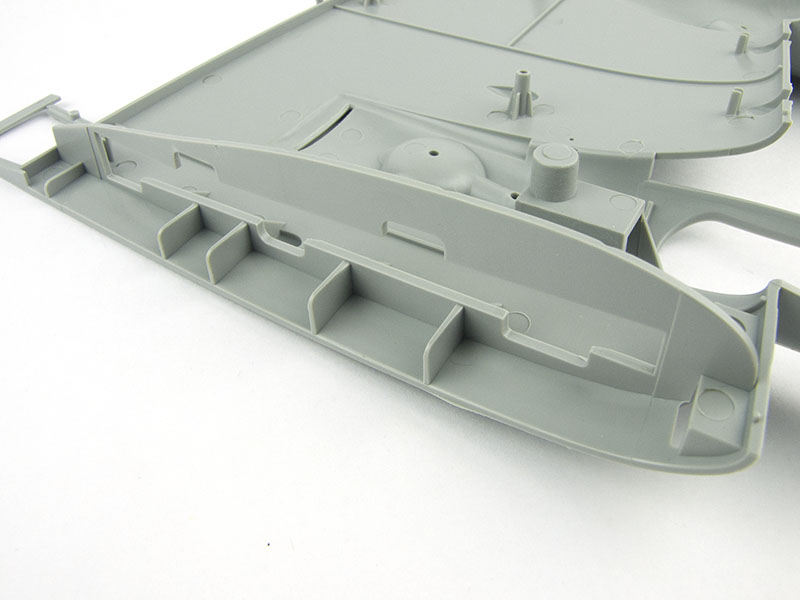 Clear Parts
The clear parts for this kit come on two large sprues, and as expected, three different nose glazings are included:
---
I've adjusted the contrast on the two close-ups to better show their respective differences.
Sprue Photos
To the best of my limited knowledge, that covers the main areas that are new in this kit, compared to its earlier sibling. What follows is a series of photos covering the rest of the kit, which should be largely the same as the 'G' release.
---
Conclusion
The word conclusion is a little premature at this stage, but from what I can see, it looks a fine kit. I'll leave it to the experts to decide whether it can be made to accurately represent either a B-17E or a B-17F, and also whether it addresses all the concerns over the nose shape of the earlier kit. As always, building a kit is really the only way to answer these sorts of questions, and I'm sure we'll see plenty of build threads in the forums later this year. I've been told that the box art will represent "Memphis Belle", which obviously will also be included on the decal sheet. No word on other options yet.
If you'd like to provide feedback about this kit, based on what you see, I've started a thread in the forums for that purpose.
Many thanks to Neil and HK Models for the test sample.
© Kevin Futter 2016
This article created on Saturday, March 05 2016; Last modified on Sunday, March 06 2016