New Release: Air Combat 1945
Information supplied by Brittany Stoner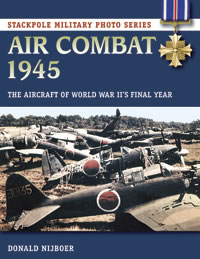 Stackpole Books is pleased to announce the publication of Air Combat 1945: The Aircraft of World War II's Final Year by Donald Nijboer. The final year of World War II witnessed the decline of the piston-engine fighter and the beginning of the jet age. Taking to the skies were tried-and-true fighters, improved versions of old aircraft, and newly developed jets, including prototypes that flew for the first time just before the war ended. This latest title in the Stackpole Military Photo Series features hundreds of photos that chronicle these dynamic aircraft in Europe and the Pacific, including American Mustangs, Thunderbolts, and Shooting Stars; British Tempests, Spitfires, and Gloster Meteors; German Fw 190s, Bf 109Ks, and Messerschmitt Me 262s; Japanese Ki 100s, Raidens, and Tojos; and many more. This is an ideal reference for military history fans, scholars, and modelers.
Aircraft and aerial warfare expert Donald Nijboer is the author of eleven books, including Gunner: An Illustrated History of World War II Aircraft Turrets and Gun Positions, Graphic War: The Secret Aviation Drawings and Illustrations of World War II, and Spitfire V vs. C.202 Folgore: Malta 1942. He has written articles for Flight Journal, Aviation History, and Aeroplane Monthly, and has been a speaker for Smithsonian Travels. He lives in Toronto, Canada.
Please download the accompanying PDF for more information.
This article created on Friday, September 25 2015; Last modified on Saturday, September 26 2015