Wingnut Wings' Latest Release: Bristol F.2b Fighter (Post War)
Information supplied by Richard Alexander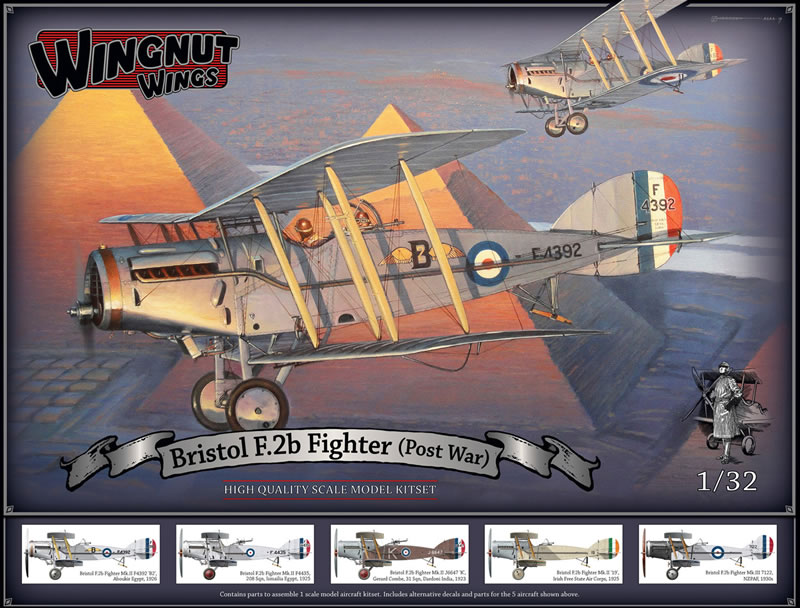 We are pleased to announce out latest release:
32060 1/32 Bristol F.2b Fighter (Post War) US$99.00
This is the long awaited follow up to our original First World War era 32004 1/32 Bristol F.2b Fighter model that we released in April 2009. The Bristol Fighter saw extensive service post war with the RAF and in Poland, Belgium, Ireland, The Netherlands, Peru, Mexico, Canada, Greece and New Zealand. Post war modifications were numerous and included modified engine cowlings and radiator slats for improved cooling, longer exhaust manifolds, an auxiliary 'tropical' radiator, modified instrument board and a larger balanced rudder (as featured in this model). Some very late serving aircraft could also be found with variable pitch propellers, a larger horizontal tailplane and leading edge slats on the top wings (not included in our model). The Bristol Fighter was not withdrawn from RAF service until April 1932 and remained in Commonwealth service until it was retired by the NZPAF in 1936.
193 high quality injection moulded plastic parts.
34 part highly detailed 275hp Rolls Royce Falcon III engine.
19 all new plastic parts including late production engine cowlings, radiator shutters, instrument board plus optional fin, rudder, exhaust manifolds, spare wheel and auxiliary (tropical) radiator.
15 photo-etched metal detail parts.
28 page fully illustrated instruction manual.
High quality Cartograf decals for 5 post WW1 aircraft:

A = Bristol F.2b Fighter Mk.II F4392 'B2', RAF, Aboukir Egypt, 1926.
B = Bristol F.2b Fighter Mk.II F4435, 208 Sqn RAF, Ismailia Egypt, 1925.
C = Bristol F.2b Fighter Mk.II J6647 'K', Gerard Combe, 31 Sqn RAF, Dardoni India, 1923.
D = Bristol F.2b Fighter Mk.II '19', Irish Free State Air Corps, 1925.
E = Bristol F.2b Fighter Mk.III 7122, New Zealand Permanent Air Force, 1930s.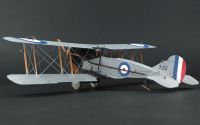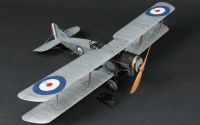 ---
Be sure to check our website hints & tips in case there are any important corrections etc to the instructions.
All our models and accessories are available direct from our website www.wingnutwings.com with payment by credit card or PayPal and through some specialist retailers.
If you have any questions, comments or suggestions please let me know at richard@wingnutwings.com.
Richard Alexander
Coordinator
richard@wingnutwings.com
Wingnut Wings Ltd, PO Box 15-319, Miramar, Wellington 6022, New Zealand.
This article created on Thursday, September 24 2015; Last modified on Thursday, September 24 2015