Airframe Detail No 2 is Announced!
Information supplied by Mark Peacock
AIRFRAME DETAIL No 2-The Dornier Do 17Z-A Technical Guide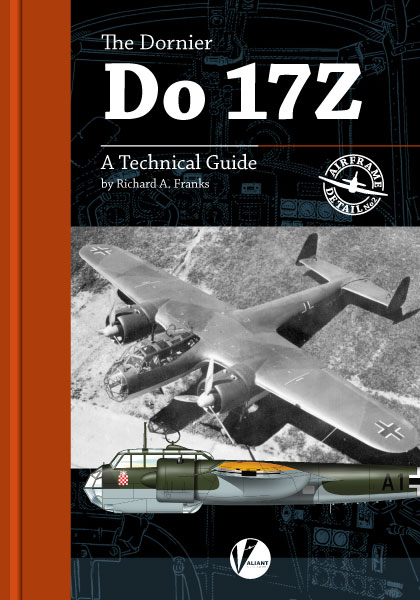 We are delighted to announce the second title in our new series of books for the avid aviation modeller and enthusiast Scale modellers have never had it so good. Right now all manner of historic aircraft types can be built in the popular scales. However for the serious modeller and enthusiast references can be scarce or hard to find for many of these interesting types. Valiant Wings' new Airframe Detail is addressing this, providing a one-stop reference guide for anyone wishing to model certain aircraft.
Every Airframe Detail title contains:
A wealth of historical photographs
Walkaround detail period pictures
A mass of period diagrams from original flight manuals
Detailed study of structure, equipment and armament
Colour profiles and camouflage and marking detail by Richard J Caruana
Lists of all kits, accessories and decals produced in all scales
At least 64-84 pages in volume in A4 format
The Dornier Do 17Z-A Technical Guide by Richard A Franks, will cover a very important Luftwaffe type of great interest to scale model enthusiasts. Whether you are tackling the brand new tool Airfix kit, grappling with the old Revell offering in 1/72 scale or hanging on for the 1/48 scale ICM kit our second Airframe Detail title will be essential reading for you.
Orders can be placed via our website or by calling +44 (0) 1234 273434 or by writing to:
Valiant Wings Publishing
8 West Grove
Bedford
MK40 4BT
Publication is scheduled for mid-March, cover price £12.95. ISBN is 978-0-9575866-9-7.
The Dornier Do 17Z-A Technical Guide by Richard A Franks will also be available from all good specialist book stores and hobby outlets.
Special pre-order offer: Order before March 10th and you will be entered into a prize draw to win an Airfix 1/72 scale Do 17Z, plus you will get half price shipping.
This article created on Saturday, February 14 2015; Last modified on Tuesday, February 17 2015