New Wingnut Wings 32036 Hansa-Brandenburg W.12 (Early)
Information supplied by Richard Alexander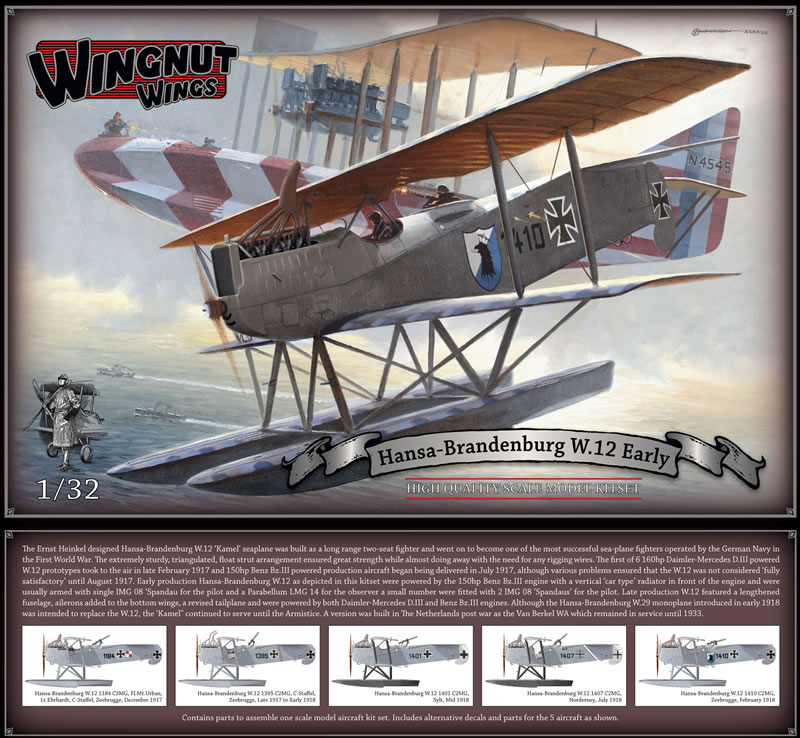 Just in time for Christmas we were pleased to announce the release of our 2nd German seaplane model, the Hansa-Brandenburg W.12 'Kamel'.
Although still a biplane, like its successor the Hansa-Brandenburg W.29, the W.12 features relatively simple construction and almost no rigging making it ideal for less experienced modellers of First World War aircraft.
32036 1/32 Hansa-Brandenburg W.12 (Early) US$99.00
Early production W.12 featured a short fuselage and ailerons only on the top wing.
216 high quality injection moulded plastic parts.
Highly detailed Benz Bz.III engine.
Optional 2 & 3 gun armament, windscreens, exhaust manifolds and propellers.
Optional small and large top wing centre section cut outs.
Beaching dollies and trestles for diorama display.
11 photo-etched metal detail parts including LMG 14 Parabellum and lMG 08 'Spandau' machine gun cooling jackets.
28 page fully illustrated instruction manual.
2 high quality Cartograf decal sheets with naval hexagon camouflage and markings for 5 aircraft;

Hansa-Brandenburg W.12 1184 C3MG, Fl.Mt.Urban, Lt.Ehrhardt, C-Staffel, Zeebrugge, December 1917
Hansa-Brandenburg W.12 1395 C2MG, C-Staffel, Zeebrugge, late 1917 to early 1918
Hansa-Brandenburg W.12 1401 C2MG, Sylt, mid 1918
Hansa-Brandenburg W.12 1407 C2MG, Norderney, July 1918
Hansa-Brandenburg W.12 1410 C2MG, Zeebrugge, February 1918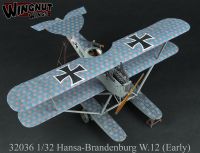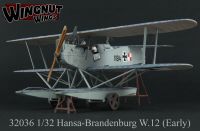 ---
Please visit our website for hints & tips in case there are any important corrections etc to the instructions. Wingnut Wings models are available direct from our website with payment by credit card or PayPal and through specialist retailers.
Reminder: Wingnut Wings will be on holiday from 19 December 2014 until 12 January 2015. All orders and emails received after 18 December 2014 will be processed as quickly as possible after we return on 12 January 2015. We appreciate your understanding.
Richard Alexander
Coordinator
richard@wingnutwings.com
Wingnut Wings Ltd, PO Box 15-319, Miramar, Wellington 6022, New Zealand.
This article created on Monday, November 17 2014; Last modified on Monday, November 17 2014