Valiant Wings' Airframe & Miniature No 7 is Now Available!
Information supplied by Mark Peacock
Airframe & Miniature No 7 - The Focke-Wulf Fw 190 Radial-engine versions (including Fw 190A, B, C, F, G & S)-A Complete Guide To The Luftwaffe's Butcher Bird by Richard A Franks is now available. At 224 pages it is our biggest book to date and our thirteenth title in under four years.
Owing to demand we have also taken the opportunity to reprint Airframe & Miniature No 3-The Focke-Wulf Fw 190D & Ta 152.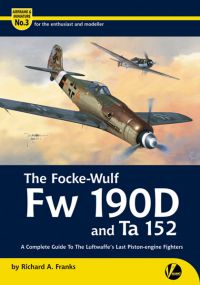 ---
Both books are also available directly from us as a special Focke-Wulf bundle at only £31.95 for the pair-a £4.95 saving on individual retail prices. To place your order go to www.valiant-wings.co.uk.
Fleet Air Arm enthusiasts take note. Our second Airframe Album title on the Hawker Sea Fury is now in short supply. Get in quick if you have not got a copy yet.
Mark Peacock
Publisher-Valiant Wings Publishing
Managing Director- The Space Factory Ltd
8 West Grove, Bedford, MK40 4BT, UK
+44 (0)1234 273434 (office)
+44 (0)7963 956221 (mobile)
This article created on Friday, August 15 2014; Last modified on Friday, August 15 2014