Silver Wings 1/32 Curtiss P-6E Hawk Available for Purchase!
Information supplied by Simon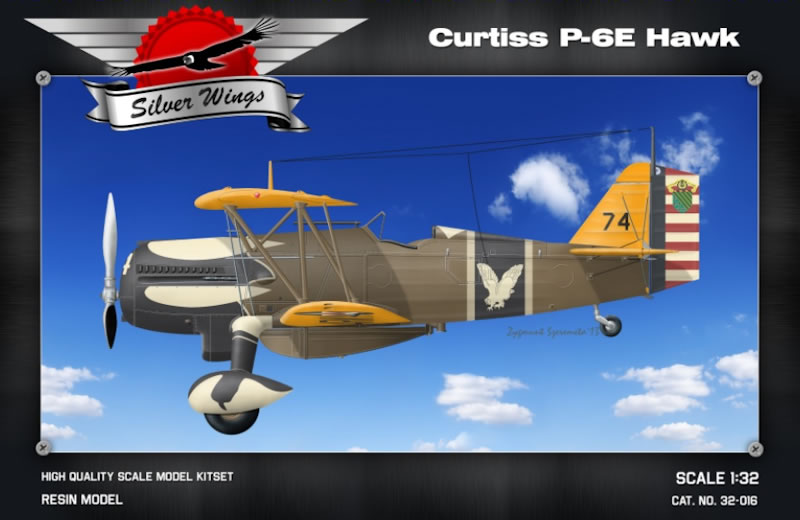 As many of you know, in the past Silver Wings has primarily released kits of British, Italian and German inter-war/early war aircraft. We have heard from many of our friends and customers asking that we expand our kit subjects to also include US inter-war/early war aircraft. We have always maintained that Silver Wings is a company "by modelers, for modelers". As such, we have taken this feedback to heart and have been working very hard to respond to this request, and are pleased to have been able to release the iconic Boeing Stearman/Kadet recently. However, we don't think we can stop there and still satisfy the needs of our friends and customers for US inter-war/early war aircraft kits. As such, we are extremely pleased to be able to announce to our friends and customers our latest kit. We hope that you all will be as excited as we are with our newest kit, the 1/32 Curtiss P-6E Hawk!
Starting in 1925 with the P-1, Curtiss built a long series of fighters carrying the name "Hawk." Of the eight different P-6 models produced, the P-6E remains the best known. Originally designated the Y1P-22, the U.S. Army Air Corps redesignated this aircraft the P-6E because of its similarity to the other P-6s. Curtiss delivered 46 P-6E Hawks, the last biplane fighter built in quantity for the Air Corps. Never used in combat, the P-6E is recognized as one of the most beautiful aircraft of the 1930s. The P-6E served between 1932 and 1937 with the 1st Pursuit Group (17th and 94th PS) at Selfridge, and with the 8th Pursuit Group (33rd PS) at Langley Field, Virginia.
The kit will feature the famous "Owl" markings of the 17th Pursuit Squadron, 1st Pursuit Group, Selfridge Field, Michigan, 1932 as well as marking for the 94th Pursuit Squadron, Selfridge Field, Michigan, 1930 and the 33rd Pursuit Squadron, 8th Pursuit Group, Virginia Beach Summer Camp, July 1934.
Please be sure to check our website, www.silverwings.pl, for updates and additional information on this exciting new kit!
The kit is available for purchase from our distributors or in direct sales (silverwings@silverwings.pl).
Please note our new discount system for direct purchases:
1 kit - half-price shipping
2 kits - free shipping in Europe and NA and 50% shipping for other regions + 3% discount
3 kits - free shipping in Europe and NA and 50% shipping for other regions + 7% discount
4 kits - free shipping in Europe and NA and 50% shipping for other regions + 13% discount
---
Thank you,
The Silver Wings Team
This article created on Tuesday, July 08 2014; Last modified on Tuesday, July 08 2014