New 1/24 Gloster VI Schneider Trophy Racer Coming from profil24
Information supplied by Jean-Philippe Boyer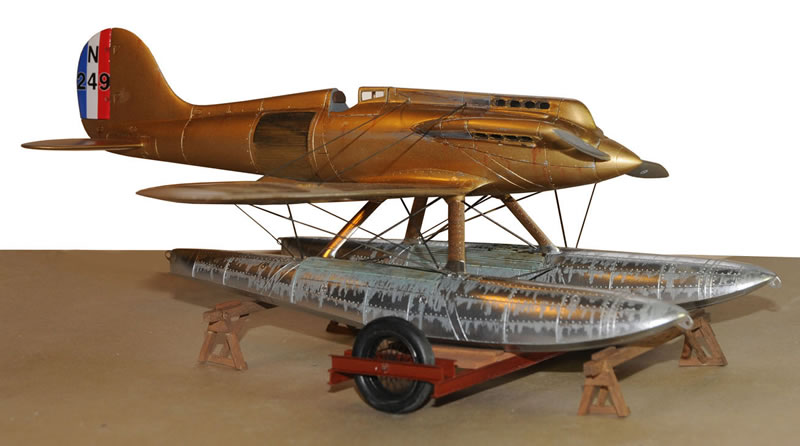 Over 15 years ago, we created our own model-making cottage industry based in France. In first we have a range of models cars and now we expand our range to aircraft.
It's a pleasure to present to you our first model:
Gloster VI Schneider Trophy race of 1929.
This small seaplane suitables perfectly in 1/24 scale (lenght 34.3 cm; width33 cm). Its aerodynamical shapes reminiscent of the art deco 30s.
Our model showcases the attention to detail, care and artistic value that are only found in hand-made products such as ours. Because we thrive to develop an exceptional range, this production is limited to 100 units.
Contents of Kit
Resin pieces
Detailed cockpit
Big brass photoetched parts (24/18 cm) for radiators (hyper realistic rendering) and details (hooks, exit exhaust...)
Thermoformed
Include in the kit: the wagon with photoetched wire wheel and trestles.
Decals for the decorations n°449 (gold with alu floats) et n°450 (gold wings, blue fuselage & alu floats).
---
Price
(shipping cost no included).
Kit: 240 euros; If you are based outside the European union, the price of the kit is 200 euros (ex. VAT).
Feel free to contact us for more information and feel free to visit our website: www.profil24-models.com.
Sincerely yours,

Alice & Jean-Philippe Boyer
Profil 24-models
47, rue Julien Bodereau
72000 Le Mans
France

Tél/Fax: 33 (0)2 43 76 37 97
www.profil24-models.com
Facebook: profil24
This article created on Saturday, February 01 2014; Last modified on Saturday, February 01 2014