Revell 1/32 scale RNZAF F4U-1 Corsair
By Olivier Barles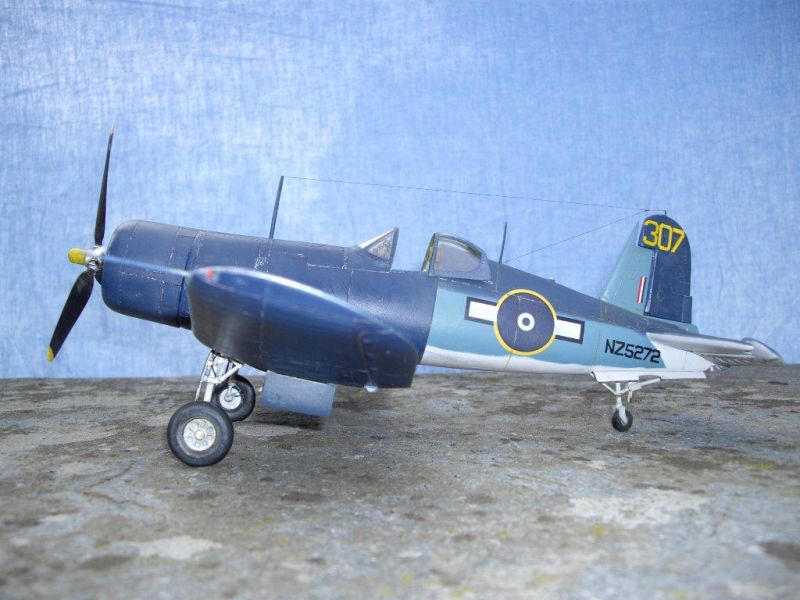 Bonjour from Paris,
Here is my 1/32 scale Revell F4U-1 Corsair.
Without any doubt, this Corsair is the oldest model I have in my collection.
It had been offered to me in the late '70s as a birthday present when I was 14.
At that time, the Corsair and its inimitable shapes had become even more famous as the TV mini-series romancing the story of Greg Boyington and the VMF-214 was broadcast everywhere.
Since its first assembling under Ira Kepford's markings that allowed me to win a prize at a local modeling contest in Marseille, it did survive in one piece thorough the years to eventually become the only representative model from my teenager time I still had...
In the late '80s I rebuilt it a second time, trying to approach the new modeling standards of those years mostly by engraving panel lines and doing some scratch building to improve the cockpit and the undercarriage.
Then, just before the rise of the New Century and the issuing of the Trumpeter 1/32 Corsair kit, as the Revell 1/32 Corsair had become a rare item at that moment, I decided to re-build it again to try making it even more accurate.
This time, I used a few extra improvement kits such as the Verlinden cockpit and a couple of Eduard photo-etched parts for the landing gear. Markings were those of the number "3" of the VF-17 but as I had to speed up to get it finished for the "Mondial de la Maquette" in Paris that year, final result was not as good as I could have expected it, finding it eventually below the standards I aimed...
Then despite some "frustration" about this incomplete build, the model stayed as it was on one of my shelves for a few more years before I decided 2 years ago "to disarticulate" it again, getting it ready for what I hoped to be "THE ultimate build".
In the meantime I had indeed purchased the Trumpeter 1/32 F4U-1 (that I am just starting to build right now) but working a final time my on old Corsair up to what I could do at best of my current modeling skills, had become "a kind of affective issue" over the years...
So, here it is!
I completely dismantled it and sanded it vigorously to re-find "the good old" original ultramarine blue styrene...
I sort of felt like an archaeologist digging into the soil of a site through various strata, exploring habits and techniques of the ancient times!.. And like an archaeologist, I also had to be very careful because plastic had become very fragile with the time and broke easily during manipulation, more particularly when trying to thin the trailing edge of the wings and the control surfaces.
I then "super detailed" the undercarriage and its wells, the cockpit remaining as it already was but for a few small details that I re-painted in more appropriate colors.
One of the most visible improvements was to use some resin Pratt & Whitney engine and Hamilton Standard propeller (Quickboost I think) in order to replace the old original Revell parts, because even if reasonably improved over the years, they were still far too much inaccurate considering the current modeling standards as they are now. I also reshaped all controls surfaces, making them mobile with their appropriate embossed designs.
Then, progressively, "this Phoenix was being reborn one more time" and came the moment for deciding what markings I would use as "THE ultimate make-up". If you've already looked at some of my models found on the Net, it is easy to see that I like "planes with a life".
So, in view of choosing a Corsair in a "very weathered" painting but in order to escape from the "usual used Corsairs" of the Marines, my choice went to a RNZAF plane that was made of the cannibalization of two different machines painted into two different camouflage schemes...very cool indeed!
Painting was good fun and national insignias and numbers are handmade.
I guess this has definitively been the last time I've built this Corsair again. I'm sure it could not stand another reconstructive surgery in the future!
But I am really happy with "THE ultimate result"...
---
Hope you enjoyed the story and that you will enjoy the pictures as well!
Merci,
Olivier Barles 2011
This article was published on Friday, November 18 2011; Last modified on Monday, July 02 2018