Tamiya 1/32 F4U-1D Corsair, Converted to a F4U-4
By Matt Grove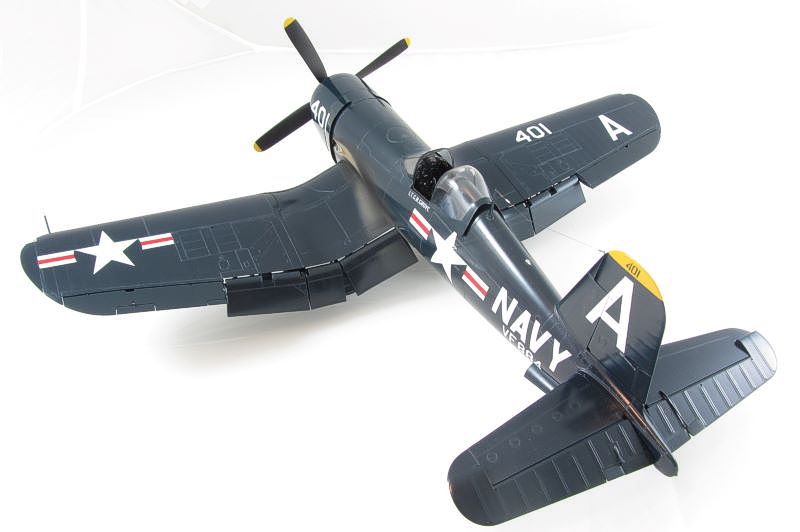 After looking over the Tamiya 1/32 F4U-1 series, and feeling pretty sure that Tamiya wouldn't be doing an F4U-4, I had an urge to create an F4U-4 in that scale for myself. With this article I want to show you how I created my model and call out some of the lesser-known differences between the F4U-1 and the F4U-4, some of which I haven't seen in any references—maybe more than you ever wanted to know.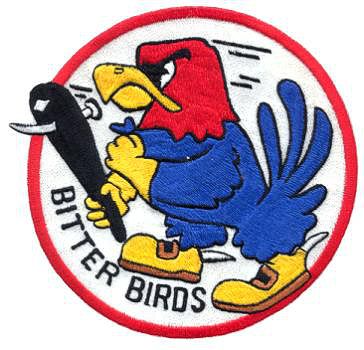 My goal was to depict BuNo 97380, for the very good reason that my father, Lt. Gerald R. Grove, flew it at least once. My mother, Beverly (who was a Link trainer instructor in the WAVEs in WW2) took the photos below when he flew it to Garden City, Kansas, on April 20, 1952, not long before his reserve unit, VF-884 "Bitterbirds, set out for San Diego to prep for a Korean War cruise aboard the USS Kearsarge (CV-33). While there are a number of well-known photos from VF-884's first Korean War cruise, my father's was the second cruise, from September 1952 into January 1953.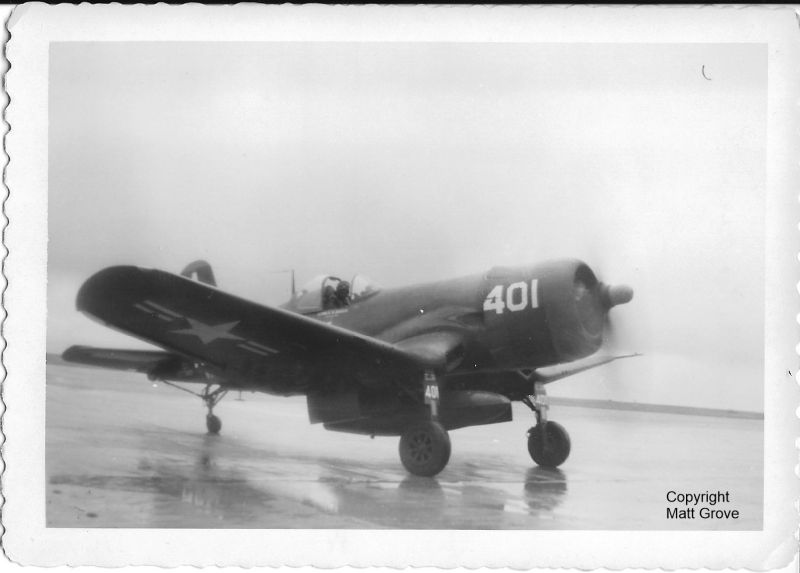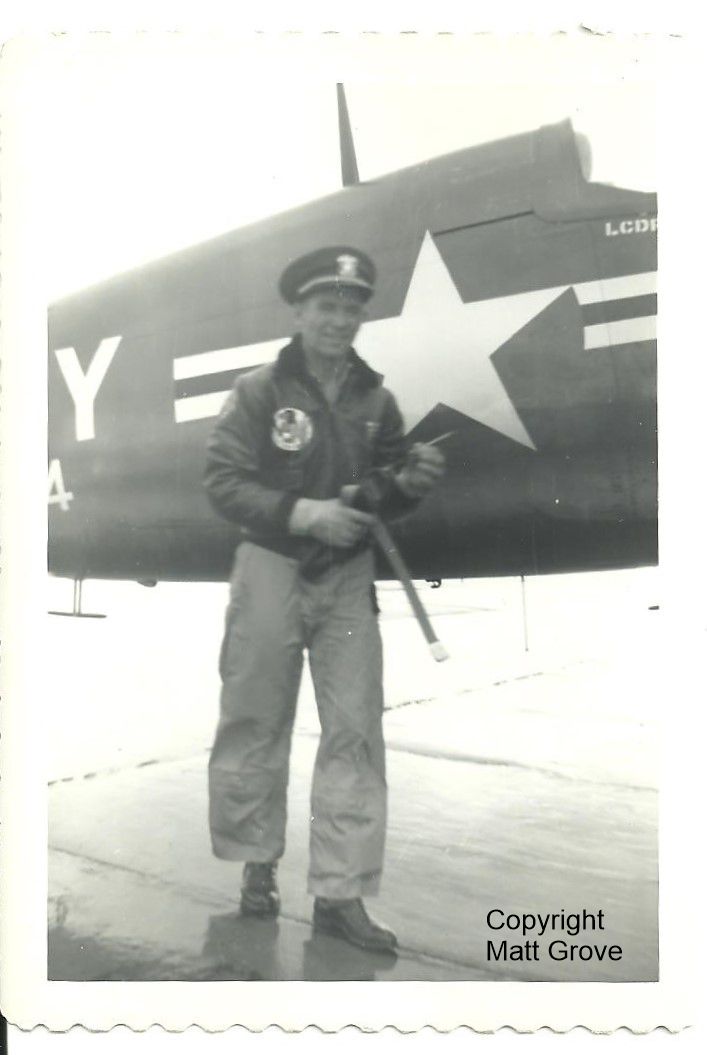 BuNo 97380 was a fairly late F4U-4 with typical features found at the time—rocket stubs under the wings and with radio altimeter antennas under the fuselage.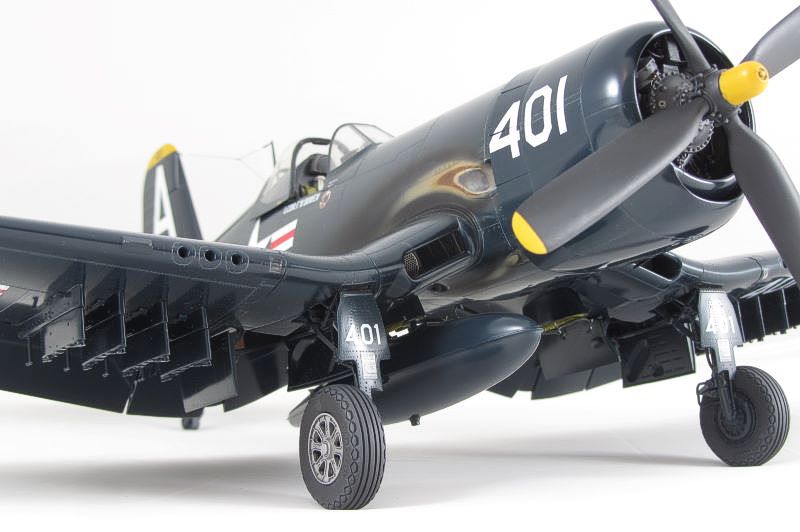 Per Osprey Publishing's F4U Corsair Units of the Korean War, 97380 had a bit of a history. In April 1951, Capt. Phillip DeLong of VMF-312 was flying it when he shot down two Yak-9s over North Korea. BuNo 97380 then was issued to VF-884 in early 1952. Remarkably, this airplane still exists—at the bottom of the ocean somewhere between Hawaii and Oahu—where it was ditched after a mechanical failure while the squadron flew in that area when in transit to Korea (pilot rescued).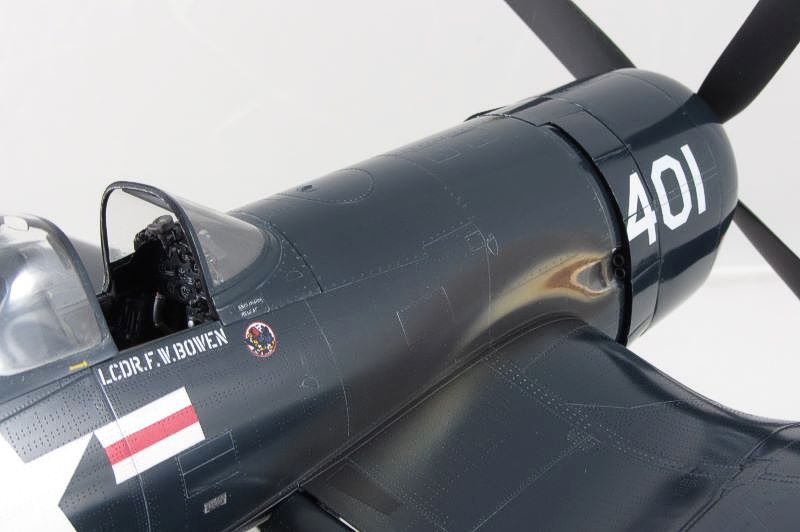 As the VF-884 skipper's plane, its side number was 401. Since I had several fairly good photos, this became my subject. It's also a bit of a tribute to the skipper, Lt. Cmdr. Frederick W. Bowen, who was shot down and killed on November 8, 1952, probably in the Wonsan area. Three other pilots were killed on that cruise as well. Dad came through and went on from a blue-collar background in Kansas to become a professor of English literature at Weber State University in Ogden, Utah.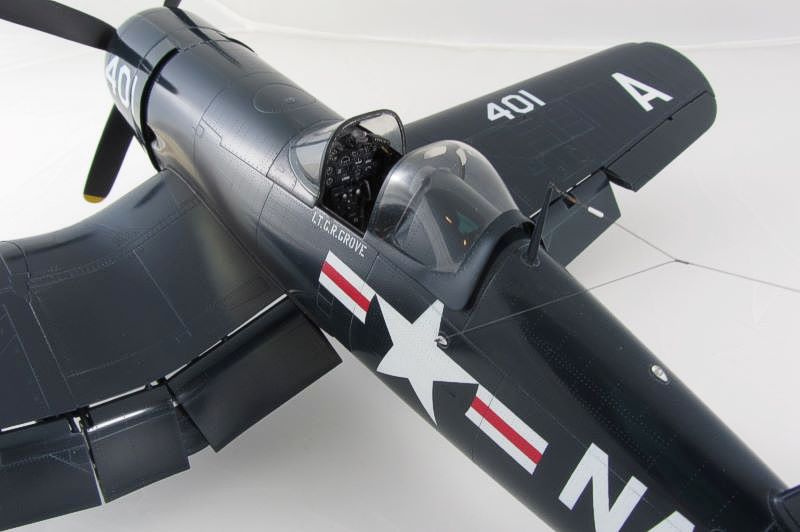 There were more pilots than planes in the squadron, so most of the planes had a different name on each side. As the skipper's plane, the real 401 had his name on both sides; I don't know which plane had Dad's name on it, so I put his name on the left side of my model. (As many readers probably know, even though planes often had pilots' names on them, pilots weren't necessarily assigned a plane that they flew regularly. Typically, you flew whatever plane happened to be "up" and was assigned to you for that flight or mission. In other times and places though, maybe pilots have been able to fly "their" plane more regularly.)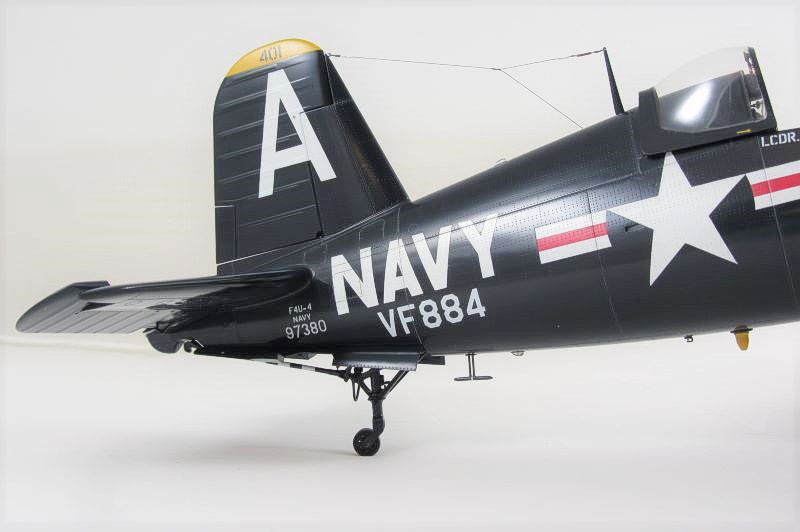 I wanted to depict an F4U-4 in late Korean War configuration, so I chose to construct my model as 97380 probably would have been configured at the time it was lost. This includes:
Blade antenna for the APX-6 IFF in place of the rod antenna for the APX-1 IFF.
Aero 14A pylons, which enabled carrying bombs as well as rockets, in place of the underwing rocket stubs.
For use on the F4U-4 these pylons required a separate adapter that used the rocket stub attachment points and conformed to the wing's undersurface. (Photos show an interim type of bomb rack that appears to have attached directly to the existing rocket stubs and shows up as light colored—maybe unpainted metal, although unpainted metal typically is not found in a ship-board environment.)
The above features had become standard on F4U-4s operating in Korea by late 1952, and the remaining planes in the squadron had them by the time Kearsarge arrived off Korea.
Speaking of the Korean war in its late stage, note the following from one of the air group's (CVG-101) line period reports (available on the web); oxcarts were a legitimate target!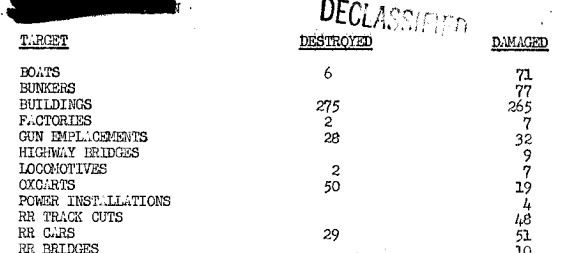 And the following:

The line period reports contain a lot of fascinating details about daily operations, ordnance expended, aircraft damage, maintenance issues, and even life aboard ship for the air group personnel.
Back to the model
---
Converting the Tamiya F4U-1 to an F4U-4 required the following:
Addition of the "auxiliary" air inlet beneath the engine cowling and deepening/widening the lower engine cowling.
Making the cowl flaps (they were slightly larger and fewer in number).
Moving the firewall back approximately two scale inches (1/16 inch).
Deepening and widening the lower forward fuselage.
Scratching the very distinctive reduction gear case for the C-series engine.
Scratching the cockpit. A few parts from the kit were usable (gunsight, control stick, CO2 bottle, trim knobs, headrest, fuselage former at the rear of the cockpit); everything else fabricated from the usual stuff--styrene sheet with brass and aluminum here and there.
For 97380, scratching the later type of windscreen and canopy.
---
I used a few pieces from the Trumpeter F4U-4 kit to begin building out some of these changes. It's one of their earlier kits and generally it's not very good; the engine cowling is particularly bad, and the canopy only vaguely resembles the late F4U-4 item.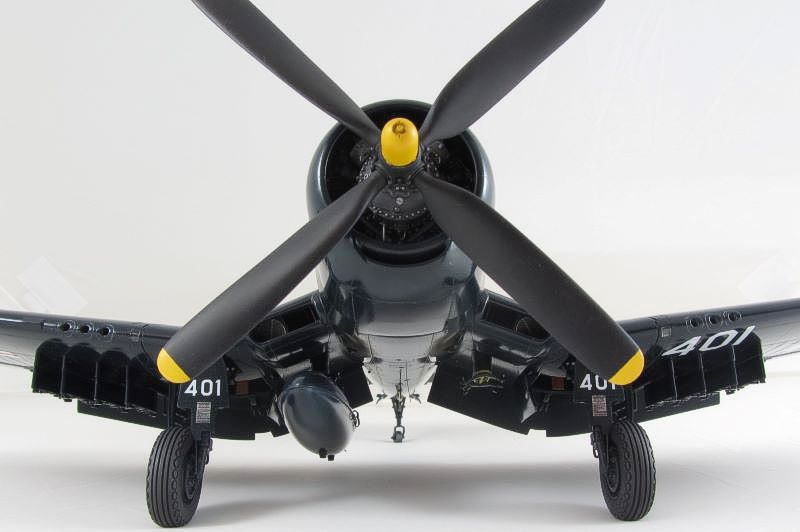 The propeller is the Quickboost one with the blade thickness reduced. (Could use even more reducing though.) RB Productions seat belt hardware—the best by far—with aluminum sheet lap belts and HGW fabric (painted) for the shoulder straps. Barracuda wheels/tires—outstanding and an absolute must.
---
Other differences between the F4U-1 and the F4U-4:
Circular, flush-mounted blue lights near the upper wing tips moved to the lower wings (not sure if all F4U-4s or not).
White navigation light added to the lower rear fuselage, similar to the light on the fuselage spine. (Not sure when this was introduced; may have been a retrofit.)
The bomb-aiming window below the cockpit that was covered with sheet metal on later F4U-1s became an opening door with a piano hinge for access to the oxygen bottle, battery, etc.
A small "filler" piece was added to the inner side of the wing-root air inlet; this was to move the opening away from the widened fuselage at that point.
Fewer guide vanes inside the wing-root inlet; round auxiliary air intake inside the inlet replaced by enlarged intercooler intake surface.
Reconfigured access panels around the forward upper fuselage.
And perhaps the number 1 change to be aware of: the relief tube outlet was relocated.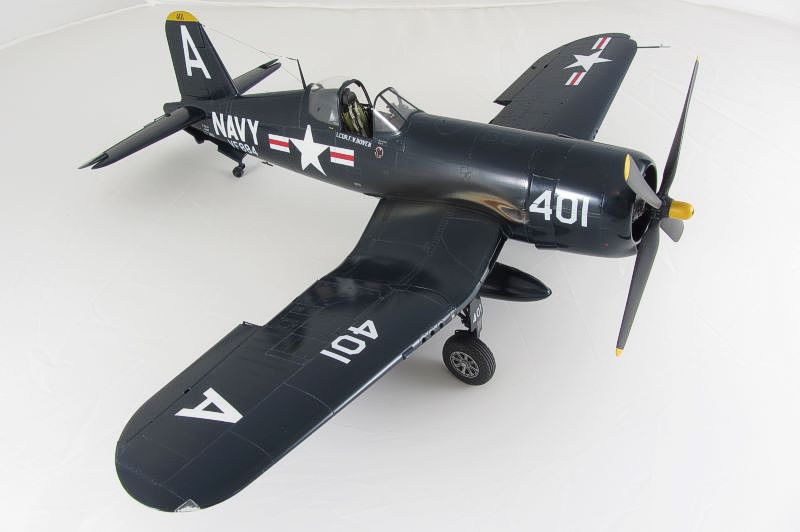 It's possible I missed some things, but the above are the differences I've observed. I've called out many of these changes in the images below. For the exact locations and dimensions, I recommend Mr. Jumpei Temma's excellent drawings. My model was finished by the time these were available.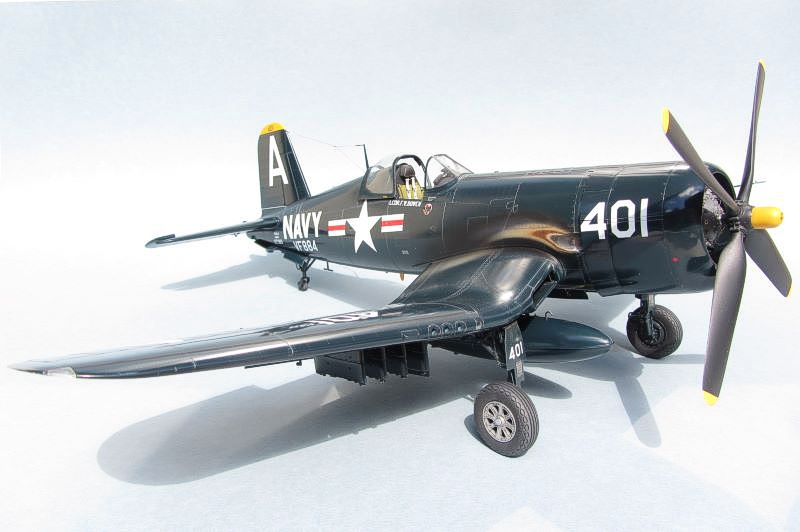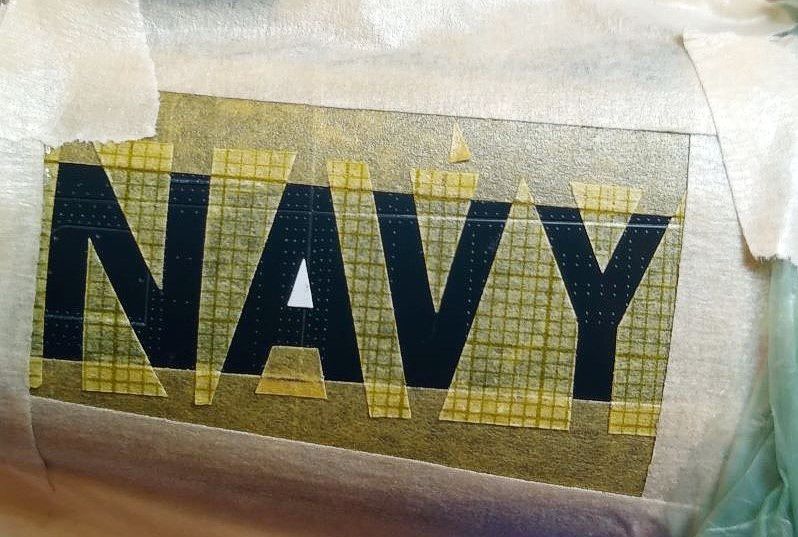 The Glossy Sea Blue finish is MRP acrylic lacquer; it looks right to me. There is no clear over-coat on the finish. The national insignia, "NAVY" insignia, and air group letter "A" are painted with hand-cut stencils. Side numbers and squadron insignia are from Flevo Decals, who did a very nice sheet depicting planes from VF-884's first cruise. The other letters and numerals are pieced together from several different letter/number sheets.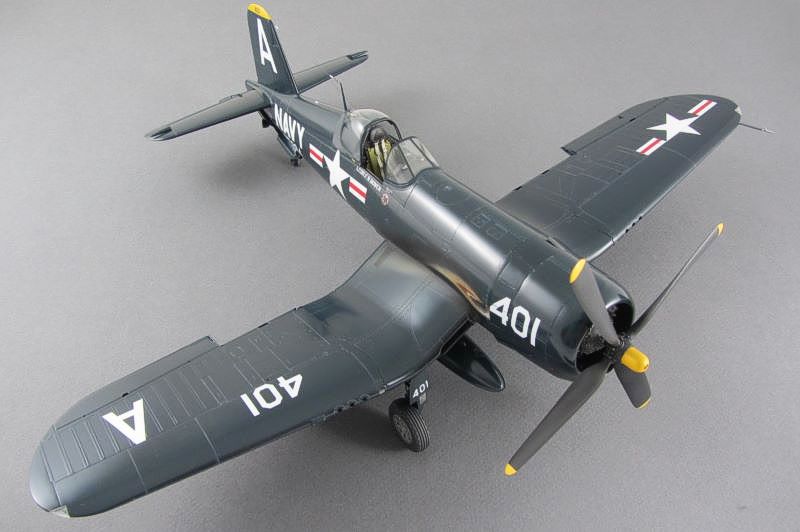 Finally, I didn't realize how tricky it would be to photograph the completed model. The very dark, glossy finish was a real challenge for someone with my limited photography skills. For me, outdoors in direct sunlight is preferable by far, but in this case the resulting reflections were just insane and distracting. I experimented with a variety of other lighting and backgrounds and hope some of these are not too bad.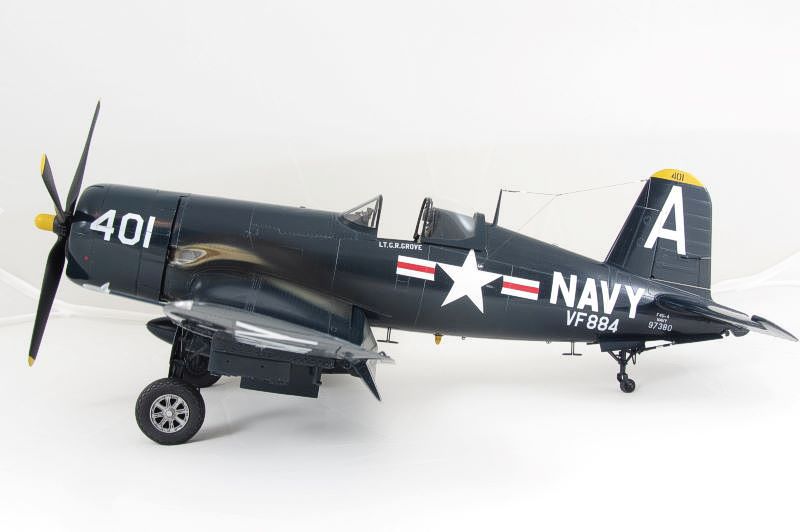 Thanks for viewing!
---
© Matt Grove 2023
This article was published on Tuesday, July 18 2023; Last modified on Wednesday, July 26 2023