Airfix 1/24 F6F-5 Hellcat
By Chuck Sawyer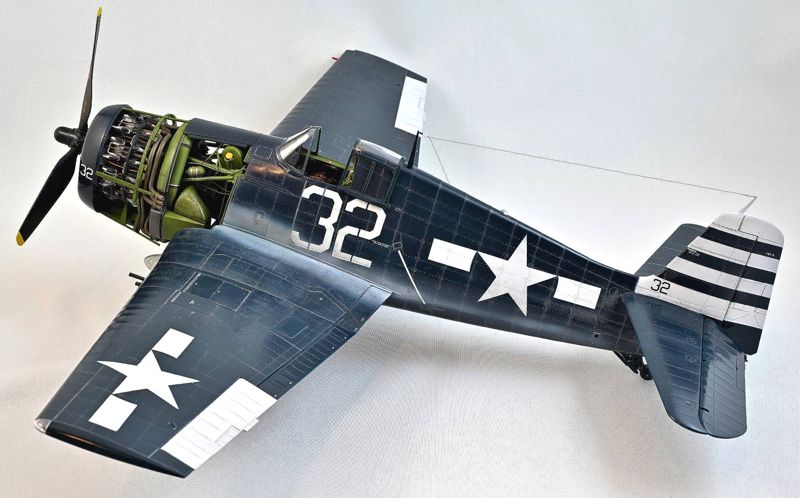 Well, this one is finally done! This model took me almost exactly a year to build, which is normal for my past efforts, including not much modeling during the summer months, which here in Canada isn't very long. I really enjoyed this kit, because it had just the right amount of quality, details and flaws to keep me challenged throughout. Before I forget them all, here are a few of the main positives and negatives:
Positive
Excellent detail and I didn't have to recover hardly any fasteners or panel lines
The kit is fairly accurate
Big! All of the detail is easy to see
The engine is a detailed model in itself
Stressed skin on fuselage and wings
Great instructions, although there are a few errors in Step 140 and 141. F24 is F28, F25 is F29 and F37 is F41
The aftermarket is strong for this kit, as used below
Negative
All large parts are very rough, which requires careful sanding to remove, while still retaining the stressed skin look
Just about every join is too tight, so most joins need to be altered by sanding and trimming to fit
There are a lot of parts and detail that will never be seen again unless you open up extra panels, etc. (eg. Behind the seat radio and tanks) The instructions should alert to this, before you put in a lot of wasted effort
Seams lines are significant in almost all of the parts
Tail antenna should have been a separate part. It's always in the way and I'm surprised I didn't break it, despite banging it around many times
Airfix customer support was poor. Despite a clearly miscast Sprue F that had flaws (short shot the above parts F28 and F29, amongst a few others), Airfix made me pay for shipping a few replacement parts. It's not the $20 I had to pay, but the principle where they really dropped the ball and took no responsibility, that I found so annoying
To recap, here is the laundry list of the kits used to create this Hellcat:
Airfix 1/24 Grumman F6F-5 Hellcat Kit, A19004
Aerocraft Brass Landing Gear
Airscale Instrument Panel
ANYZ Spark Plugs and Wiring set, AN011, AN013, AN015, AN016, AN017
ANYZ Dials, Knobs, Switches and Cockpit Handles. AN028, AN029, AN030
HGW Seatbelts, 124511
Barracuda Diamond Tread Tires/wheels, BR24412
Eduard Canopy Masks, LX006
DN Models Paint Masks for Insignias, Letters and Numbers
DN Models Paint Masks for Canopy, Wheels, Lights
Fundekals Grumman F-6F-5 Hellcat Decals
Adriatic Models Cockpit Resin Details
Other than extensive research on the internet, this was my main reference:
Detail & Scale, F6F Hellcat, by Bert Kinzey and Chris Sakal
Here are the pics with a few comments. The F6F-5 Hellcat did not enter the war until roughly the last 6 months, so although well used, they were not around long enough on carrier decks to be abused with heavy weathering like the F6F-3s, although the big fuel tank that was interchangeable with the "3s" was usually filthy. They were also mostly dark gloss blue in their entirety including the wheel wells, so showing off color contrasts on such a dark scheme is difficult, which is why I chose the VF-12 fighter squadron of the USS Randolph during May of 1945, which was disbanded only 4 months later in September after the end of the war. While this scheme is very popular and not very unique, it does show off a lot of contrasting white and the DN paint masks for this scheme were readily available. Since I put so much effort into the engine area, I left most of the cowling panels off as it would be "under maintenance" and due to the modifications I made to the engine area, they wouldn't have fit anyway.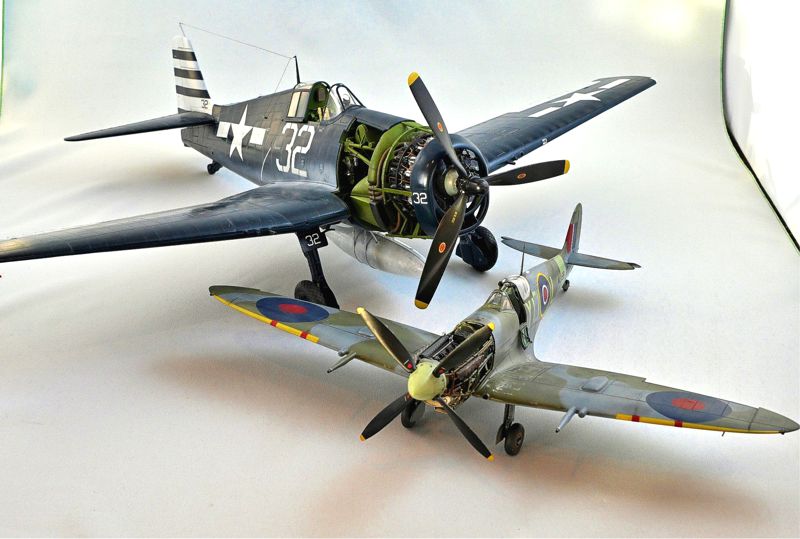 First a fun one, to show how big this model is with its 21" wingspan and 17" fuselage, which was hard to photograph in its entirety within my fairly big 26" photo booth I only use for final pics. Here it is (along with the edges of the booth in the background), next to my 1/32 Tamiya Spitfire, which appears tiny in comparison.
Here is a walk around.
---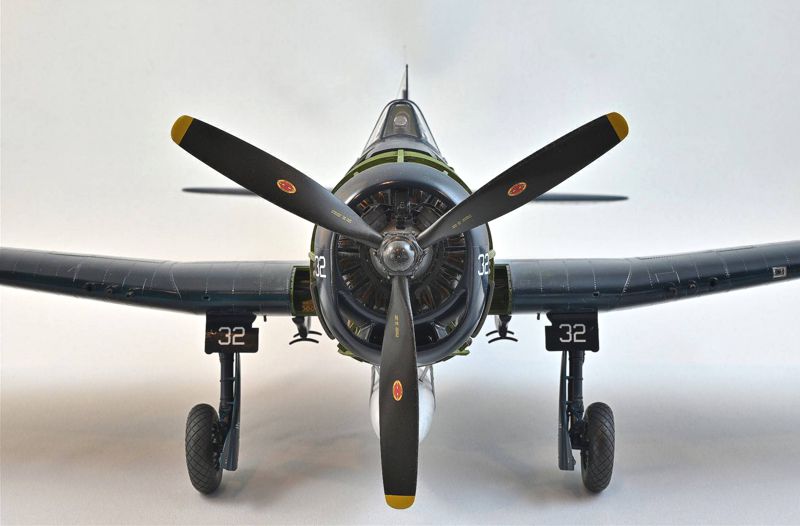 Yes, Hellcat wheels toe-in a bit...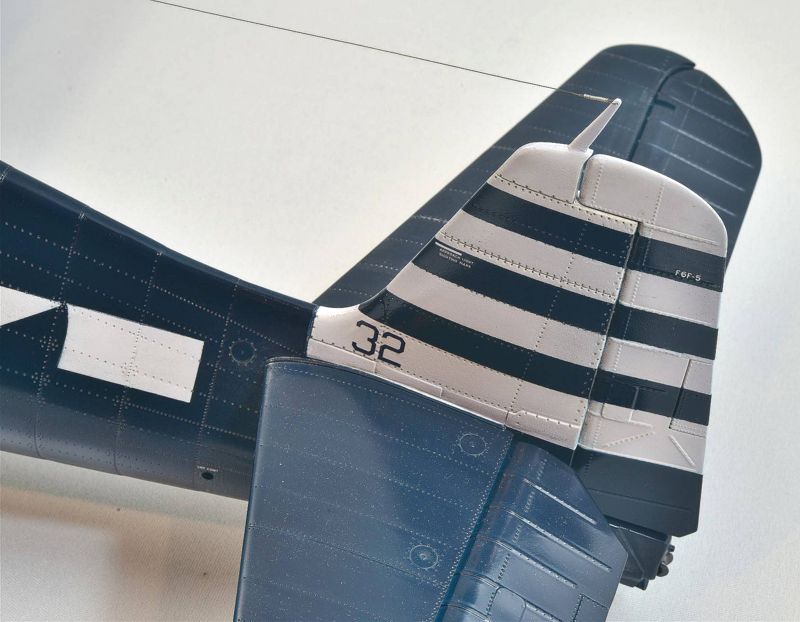 Rear antenna spring was made from fine computer wire twisted around a needle. Tiny hole was drilled using a #80 bit, and the line is dark nylon sewing thread.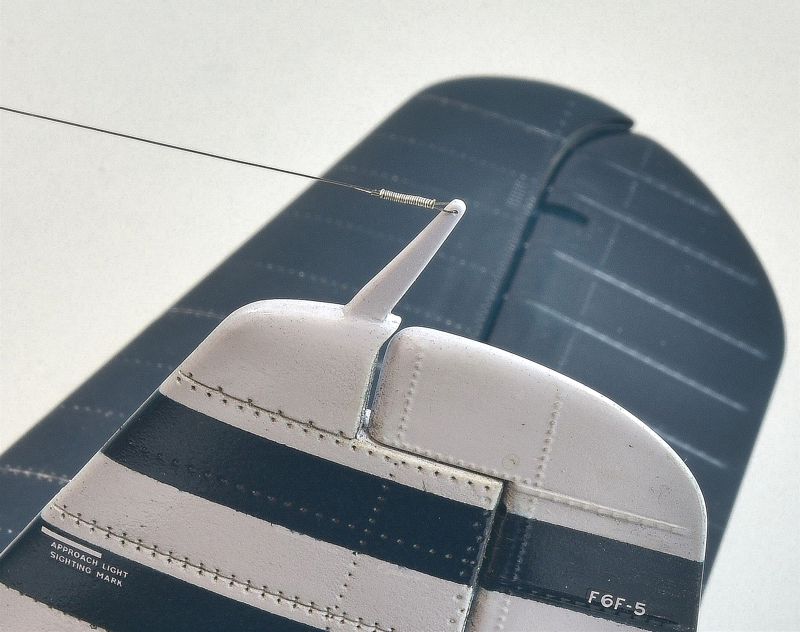 Antenna base extension and insulator was made from wire insulation, while side connection to fuselage is a 90 degree ANYZ connector that was drilled out and attached with a pin.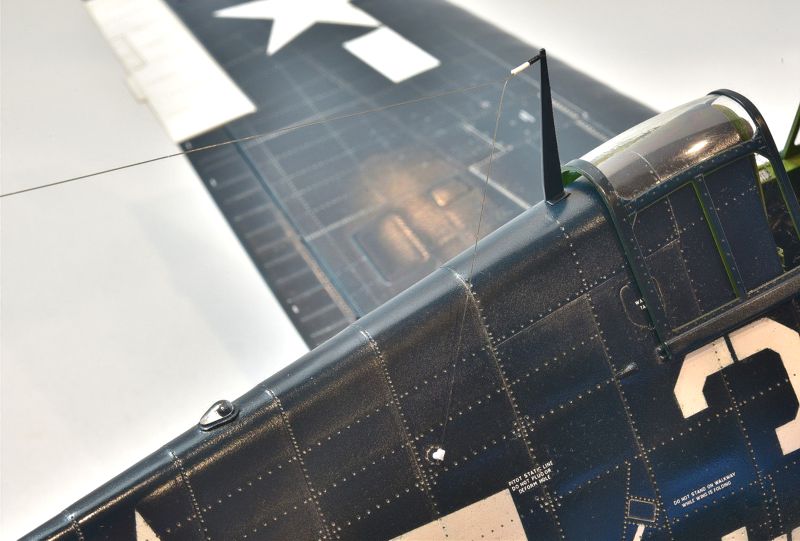 It is critical that you trim and dry fit the navigation light lenses before painting, because they don't fit at all without doing so. The blue/green light against a dark blue background obviously doesn't show up very well.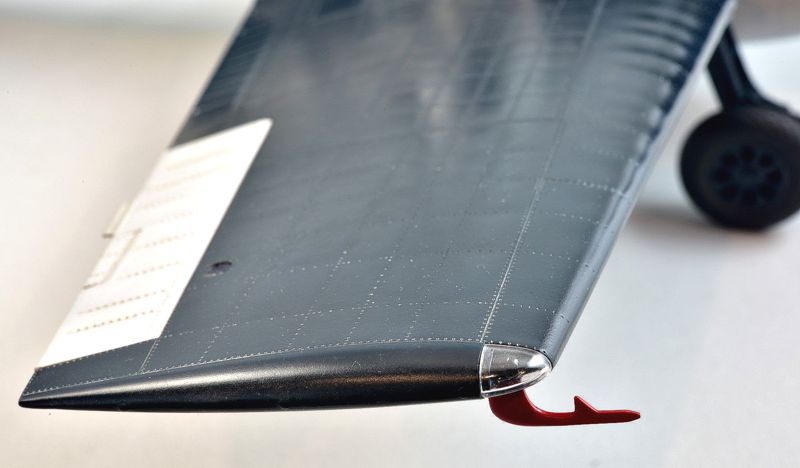 The tail hook assembly works really well, although this may be the last time anyone sees it.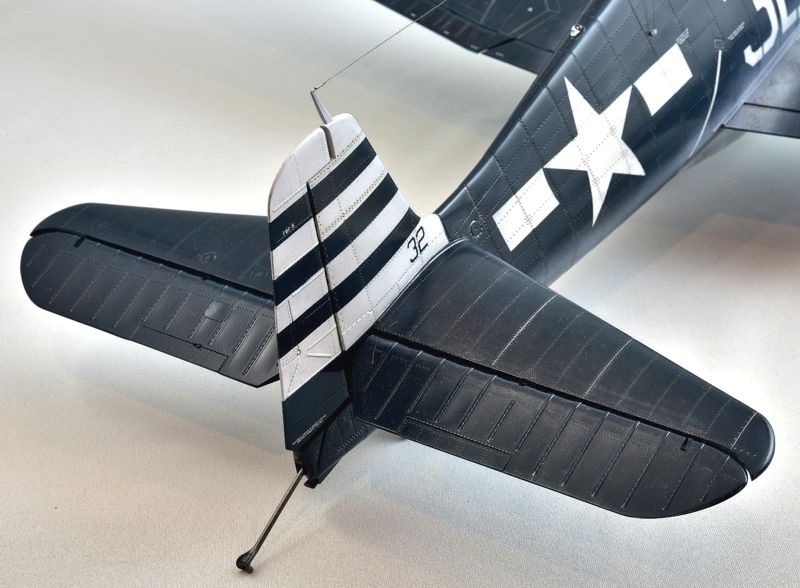 The cockpit is really hard to photograph but can be seen very well with the naked eye at this large scale. Here's a few attempts to show off the beautiful Airscale PE/ Decals and Adriatic Resin improvements.
---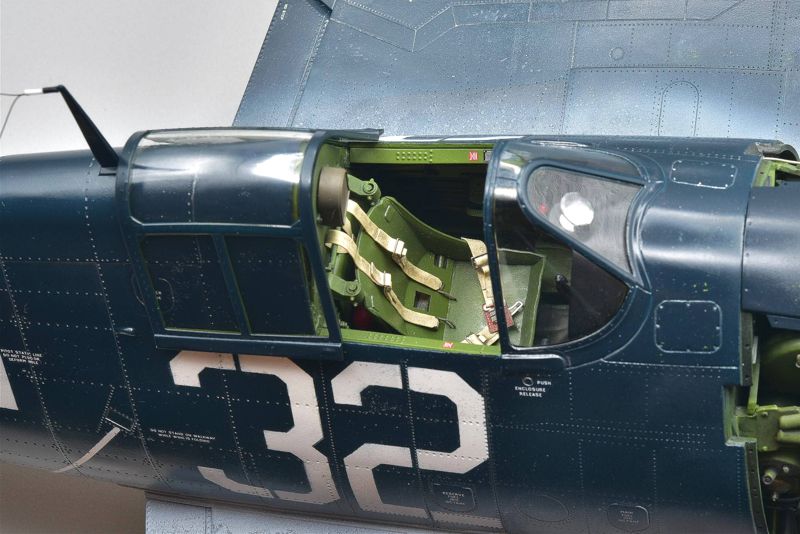 And a few of the undersides, which will likely never be seen again with the super fragile antenna now installed on the top. This is very hard to photograph because it looks too clean under bright lights against a dark background, so you'll have to take my work for it that it's a lot dirtier than it looks.
---
The last photo is at an angle showing the oil lines into the firewall just left of the air intake I had such difficulty in locating earlier. Thanks to Craig's help, I think we sorted them out correctly now.
So that's it for this build and the only dilemma I have now is where the heck I'm going to place this big pig in my modeling room! I have no shelf space left, but I'm sure I will find somewhere to place it until I start my next project, likely next October or so when the weather becomes cold again. Until then, I will always be lurking these forums for tips, comments and your interesting builds.
For looking at the step by step process and some of the research involved, check out my build thread for this model is here in the Work in Progress forum at LSP.
Also, look for a future eBook on this build at KLP Publishing.
© Chuck Sawyer 2022
This article was published on Tuesday, July 26 2022; Last modified on Sunday, July 31 2022