HK Models 1/32 B-25H Mitchell
By Luc Janssen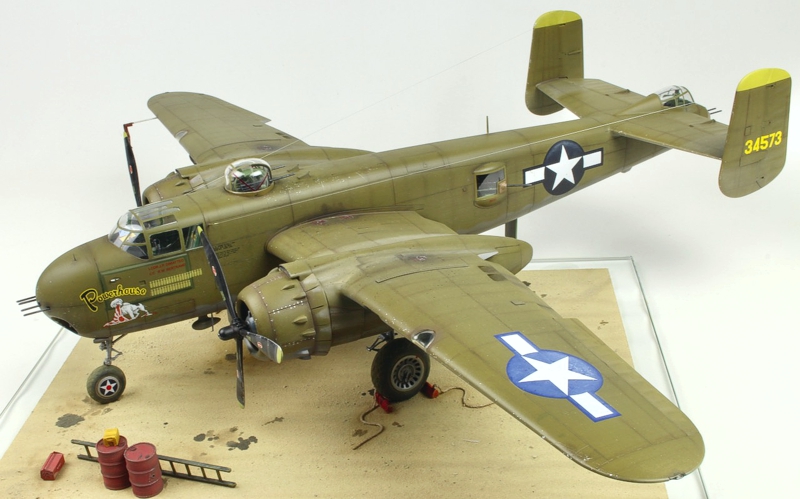 Introduction
I decided to build the kit as the B-25H "Powerhouse". This bomber was delivered in natural aluminium and painted later with the standard scheme of Olive Green and Neutral Gray. It was a part of the 100th Bomber Squadron and operated from the Solomon Islands in 1944.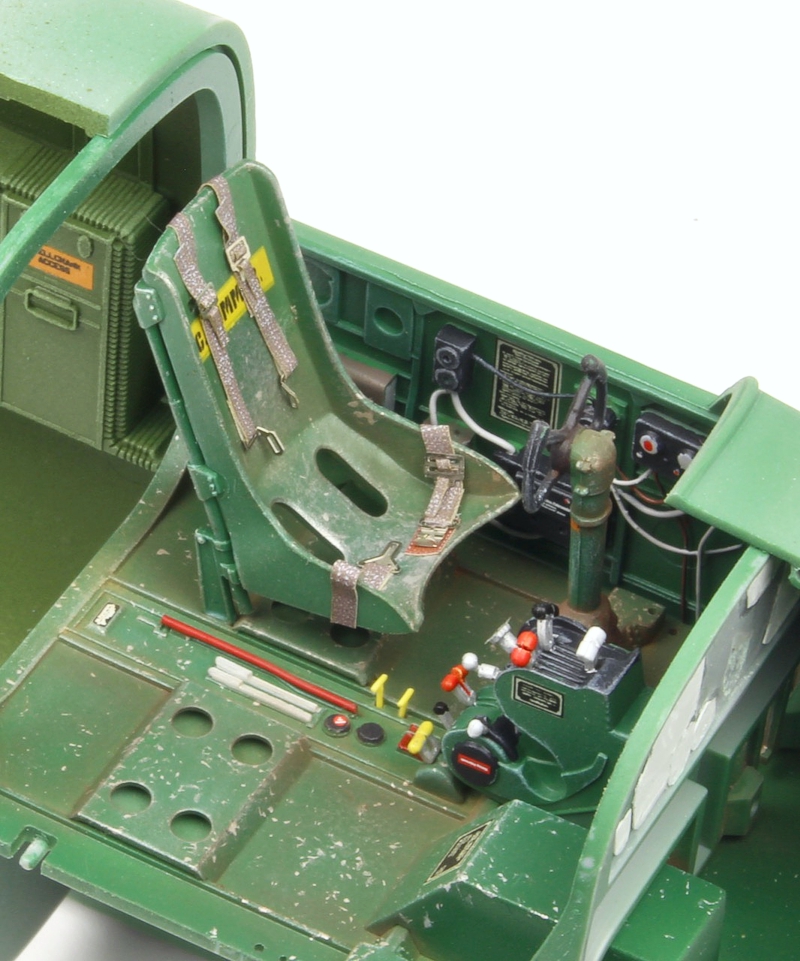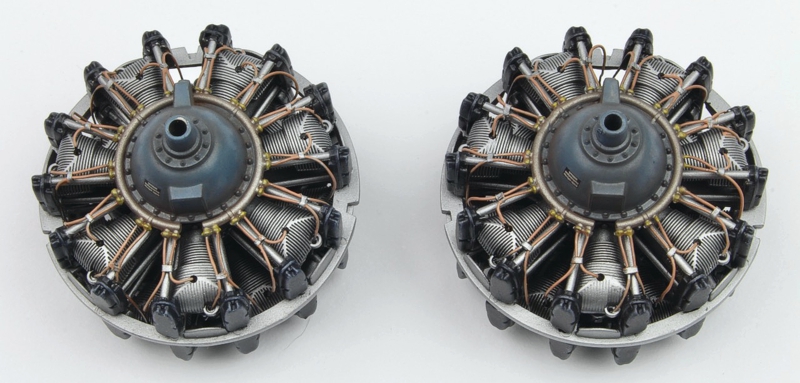 This kit is of superb quality, but it needs your full attention, and you need to think some building steps in advance! I only detailed the parts of the model that can be seen when the model is finished. So, I added knobs, handles and wiring on the flight deck and used seatbelts from HGW Models. I gave the Wright R-2600 radials a more realistic ignition harness, but I did not improve the interior of the fuselage or the wheel wells. As the propellors from the kit are on the heavy side, I sanded them to make the blades thinner. The bomb bay doors were kept closed, although the bomb bay and its doors are very nicely detailed.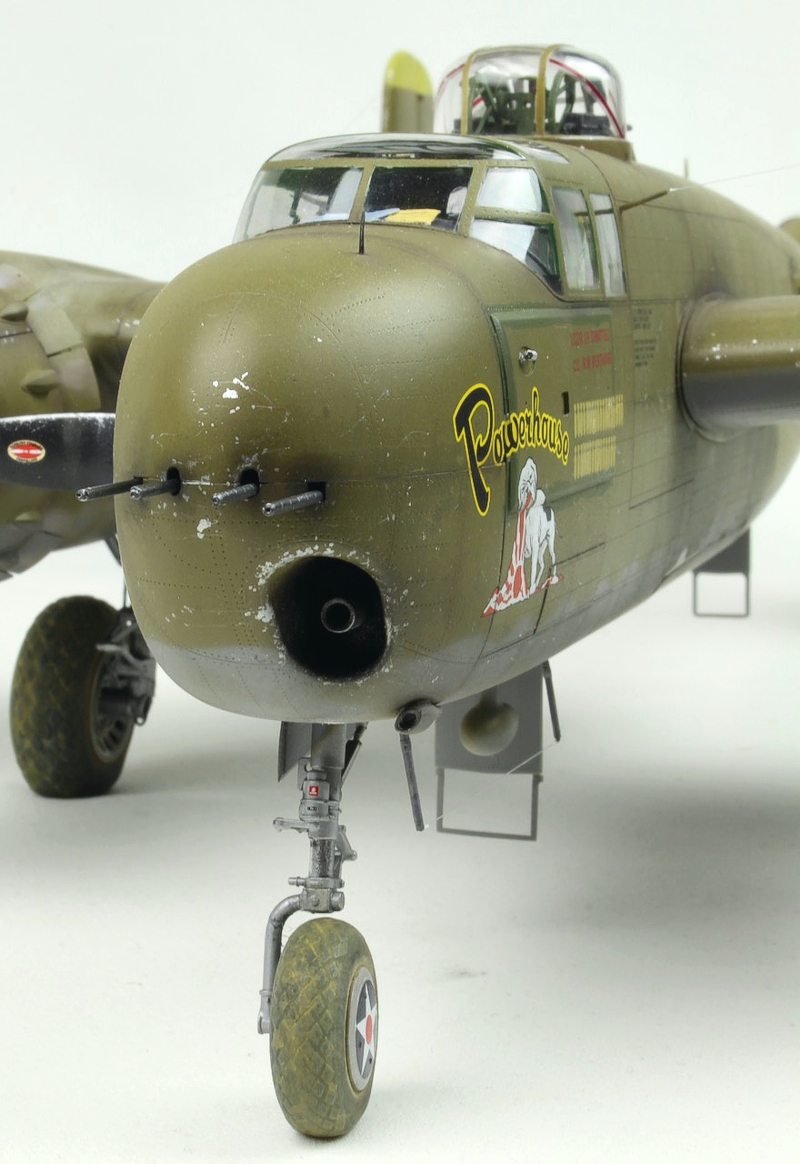 I considered replacing the cal .50 machine gun barrels by aftermarket sets, but finally I just used the barrels from the kit and that was a mistake. Indeed, Browning cal .50 from nowadays update sets are more realistic and would have improved the overall appearance of the model!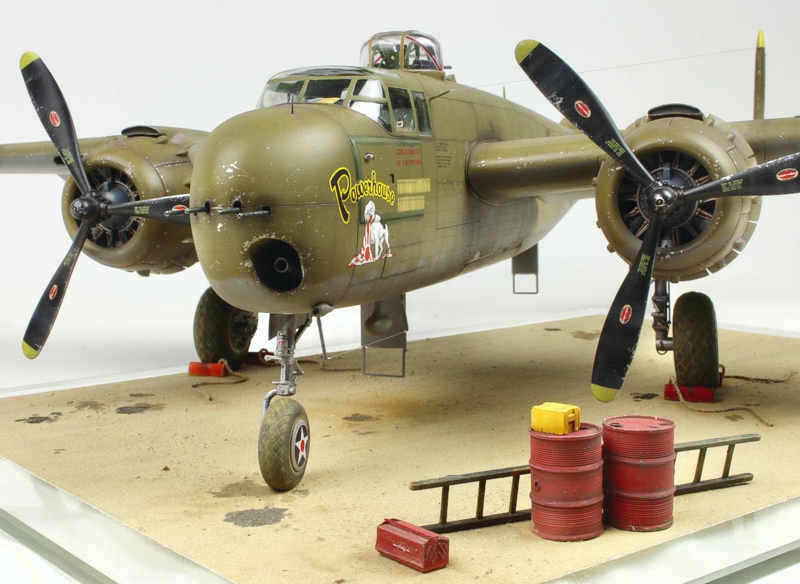 As this is a big model, I used a glass plate to create the diorama base. From scratch I made a ladder to climb on the wings. The wheel chocks, the gasoline barrels and the toolbox came from my spares department.
After Market Sets:
HGW Models: Seatbelts 1/32 USAAF/US NAVY Laser cut.
Paints:
I used paints from MRP, Vallejo, AK and Humbrol.
Decals:
The decals came from:
The kit
Kits – World: KW 132044 + KW 132047
Weathering:
As usual, weathering was done with oil paints, colour pencils, pastel powders and Vallejo wash.
References:
Squadron Signal B-25 Mitchell – Walk around
Shot to Hell by Cory Graff
Osprey Combat Aircraft: PBJ Mitchell Units of the Pacific War
SIMI LIBRARY: B-25H "Mitchell" in Combat & CBI
B-25 Mitchell – The Ultimate Look
Mitchell Masterpieces Volume 1 by Wim Nijenhuis
The internet
For questions or remarks: go to lucjanssen32nd.com
---
© Luc Janssen 2022
This article was published on Wednesday, February 23 2022; Last modified on Sunday, February 27 2022