Kinetic 1/32 Hawk Mk.120 in SAAF Markings
By Malcolm Reid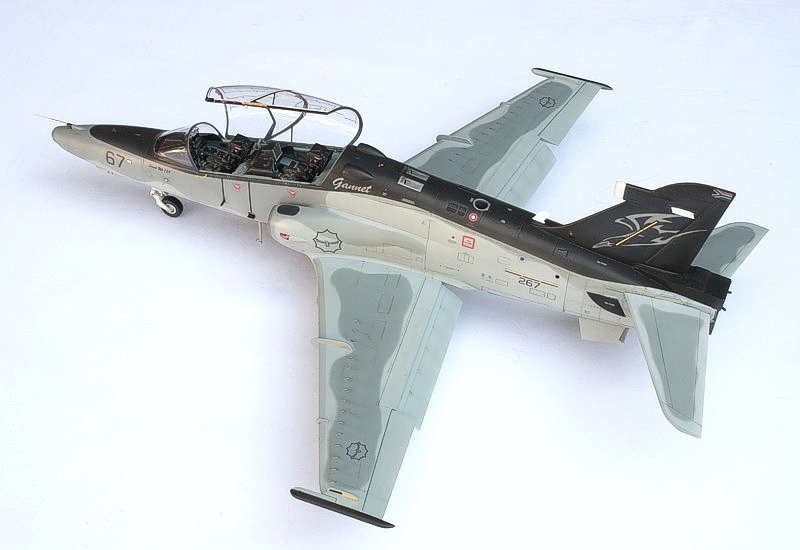 Here's a shelf queen recently completed after 10 years gathering dust in a half-built state. This is the Kinetic kit which is their only 32nd scale kit to date. Its due to be reissued by Revell as far as I'm aware. Trying to paint the white canopy detonation cords killed my mojo early in this build. But I finally managed to paint these the second time around with very careful masking with small pieces of Tamiya masking tape - wish someone would bring out a mask for this as it's such a prominent feature of the Hawk canopies.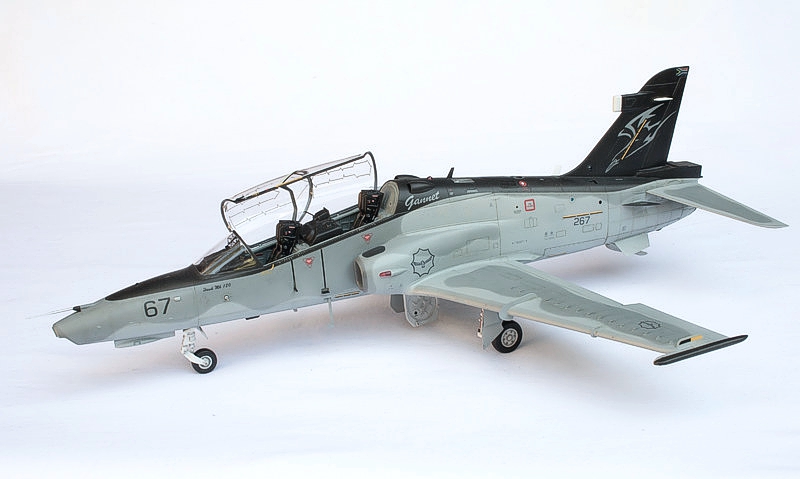 About the kit - fit is generally OK with some filler required around the intakes. Panel lines are recessed but quite sparsely detailed and somewhat variable in sharpness. The prominent vortex generators on the wing are a bit crude and the outer wing fence too far inboard - I didn't bother to correct this. The horizontal stabs kept breaking off, so I had to pin them with some brass rod. Kit Mk.10 seats are nice with a comprehensive photoetch fret provided for the seatbelts and other details. The formation strips are provided as photoetch sections. The undercarriage bays are quite bare but the undercarriage legs are Ok and can be spruced up with some hydraulic hoses. Kinetic provide options for retracted or deployed flaps which is a nice touch. Full intake trunking is provided as well as an acceptably deep exhaust. I scratch built the chaff and flare box on the rear fuselage which is characteristic of the SAAF Hawks.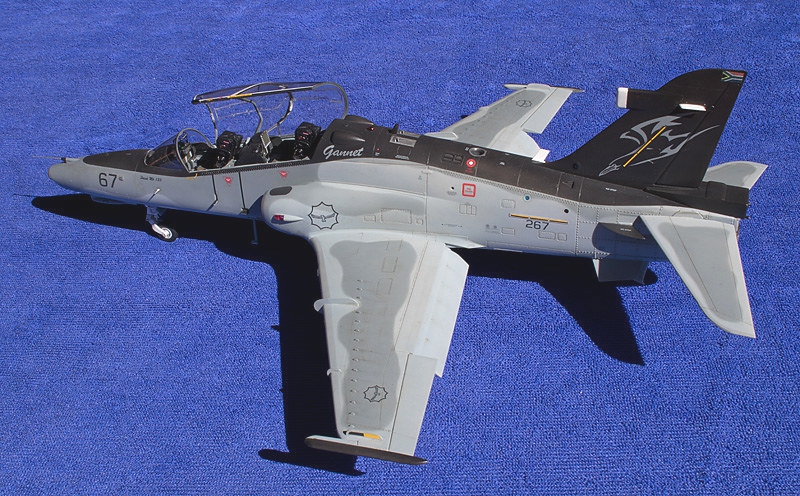 For painting I used the wonderful Mr. Colour paints as follows: Light Grey Mr. Colour #308 (FS36375) and Dark Grey Mr. Colour #337 (FS35237), both thinned with Mr. Colour levelling thinners. This is the first time I've used these paints and I was very impressed with the results. The two colours work well together and look correct comparing to the many photos I have of SAAF Hawks. I kept weathering to a minimum as the subject I modelled is the SAAF's display Hawk #267 called "Gannet" which is always immaculately turned out for local air shows. What weathering I did apply consisted of a light wash of MiG Starship Streaking A.Mig-1209 and Starship Wash A.Mig-1009. I like these products as they have a nice oily consistency which goes over a gloss acrylic base well. I added the characteristics stains aft of each vortex generator using a light application of dark pastels.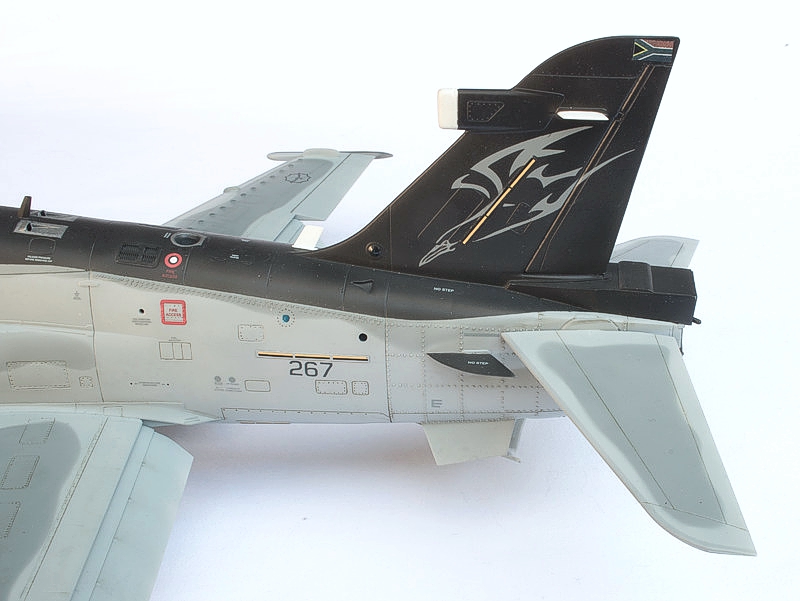 Hawk 267 "Gannet" took over the display role from the retired Gannet MB326 Impala Mk.II. The Gannet Impala had a large white Gannet superimposed over a light blue fuselage and wings with gold trim. Hawk 267 sports a much more subdued display scheme, retaining the standard two-tone grey camouflage but with a black spine and vertical stab and the styled Gannet on each side, "Gannet" text just aft of cockpit. Finish is satin. I bought the extra colour photoetch instrument panel set from Kinetic. This represents the correct 3 MFD arrangement for both front and rear cockpits used by the SAAF.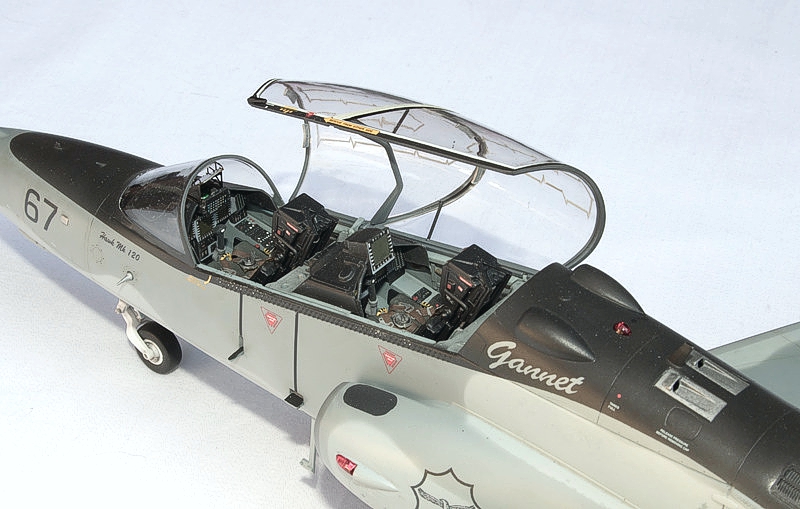 I used a combination of the Kinetic decals (data stenciling) and South African produced Hawk decals from Mavdecals. Whilst the majority of the MavDecals were OK, those for the "Gannet" text and stylized bird were not, being horribly pixilated. My modelling friend Herman came to the rescue with some beautifully cut masks which allowed me to airbrush both the "Gannet" text and the stylized bird. Those masks worked a bomb and I'm really impressed with how finely the cutter rendered the detail. Just look at the bird's beak. Master's beautiful aluminum pitot probe finished this off nicely.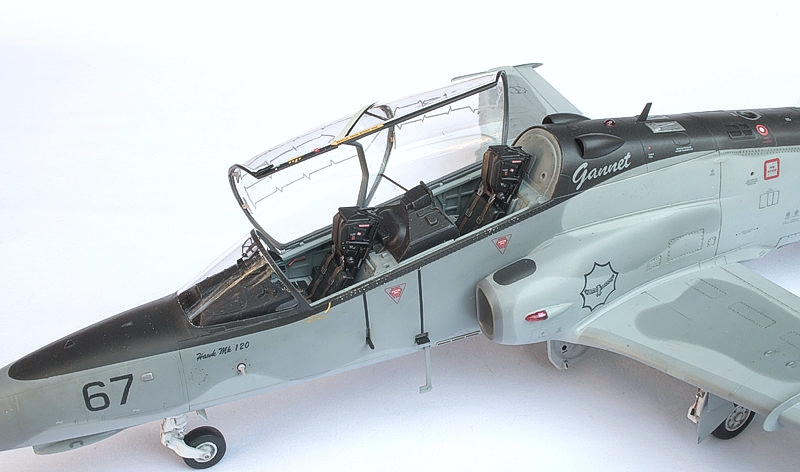 The yellow warning arrow on the canopy frame is not entirely correct for the SAAF paint schemes but...well, you know.
Enjoy!
---
© Malcolm Reid 2021
This article was published on Saturday, September 11 2021; Last modified on Saturday, September 11 2021