Hasegawa 1/32 Fieseler Fi 156 Storch Diorama
By Suresh Nathan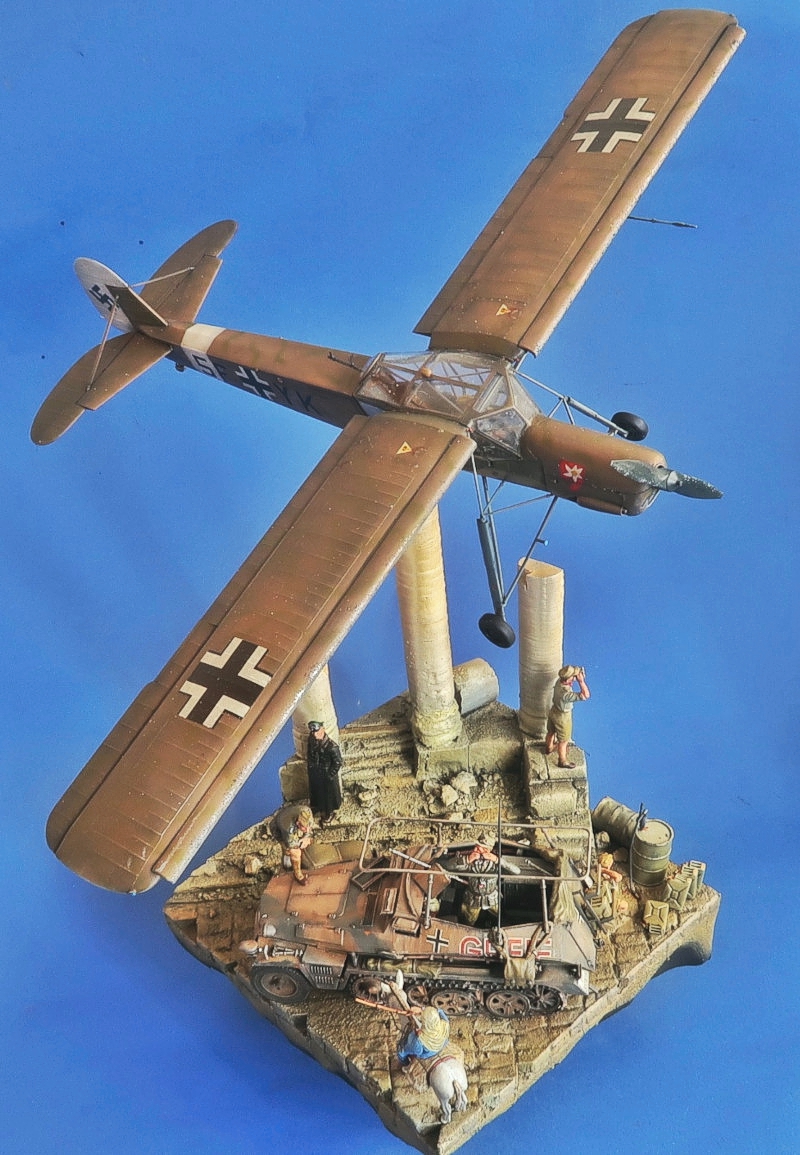 Rommel's Roman Ruins, March 1943: A tribute to the German General
Introduction
Johannes Erwin Eugen Rommel (15 November 1891 – 14 October 1944) was a German general and military theorist. Popularly known as the Desert Fox, among his British adversaries he had a reputation for chivalry, and his phrase "war without hate" has been used to describe the North African campaign. Even his harshest critics point out that the war in the desert, as fought by Rommel and his opponents, still came as close to as clean a fight as there was in World War II. He was later implicated in an assassination plot on Hitler and chose suicide to avoid the persecution of his family. I had purchased the Hasegawa Special Edition Storch which features a Rommel Metal figure. I had recently acquired an Airfix SdKfz 250/3 "Greif" on the anniversary of his death (coincidence) and decided to place these in the Roman Ruins in Tunisia where he last held out before being called back to Germany.
Planning
While Rommel was obviously known to have a number of military vehicles, I felt the two most recognizable were his Storch and SdKfz 250/3 "Greif". This would be displayed on a base that depicted the Roman Ruins in Tunisia. The Afrika Korps was known to use these ruins and the quarries nearby during the campaign.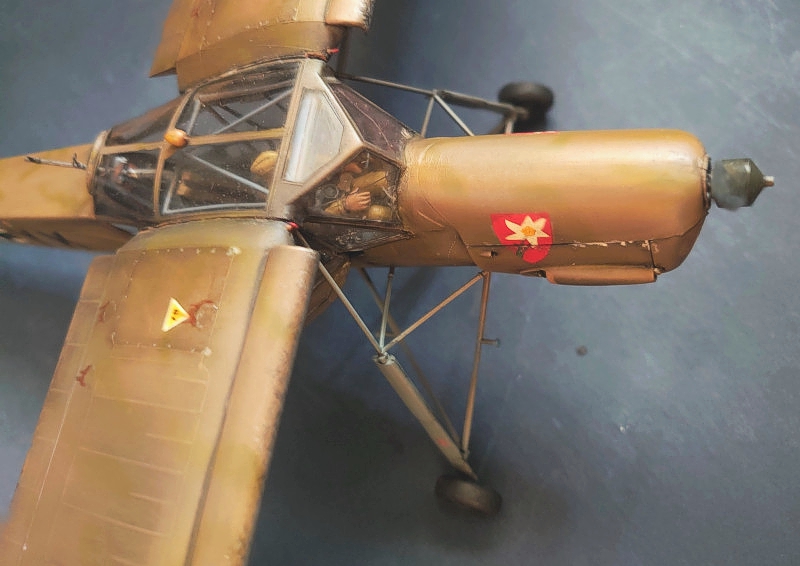 Special Edition Hasegawa Fieseler Fi 156 Storch 1/32
This is the 1993 kit re-issued in 2003 with a metal figure. It is a reasonably accurately detailed kit externally. It has a well detailed engine with a huge glasshouse canopy. The canopy is built into the wing roots which is a weak glue joint. I detailed the engines with solder wire. The Eduard photoetch set provides a lot of detail in the canopy but it is mostly not visible. Frankly, I do not know why I bother detailing these canopies anymore apart from the vague sense that I know it is there. The pilot figure is from the kit with an updated head from the spares box. The fuselage has a characteristic stitch pattern that holds the fabric on the frame. The pattern in the kit is very faint and would get removed with seam sanding anyway. This was re-done with sections of sprue. The propeller was left as is. I have done and seen many examples of prop-blur and I do not really know what's the best. Here I left it static as if the engine was cut off and the plane was gliding. After assembly and painting and initial weathering (see below) I found the centre of gravity. I drilled out a hole to accept a detachable suspension point which I made from aluminum on a lathe. The metal figure was a real joy to paint.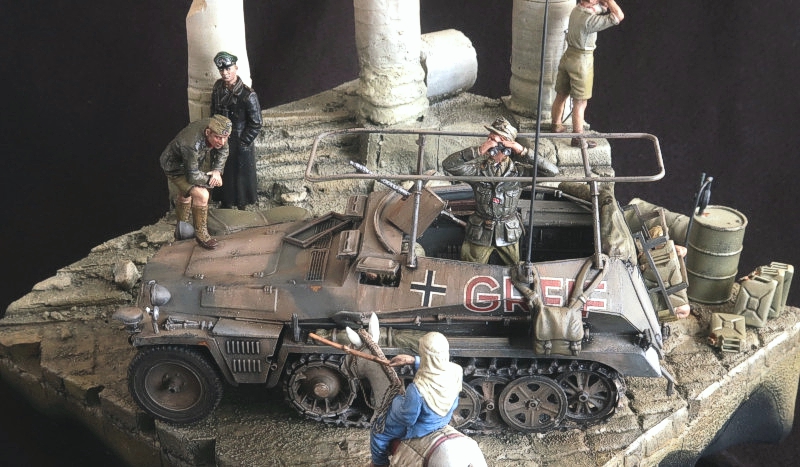 Airfix SdKfz 250/3 "Greif" 1/32
This SdKfz 250/3 is one of the few things out there in 1/32 and is from the seventies. It is actually surprisingly accurate, and I think more so that the slightly newer Tamiya one. There were some areas that were slightly too thick and I cut and repositioned viewing windows. But really it was mostly out of the box.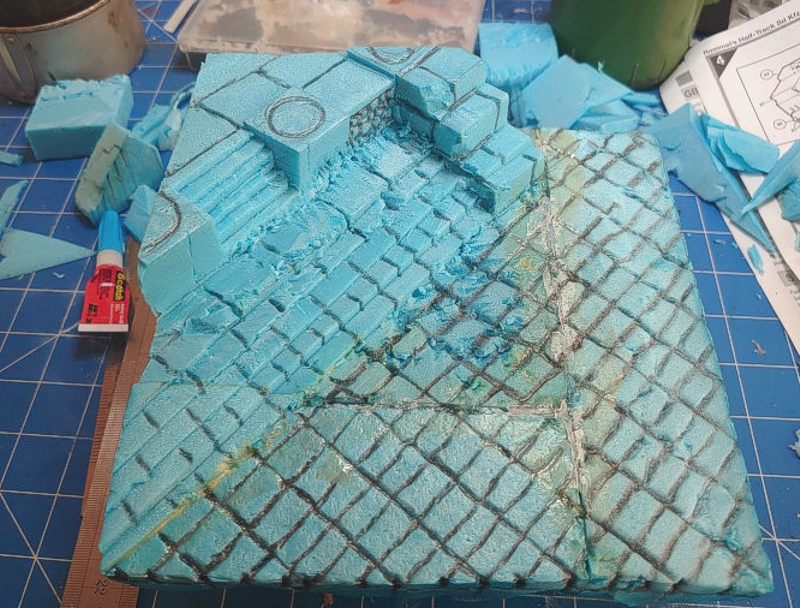 Base
The base is a solid pre-fab base from High Planes Models. The structure is modelled after a Roman ruin in Tunisia. This was cut from a block of expanded Styrofoam and carved out. The fittings were scratchbuilt and detailed with spares. The pillars were made by casting plaster in rolled up paper tubes. One of these tubes houses a steel rod which carries the weight of the plane. It was painted in acrylics.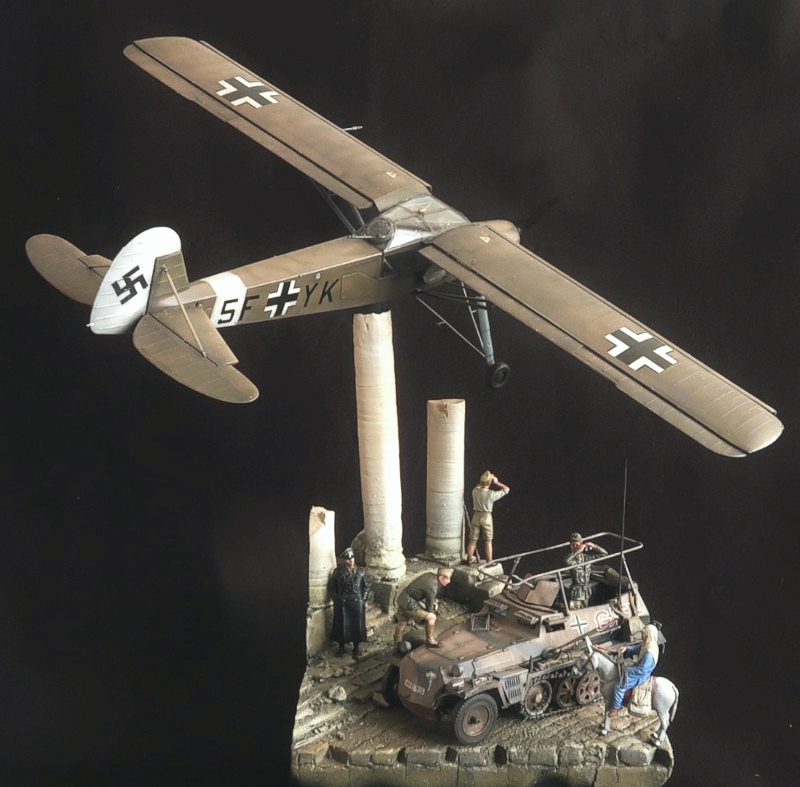 Painting and markings
The models were base painted in Humbrol enamels, varnished with Future-Tamiya Flat acrylic. I used oil washes for weathering and drop filters for colour variation and chipped sparingly. The worn silver was a combination of sponge dabbing, silver pencil and undercoat with black and brush painting silver. All markings were a best-guess scenario based on the few photos available. Rommel had a number of Storches and I chose one of the more striking schemes. Unfortunately, while the Hasegawa box art and colour recommendations called for a more subtle splinter scheme I later uncovered some period photos that show the squiggles as quite dark. There is a lot of criticism about the right-side white marking on the Greif and I elected to hand-paint it there. I finished off the Greif with pastels fixed with white spirit.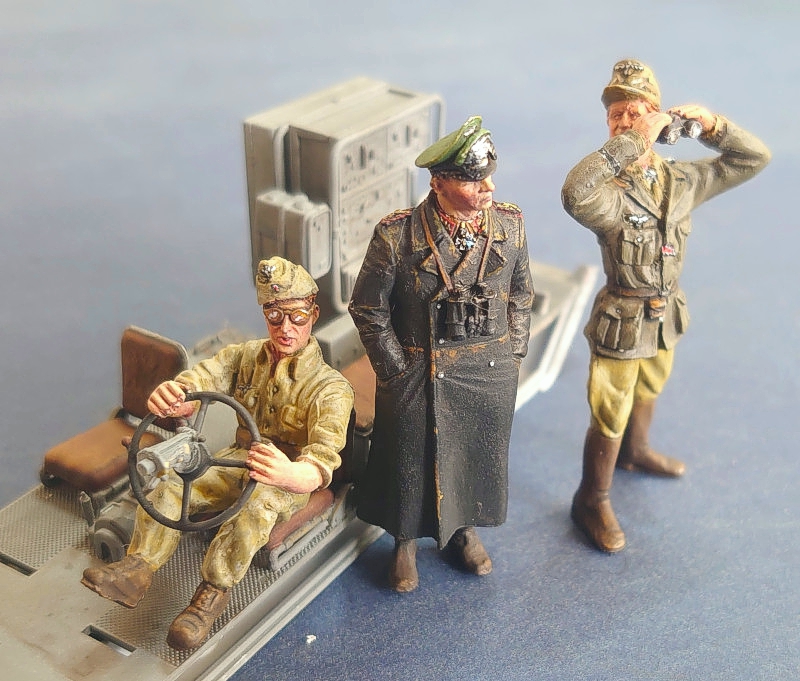 Figures
The figures are from the kits heavily modified to suit the poses with new resin heads. The rest were from Master Box models AfrikaKorps: German Tankman which conveniently features a native on a donkey giving directions. It is strictly a 1/35 set but you really can't tell the difference here. All figures were painted in Acrylic.
Conclusion
This diorama documents an important figure in World War 2 - arguably one of Germany's most honorable generals.
---
© Suresh Nathan 2021
This article was published on Friday, February 12 2021; Last modified on Saturday, February 13 2021