Hasegawa 1/32 Ki-44 Shoki/Tojo
By John Alexander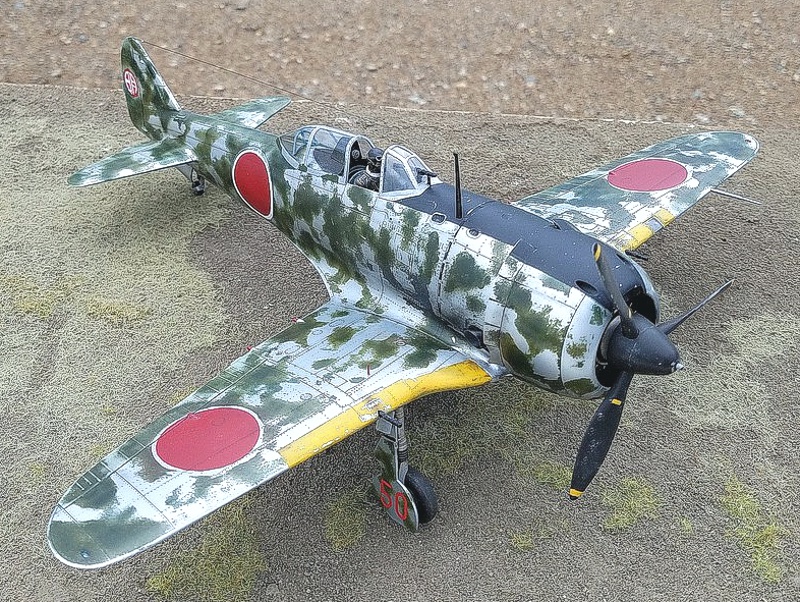 Here is my most recent completion, Hasegawa's 1/32 scale Nakajima Ki-44. I actually finished this model a few months back, just after completing my Ki-43, but was having trouble getting good photos due to the metal base finish and the lighting in my shop. I kind of put the photo shoot on the back burner, but everything came together yesterday and I was able to get a good outdoor photo session in with some cool clouds in the background. The metal finish is still very difficult to photograph well and I believe it looks better in person, but here it is!
This is a fairly basic build of another great Hasegawa kit. I added Quickboost exhausts, brake lines from wire and the antenna wire is E-Z Line. Oh, and I also riveted the entire airframe. The base finish is Testors Metalizer Aluminum Plate from the rattle can. It was buffed to a decent shine, then coated with Future. The rest of the colors are Model Master enamels. All of the national markings were masked and painted. The decals came from my spares and represent an aircraft from the IJA Akeno Flying School. Weathering was done with oils and pastels. This was also another opportunity to improve my figure painting skills by including the pilot. I still have a long way to go, but that's why I'm practicing!
Thanks to everyone at LSP for your support and overwhelming inspiration over the years!
---
© John Alexander 2020
This article was published on Wednesday, July 15 2020; Last modified on Saturday, July 18 2020