Revell 1/32 Fw 190D-9
By Olivier Barles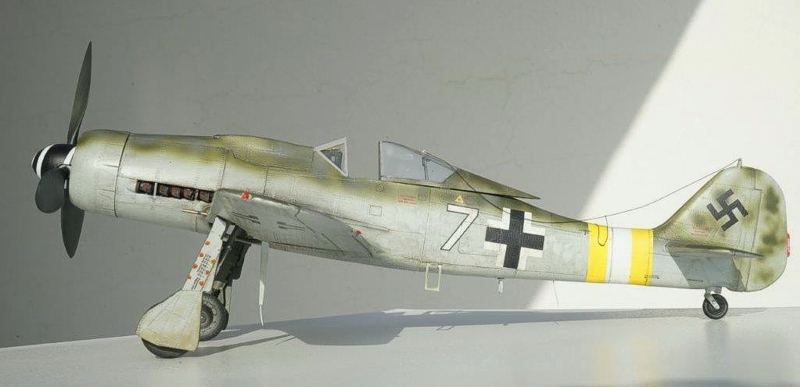 Here are a few photos of my "vintage" Revell US Focke-Wulf 190 D-9 in 1/32 scale I have just finished.
I love these old Revell US kits; even though they are far from current molding standards and demand a lot of work to build them nicely, they do have a sort of "organic rendering" that make them unique among the multitude of "computer engineered" kits that are currently on the market.
Maybe it is also because they bring us back to our young age, when we were so happy to have in our hands the big box of the new 1/32 Revell kit, impatient to start the build...
Of course, when I was about 13 or 14, I did get my first FW 190 D-9 that just came out a couple of years before. Unfortunately, this one like a few other kits of that period have disappeared in the "tribulations of life".
I was therefore very happy to find it again in a 1990 re-release. There was no change inside the box but a new "basic decals sheet" - and the same hard and brittle plastic in olive green color.
As usual, I engraved panel lines trying to keep as much as possible the lines of raised rivets intact and I did some work in the cockpit; but the main challenge has been to re-create the main wheel wells which otherwise looked "kind of fanciful".
Then, good paintwork, stencils and markings from an old Eagle Cals sheet, along with good weathering...
It definitely looks like "a good old Langnasen" and I am impatient to compare it next to the Hasegawa D-9 I am currently working on.
I am sure it will more than hold up to the comparison!
---
© Olivier Barles 2020
This article was published on Monday, June 15 2020; Last modified on Friday, June 19 2020