Hasegawa 1/32 P-40E in Russian Service w/ Klimov M-105 Engine
By Tim Biggers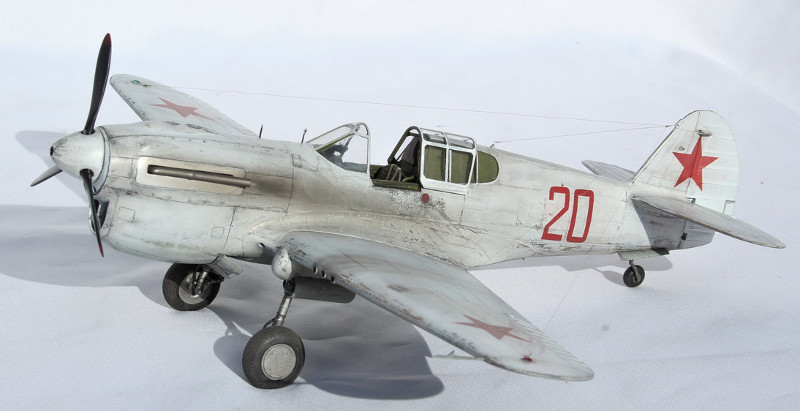 This is the Hasegawa 1/32nd P-40E modified to be a lend-lease aircraft for the Soviet VVS, which they eventually re-engined with the M-105 Klimov engine.
As there is very little info available on these planes, I took some liberties. Here is the basic premise:
This plane (red 20, 196th IAP)) seems to be the only M-105 Klimov plane consistently depicted in model kits and renderings, though no photos of it seems to exist. I chose to do it because at least I am reasonably certain it actually existed.
As these were lend-lease aircraft, I assumed it would have been delivered to the Soviets in standard 3 color USAAF colors with US stars (no bars) on them, so I first painted it in that scheme - dark green/brown camo upper surfaces, neutral gray undersides, green zinc chromate pit and insides. No U.S. ARMY lettering on the bottom, as they seemed to have stopped doing this by the E models.
I assumed that the Russians would have then painted over the US stars with whatever paint they had, so a darker shade of green over the wing top and fuselage stars, and Russian underside blue on the wing bottom, with a brush, so crude circles.
Then Russian red stars on the wings and fuselage over the painted-out US insignia where it occurred. I also assumed the plane would have then saw service for a time before the engine wore out.
At this point, the plane would have had the engine replaced with the M-105 Klimov and assigned to the 196th IAP.
At some point after that, the 196th painted over everything with white, including the fuselage star, and replaced the star with a red number, painting a new star on the tail. It would then have seen service until it met its end, or the war did, whichever came first.
Additions:
Eduard Brassin wheels and tires
Scratch-built upper front engine cowl and exhaust, cast in resin
Spinner and prop from Special Hobby Yak-3 kit (heavily modified and also cast in resin)
RB seatbelts
Here is the Work in Progress Thread: Russian P-40E with Klimov M-105 Engine.
---
© Tim Biggers 2020
This article was published on Tuesday, April 28 2020; Last modified on Thursday, April 30 2020