Kitty Hawk 1/32 T-6 Texan
By Chuck Sawyer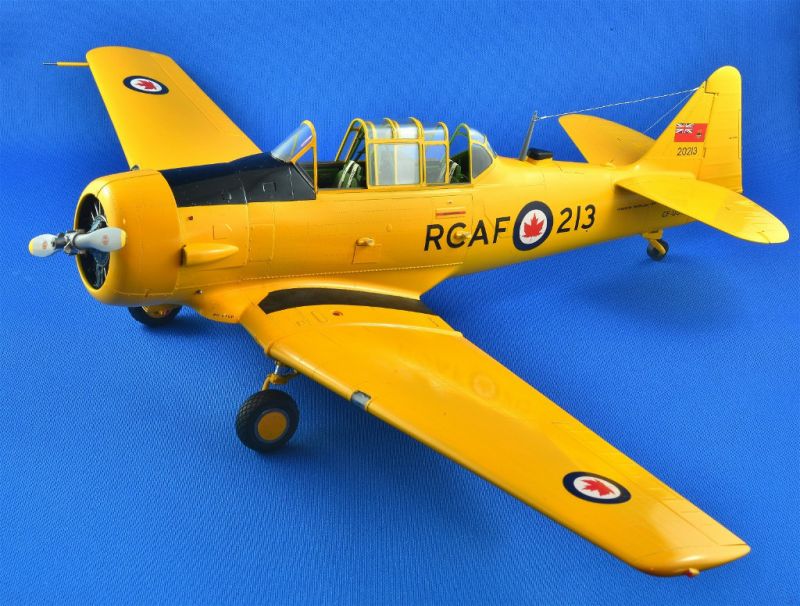 After about 4 ½ months of work, which is an a record short time for me, I've finished the Kitty Hawk T-6 Texan kit into a Canadian Harvard. This pandemic we find ourselves in provides plenty of motivation to model, especially when the weather is crappy outside, so I got a lot done the past 2 weeks. This Harvard Mk 4 is a museum bird that lives at the Canadian Warplane Heritage Museum near Hamilton, Ontario and as far as I know, it stills flies now and then. It was built at Canadian Car and Foundry in 1951 and served RCAF flying schools until it was purchased by a private owner in 1965 and later donated to the museum in 1972.
I have many photos of this aircraft and all of them show it to be super clean, especially those in the museum hanger. Other than dirtied up walkways and the characteristically weathered exhaust pipe, it still looks brand new today. I have always loved the look of these yellow birds and chose this aircraft since the kit decals are the only ones available in 1/32 that I know of.
Key aftermarket items include:
#32354 Eduard Exterior and Landing Flaps
#32810 Eduard Interior Set
#32100 AMS Resin Corrected Prop Blades
#BR32380 Barracuda Resin Tires and Wheels
#132004 HGW Late Spitfire Fabric Seat Belts
AR88015 Archer Decal Rivets (various)
And lots of scratch made enhancements.
Additional notes (check the photos):
The antenna wires look a bit off, but they were just like this. Tight, but also kind of sloppy.
Landing gear was corrected outwards from the kit anchor points.
To replicate a drain tube of some kind found at the bottom of the engine, I used a steel pin.
I am most proud of the exhaust, which was modified with the addition of a cockpit heater pipe, then painted with Alclad Steel and Stainless Steel, followed by Tamiya pastels in rust. Fuel tank caps on the wings were also recessed as per references.
A red vent tube was added to the top behind the engine cowling and a steel colored dipstick looking assembly at the bottom.
The kit canopy is the weakest part of this kit and doesn't fit at all, so I modified it with a channel slider at the bottom to hold everything together.
All the ribbing on the rudder and elevators was sanded down and modified with Archer decal rivets to create a subtle, but lumpy look of fasteners behind fabric.
Aileron control arms were replaced with Eduard PE replacements, which include an arm to the small trim tabs.
The Eduard landing flaps were a ton of work, but very satisfying to see them completed.
The Eduard set also has control arms for the rudder missing from the kit. The formation lights were added which should be red, amber and blue in a variety of positions according to references. Since the amber color would be lost against the yellow fuselage, I added a green one instead, just 'cause.
This kit presented many, many challenges too numerous to mention, but I have a build log from start to finish in the forums for those who might be interested: Work in Progress Build Thread.
---
© Chuck Sawyer 2020
This article was published on Friday, April 17 2020; Last modified on Saturday, April 18 2020