Tamiya 1/32 FAA Corsair
By Justin Ducharme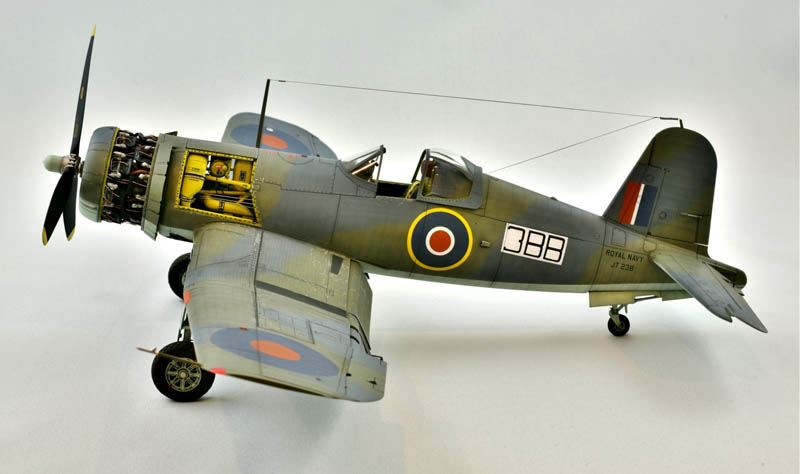 Twenty-three months ago I set out to build a FAA Corsair from a stock Tamiya kit. Shortly after reviewing my references I realized that it wasn't going to be as easy a task as I thought. After countless hours of research and planning I was ready to go with tons of resin and AM stuff. The subject is a Corsair MK.II from the Royal Navy; I decided to build this airplane because it's a little different than the standard Corsair coloring. I attempted to add, and correct as many things as I could, but surely someone will find something obvious that could be missing. I used the amazing "Time Capsule Fighter 433" book as reference. I built this airplane for my wife, as it's her favorite airplane (and because she'd support the hundreds of hours of work).
Aftermarket
Brassin Prop
Brassin Engine (modified)
Brassin Cowls (modified)
HGW RAF Seatbelts
Barracuda Stencils
Barracuda Diamond Tyres
Grey Matter Accessory Bay (modified)
MV Lenses
Various tubes / wire / string / styrene
Scratch / Mods
R2800 fully plumbed, opposite of Brassin's instruction. Used real engines as reference
Ignition Harness scratch built
Cowl flap control ring added
Accessory bay plumbed, stenciled as well as control arms added for the various engine controls / cowls
Added CO vents to fuselage
Fully detailed gear bays / uplock springs scrapped from kit and re-made from lead wire
Clipped wings as per drawing dimensions / reshaped position lights from kit parts
Paint / Markings
All markings / insignias are painted on using Maketar (roundels) and custom for "3BB"
Very few decals used from kit, they went on OK in most places
MRP Paint used for all surfaces
Chipping achieved with pencils
Basic oil wash overall
Build time: 23 months.
---
I hope you folks can enjoy this as much as I did. All photos were taken by my good friend Chuck Sawyer (chuck540z3), thanks buddy!
© Justin Ducharme 2019
This article was published on Saturday, November 02 2019; Last modified on Saturday, November 02 2019