Hasegawa 1/32 Canadair Sabre Mk 6
By Nick Scheltema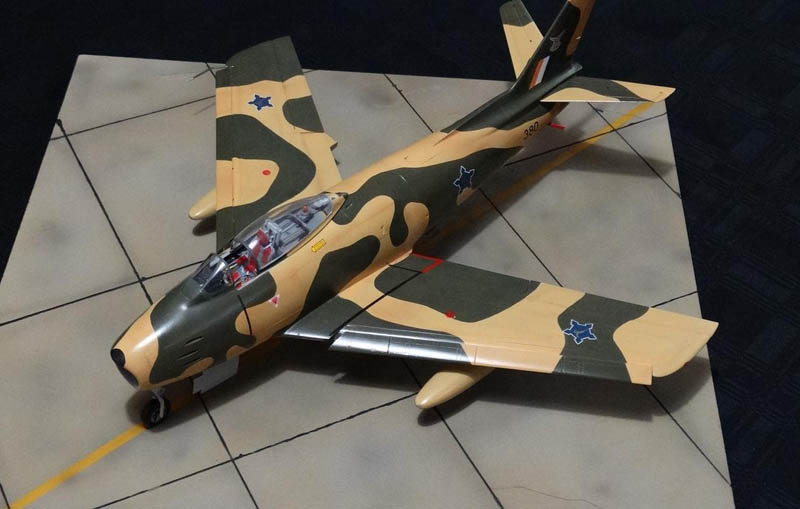 The Subject
The Canadair Sabre Mk 6 was regarded as the ultimate dog-fighter of its generation by the pilots who flew them. With the Orenda 14 engine giving almost 50% more thrust and having the 6-3 wing with slats it was a step up from the original F-86, which in itself was a great dog-fighter. The Australians would probably argue the title with their Avon powered Sabre but with slats and a similar power to weight ratio, the Mk 6 would probably be advantageous in a low speed fight. The Indians would argue for the Gnat to be the ultimate dog-fighter, but to be fair it was of a later period than the Sabre. Be as it may, the Sabre Mk 6 was loved by all who had the privilege to fly it.
The Model
The Hasegawa 1/32 Sabre was first released in the early seventies. This is the third one I have build. The first build was in 1976 with Microscale Korean decals included with the kit.
The second build was a commission for the 2 Sqn SAAF museum where all the changes were made to backdate the kit to a F-86 F-25 as flown by the OC of the squadron during the Korean conflict.
I picked up this kit while on holiday two years ago. Maybe my longing for my youth builds played a part but I had clearly forgotten what would be involved to bring this kit to standard. Fortunately the kit is accurate with an excellent fit. (Italeri take note).
Changes to the Model
Wing tips removed and model re-scribed. Vents and sugar scoops added as per Mk 6. True Details seat and a resin cockpit donated by a friend. I also build a new instrument panel to reflect the Mk 6 IP. (I think it is a Cutting Edge set.)
Metal pitot tube turned on a Dremel was added and wheels detailed. A scratched build gun sight and control column completed the build. My friend Sean provided the combat tanks from the Kinetic model as well as printing the squadron badge from a photo.
Subject and Markings
The markings are for 1 Squadron SAAF during 1975 at Air Force Base Pietersburg just before they converted to the Mirage F1. I could not source the LEM decals for the subject, so I used SAAF castles printed by Model Decal in the eighties. Despite their age I consider their SAAF castles still to be the most accurate in shape and color. A few markings from the Italeri Mirage and the rest marked and airbrushed. Paint used Humbrol Gloss and XtraColor. The new XtraColor proved to be disappointing as they contain too little pigment and by the time the color was sprayed dense enough, a nice little ridge had build up between the color. To get the pattern accurate I used the Silhouette software to cut masks.
---
© Nick Scheltema 2019
This article was published on Friday, October 18 2019; Last modified on Friday, October 18 2019