Kitty Hawk 1/32 F-5E/N: "Kicked Up A Notch"
By Chuck Sawyer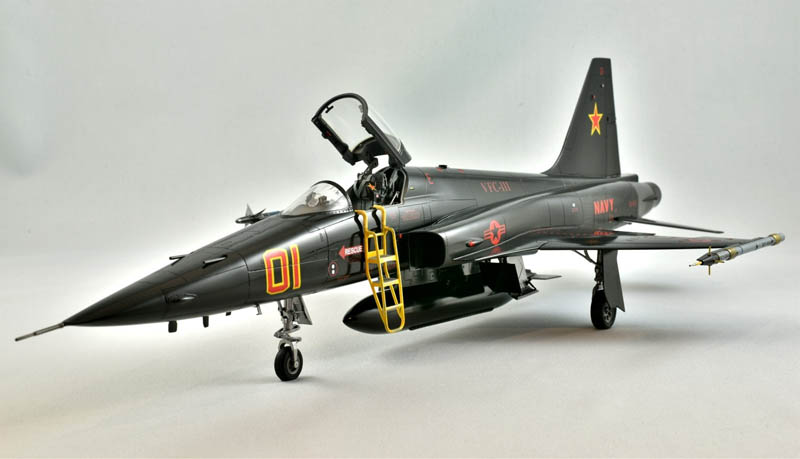 After "only" 9 months, which is a record for me, I have finally finished this model. For step-by-step details on how I did it, I have a fairly long build thread in the forums.
This kit is a real challenge if you want to make it as accurate as possible, with a random mix of highly detailed parts and parts that don't fit at all. There are inaccuracies all over the place which I tried to fix, with some panel lines deleted, others added, and every single panel line and rivet was rescribed and re-punched. Aftermarket kits used were mostly made for the Hasegawa kit as follows:
Black Box Resin Cockpit Set (32010) for Hasegawa
Eduard PE Exterior Set (32426) for Kitty Hawk
ProfiModeler Brass Pitot Tube (32266) for Hasegawa
ProfiModeler Resin Wheel Set (320273) for Hasegawa
Hasegawa Kit Boarding Ladder and AOA Vane (both missing in KH kit)
Zactomodels AIM-9L/M Resin Missile
Archer Resin Decal Rivets, which were used extensively on the rear engine area
Airscale Instrument Brass Bezels and Decals
The BB cockpit fit surprisingly well with a number of modifications, while the ProfiModeler wheels required spacers to fit the kit landing gear and the pitot tube had to be ground down at the rear to fit flush.
My goal was to create one of the gloss black Adversaries of the VFC-13 Fighting Saints that were fashioned after the "MiG-28" of the movie "Top Gun", but nobody makes bright red decals for this subject in 1/32, so I was forced to go with a mixed bag of the following which created a bit of a "what-if" for squadrons:
Kit Decals. Not many, because they are thick and often show white film underneath.
ProfiModeler (32286). Red Star on tail and "01" on nose.
Two Bobs Bad Boys Sundowners (32-040), hence the VFC-111 squadron instead of VFC-13
Maketar Paint Masks (USAF Stars and Bars, Vol II, 32-066)
One big shortcoming of this kit is the engine intakes, which really don't exist at all beyond the front openings. Although resin intakes are apparently now available, I made seamless intakes out of ordinary PVC water pipe which turned out fairly well.
Now several photos of just about every angle possible. With the super clean and shiny paint job which is typical of these jets, I didn't see the need to dirty up and weather the landing gear wells, mostly because they will rarely be seen again.
---
© Chuck Sawyer 2019
This article was published on Friday, October 04 2019; Last modified on Saturday, October 05 2019