Hasegawa 1/32 F6F-3 Hellcat
By Rodney Williams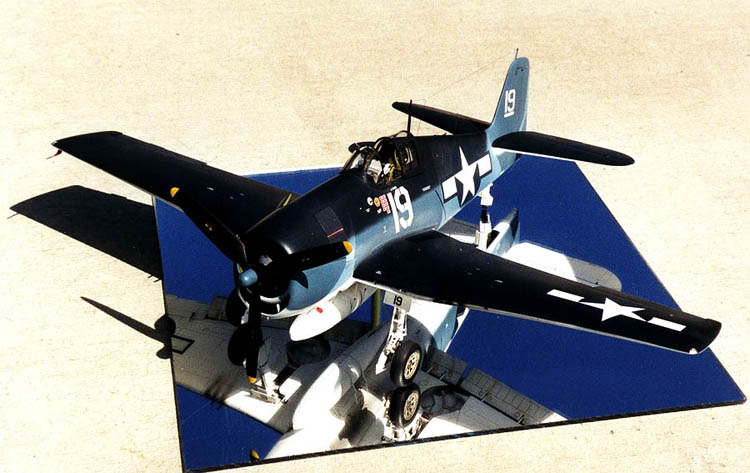 This is the second model that I built for the same client as he liked the P-51 Mustang fighter that I posted to LSP long ago. My records show that I started working on the model in 1998 and finished it during the year 2000.
I received two kits from him, including some 32nd scale drawings of the cockpit and wheel wells, which was a reduction of the original factory drawings by Grumman. I returned said drawings when I was finished with his model and I was not permitted to copy any of them.
The model represented an F6F-3, flown by Lt.(jg) Alex Vracia from the USS Intrepid. Alex was the 4th highest Naval ace with 19 Japanese planes shot down by 02-19-44.
My first few photos show how I designed the logos that were put on the real fighter. I was born with a natural art talent and could draw anything, just by looking at the original.
---
Please study the cockpit and wheel well photos as they are built per the Grumman drawings, including the new tail wheel and its housing.
---
I used some of Waldron's placards and instrument dials. The instrument panel was painted a bronze color and the rest of the cockpit was painted with Tamiya's XF-4, including some other colors.
---
I added some wires to the kit engine and revised the landing gear struts and made new torque links/gear doors etc.
---
The exterior of the model was painted the tri-color and the insignias were painted on. I over-sprayed the model with Future Floor Wax then added the decals, then used more Future and some dull coat my Microscale.
I use to keep a work record on my models and I spent slightly over 1,500 hours building this model. There were about 200 parts that I scratch-built for the cockpit and maybe 75 to 100 on the wheel wells.
---
The client lived back East and I lived in San Jose, CA so he sent a friend out to pick up the model which was well packed for the 2,500 mile trip.
Enjoy!
Rodney J. Williams
© copyright: July 9, 2019
foxx700777@gmail.com
This article was published on Saturday, July 13 2019; Last modified on Saturday, July 13 2019