Airfix 1/24 Hawker Hurricane
By Panos Chamakiotis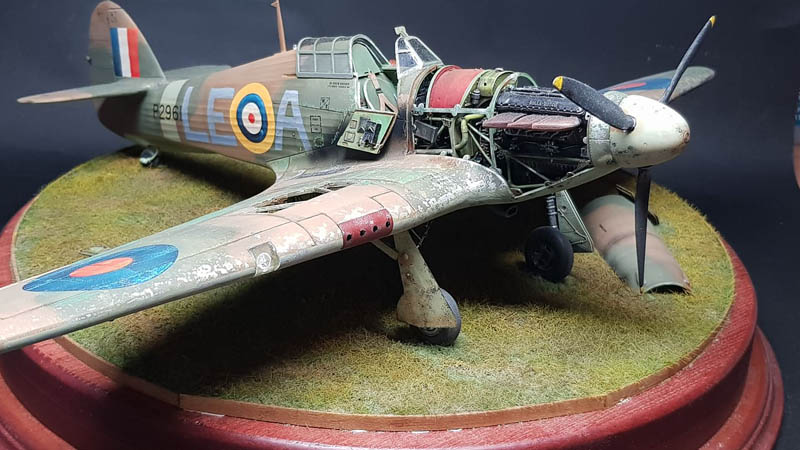 This is my Hurricane Mk I, 1/24 by Airfix. I had this in my stash since the '80s. Back then, these kits were very hard to find in Greece and my older cousin bought it for me, in Sweden, and gave it to me. So, I dedicate it to him, since he got me into modelling when I was much younger.
The kit is well detailed, great fit, and poses no problems. Just be careful with the fragile frame that supports the engine cowls.
I built it OOB, just to enjoy the engineering of the kit (OK, I am lazy...) and I really liked the light blue color of the plastic spues! It brought back a lot of childhood memories.
The only add-ons were the decals (Techmod, I think) and P/E seatbelts. I think paper or fabric seatbelts would be better than P/E.
Its mounted on a round wooden base and the pilot is from PJ.
I wanted a really weathered model and when I found a color profile of a heavily chipped Hurricane, I was on! But, I took it a bit further and I used a lot of sponging, heavy washes (especially on the undersides), local fading by airbrushing, pencils (for a first time) etc. I hope you like the end result. Now, the Me 109E is gonna be next, after I find Galland's markings...
---
© Panos Chamakiotis 2019
This article was published on Sunday, May 12 2019; Last modified on Saturday, March 28 2020