Zoukei-Mura 1/32 A-1H Skyraider
By Luc Janssen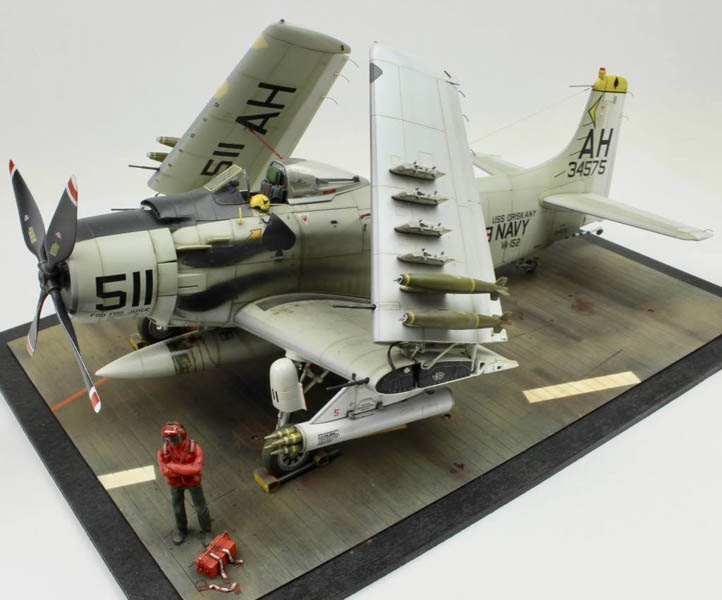 Although this Zoukei-Mura kit has been well commented many times, I was not really impressed! When buying a rather expensive kit, I expect a quality comparable to the Tamiya kits. However, analysing the Zoukei-Mura Skyraider reveals a lot of toy-like, invisible and unnecessary details (pistons and crankshaft in the radial engine, lots of spars and bulkheads in the fuselage, an internal fuel tank, etc), while important parts are not detailed (the wing fold mechanism, the Yankee system escape seat, the ignition harness, etc). Furthermore, apart from drop tanks, no other under wing stores are included!
Positively, the overall finish, the details of the underwing pylons and the panel lines in general are very nicely done!
I decided to build a A-1H Skyraider of VA-152 operational from the carrier USS Oriskany during the Vietnam war. These Skyraiders were equipped with the Yankee escape system.
The wing folds were partially rebuilt and detailed, the ignition harness was added and the seat for Yankee escape system was scratch built and foreseen of the safety belts and other details. For the underwing loads, I used 4 MK 82 bombs from my spare box and 2 Zuni rocket launchers. The flight deck of the Oriskany was scratch built.
---
To add a little dynamism and to underline the size of a Skyraider, I put a crew member (with a "what now" body posture) on the base.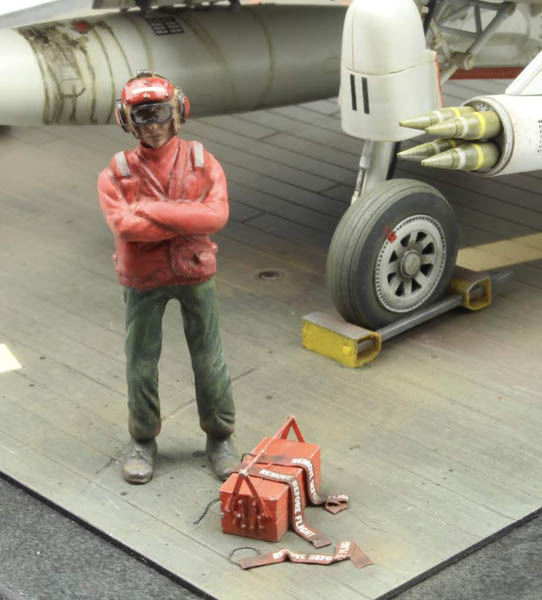 After Market Sets
Master model: gun barrels
Eduard Brassin: LAU-10/A Zuni
GO NAVY: old style wheel chocks + crew figure "CROSSED ARMS"
Paints
I used paints from MODEL MASTER, Humbrol and Alclad. The weathering was done with pastels.
Decals
The decals came from the kit and from my spare box.
References
Squadron/signals publications - Skyraider in Action No 60
Squadron/signals publications - Walk Around No 27
Navy Attack – René J Francillon & Peter B Lewis
Douglas A-1 Skyraider – Famous Airplanes of the World No 6
The A-1 Skyraider in Vietnam – Wayne Mutza
A-1 Skyraider – Monografie Lotnicze 110
Osprey Air Combat – Douglas A-1 Skyraider
Warpaint Series No 18 – Douglas Skyraider
Aviation Crowood Series – Douglas AD Skyraider
The Internet
---
For questions or remarks, go to: lucjanssen32nd.com.
© Luc Janssen 2019
This article was published on Friday, May 10 2019; Last modified on Friday, May 10 2019