Trumpeter 1/32 Avenger Fire Bomber
By Luc Janssen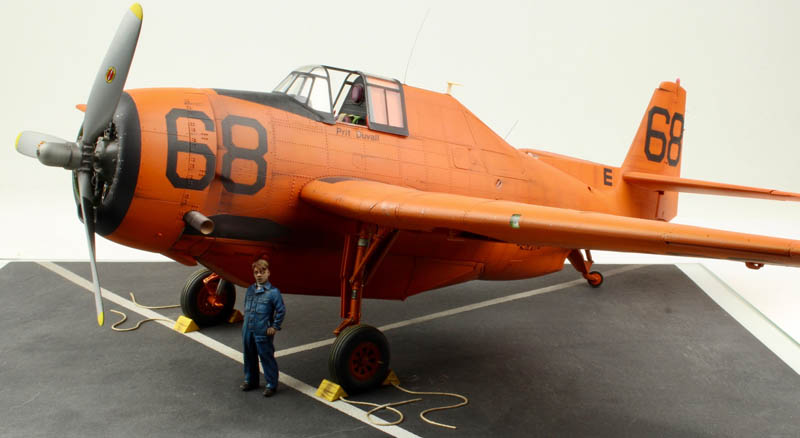 This is a kit I built years ago, but I made some new pictures recently. I added a mechanic to show the huge proportions of this airplane.
The Trumpeter kit is well detailed and I only had to give special attention to the hinges of the ailerons and elevators, the landing- and navigation lights, the cowling and the Wright R-2600 engine.
The canopy area and the retardant container were scratch built.
The exterior of the model needed some work as many construction holes, fuselage windows, under wing attachments, etc. had to be filled and sanded. New panels and a lot of new rivets had to be foreseen as well.
For the basic cockpit equipment, I used the update set from Black Box, but I only installed the side walls. The seat, the instrument panel, the knobs, handles, wiring, etc. were scratch built.
The landing gear was reworked and detailed and the oleos were made by my good friend Luc Van den Ende.
---
Painting
Painting was based on many pictures of the well-known Hemet Valley Flying Service-Avengers. The final Orange color was a mix of Orange, White and Yellow. The upper surfaces were dry brushed with Yellow to simulate the bleaching effect of the Californian sun.
Weathering
As these Avengers were well maintained, the weathering was kept to a minimum. Only some light smoke strains and small dirt marks were given.
Decals
The large 68 numbers were air brushed and the smaller lettering came from the decals spare box.
---
References
TBF & TBM Avenger in Detail & Scale
Walk Around TBF/TBM Avenger – Squadron/Signal Publications
TBF/TBM Avenger in action – Squadron/Signal Publications
Kagero TBM-3 Avenger
Warbird Profile – TBF/TBM Avenger
Avenger at War – Barret Tillman
Internet – Fire Bombers
For questions or remarks go to: lucjanssen32nd.com.
© Luc Janssen 2019
This article was published on Thursday, February 28 2019; Last modified on Thursday, February 28 2019